Context was formed by Paul and Lani, a pair of perpetual travels who found themselves in Rome after a year and a half of sailing the Caribbean, Atlantic, and Mediterranean. They disembarked in Rome long enough to have two children and start Context. They have since lived in (and brought Context to) Paris, Philadelphia, and then back aboard a sailboat. You'll currently find them crossing the South Pacific and heading towards Asia and some of the newest (and most exciting) Context cities.
---
Paul Bennett
Paul is an award-winning writer for National Geographic and National Geographic Adventure. He holds an MA from St. John's College's "Great Books" program and has written four books for Princeton Architectural Press about architecture and landscape. When he is not helping run Context, he lectures on architecture and writes for several publications on travel, architecture, and design. His article about underground Rome appeared in the July 2006 issue of National Geographic magazine and was selected for the Best American Science and Nature Writing 2006 (Houghton Mifflin, October 2007). His February 2005 NG Adventure article about sailing across the Atlantic was selected for the Best American Travel Writing 2005 (Houghton Mifflin, October 2006), while his article on global warming in Greenland for the same magazine recently won a Thomas Lowell Award (October 2007).
---
Lani Bevacqua
Before embarking on their cruise, Lani was a graphic designer and art director in New York City. She worked in-house for Artforum, Dance Theater Workshop, and Gartner Group. Her agency clients included Gillette, Compaq, Computer Associates, IBM, and PeoplePC. She won awards for her digital advertising and web animation. Along with being the creative director and designer for the Context websites and publications, she is home-schooling three small children and is the impetus behind Context's much-lauded Family Program.
---
Paul and Lani have three children: Stella (11), Cleo (10), and Jade (6). They were born and raised in various Context cities and currently live on a forty-foot sailboat. They are sailing and home-schooling with their parents in the South Pacific at the moment.
---
Petulia Melideo
Petulia has been with Context from the start. Originally from Rome, she is Context's London manager and co-director of the client services team, and has always been a traveler: from rural Pakistan to New York City, she makes herself at home wherever she goes. For the past year she has been living in England with her husband in a fifteenth-century building in a small town halfway between London and Paris.
---
Lily Heise
Lily studied art in Italy and then in Paris for her BFA. Her love of art and culture brought her back to Europe after graduation, and has been living between France, Italy and beyond. Her varied professional experience includes working in museums and art galleries in Canada and France, translating and writing projects, and teaching at the University of Paris and the French National Film School. In addition to overseeing our France and Spain programs, Lily is our Expansion Manager bringing Context into new markets worldwide. She is also a travel writer reporting on France and other destinations. She spends her free time traveling in Europe and around the world, seeking out fascinating cultural experiences, vegetarian restaurants.
---
Carolyn Macuga
Carolyn joined Context in 2010 from the Philadelphia Museum of Art where she created cultural programming for over seven years. She is an Adjunct Instructor of art history and museum studies at the Art Institute of Philadelphia, and holds a BA in English literature and art history from Colby College, and an MA in museum studies from the University of Newcastle upon Tyne. Carolyn works in our Philadelphia office managing Context's programs in Boston, New York, Philadelphia, and Washington, D.C., as well as overseeing the client services team.
---
Martina Dalla Riva
A native of Verona, Martina graduated in archaeology at the University of Birmingham (UK), where she is currently completing a PhD. She has worked as an archaeologist in Italy and abroad, focusing on prehistoric technology. She has also been involved in international projects in the field of archaeological conservation and public outreach. Martina has been working in the Rome office since 2011 and is our Italian operations manager.
---
Natalie Holmes
Natalie was born and raised in London and Southeast England where she studied for her BA in social anthropology, and MA in environment and development. Having worked in the travel industry for a decade, she moved to Berlin in 2009 and, inspired by her adopted hometown, has since developed her career as a writer, specializing in sustainability, science, and the arts. Natalie joined Context in 2013 and manages our programs across Central Europe.
---
Sara McCarty
Originally from Philadelphia, Sara joined Context in 2011 after teaching high school-level English in La Rochelle, France. Prior to that she worked in arts administration at the Pollock-Krasner Foundation in New York. Sara earned a BA in French and Psychology from New York University and is the docent manager for our France & Spain programs.
---
Liz Roller
Born and bred in Philadelphia, Liz graduated from Boston University with a BA in the love of all things Italian (officially titled 'Italian Language, Art and History"). Spending a year abroad in Padova during university, Liz caught the travel bug and has never looked back. Based in the Philadelphia office since the spring of 2011, she currently is our Italy specialist within the home office. Outside of work, you will find her exploring the city, trying new foods and wines, and planning her next adventure!
---
Sophie Friedman
Sophie hails from New York and works out of Shanghai managing our Asia programs. Four years ago she moved to China on a whim and will not be able to leave until she has visited every country in Asia. When not working on furthering Context's Asia programs, Sophie writes about Shanghai's evolving nightlife, dining scene, and the city's contemporary art movement, and she covers the travel industry in East and Southeast Asia. She enjoys cycling and eating her way around Asia, one street stall at a time.

---
Muriel Mills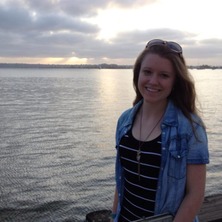 Originally from Virginia, Muriel graduated from Goucher College with a degree in International Relations and German. After graduation, she participated in the Fulbright English Teaching Assistantship program in Germany and spent a year living in Stuttgart, Germany and traveling Central Europe. Muriel joined Context in 2014 as Client Manager for Central and Southern Europe after working in the airline industry. In her free time, Muriel enjoys dancing and exploring Philadelphia.
---
LINDSAY POULIN
Lindsay has loved foreign languages and cultures since she was young. As an undergraduate and graduate student she studied in Italy, France and England, earning her BA in French literature from the University of Notre Dame and her MA in Modern French Studies from the University of Kent in Canterbury, England. She joined Context in 2014 as the client manager for France and Spain after working in university and arts development. Outside of work, Lindsay writes about cities and architecture and is an avid runner and photographer.
---
Jaimie Evoy
Born and raised on the west coast of Canada, Jaimie decided to make Paris her home in the fall of 2013. She studied French and International Studies at Simon Fraser University but the highlight of her studies was her study abroad experience in Bordeaux in 2012. Wanting to return to France, she participated in the Assistant de Langues program in 2013/2014 before becoming Context's Activity Coordinator for France and Spain. She is passionate about foreign language and loves going to concerts and taking pictures in her free time.
---
Katie Nadworny
Katie is an analogue photographer, writer, and blogger. Originally from Boston, she attended Phillips Academy Andover and studied Theater Directing and Film at Brandeis University. Katie studied abroad in Prague and traveled all over Eastern Europe and the Middle East before relocating to Istanbul in January 2013, from where she coordinates our Istanbul & Athens programs.
---