England, Scotland, Wales, and North and South Ireland are intriguing destinations on their own, but together, they make up a beautiful destination with a rich and complex history. In November, Context will be pottering through on a virtual journey as we soak up the scenes, sights, and sounds of the United Kingdom and Ireland, traveling through the region and across the small channel to reveal both the shared culture and distinct local peculiarities that add to the charm of these two islands.
We'll kick off the online exploration in London, before heading out to the English countryside and the rolling hills of the South Downs Way to the idyllic Cotswolds. We'll say cheerio to England as we head to its nearby neighbors, Scotland, Wales, Northern Ireland, and the Republic of Ireland. We'll then bring a bit of the Scottish highlands, the rugged Welsh coastline adorned with castles, and the fiery heart of Dublin, to you. Join Context Conversations this November on the intrepid online journey.
On our online adventure, we'll cover more ground than you might ever manage to yourself in situ, as we:
Venture to picturesque English villages, expansive Scottish lochs in the highlands, or poetic Welsh coastlines
Awaken our taste buds with interactive cooking classes (tea scones and pie are all on the menu) and sommelier-led immersions into English sparkling wine, Scottish whisky, and British beer
Explore issues of nationhood as we discuss Irish Independence, the Troubles, and the origins of Scottish identity
Discover architectural splendor from Scottish Castles to English Stately Homes (Downton Abbey included), to medieval Cathedrals
Deepen our understanding of ancient monuments as we visit Stonehenge or Roman remnants in Scotland or Bath
Expand our knowledge of British art and its influence through virtual visits to revered museums like the V&A as well as lesser-known gems, including the Courtauld Gallery, John Soane's Museum, and London's artistic East End
Experience the culture of the UK and Ireland through discussions on Shakespeare, live Irish music performances, and naturally, plenty of Royal Family content thrown in.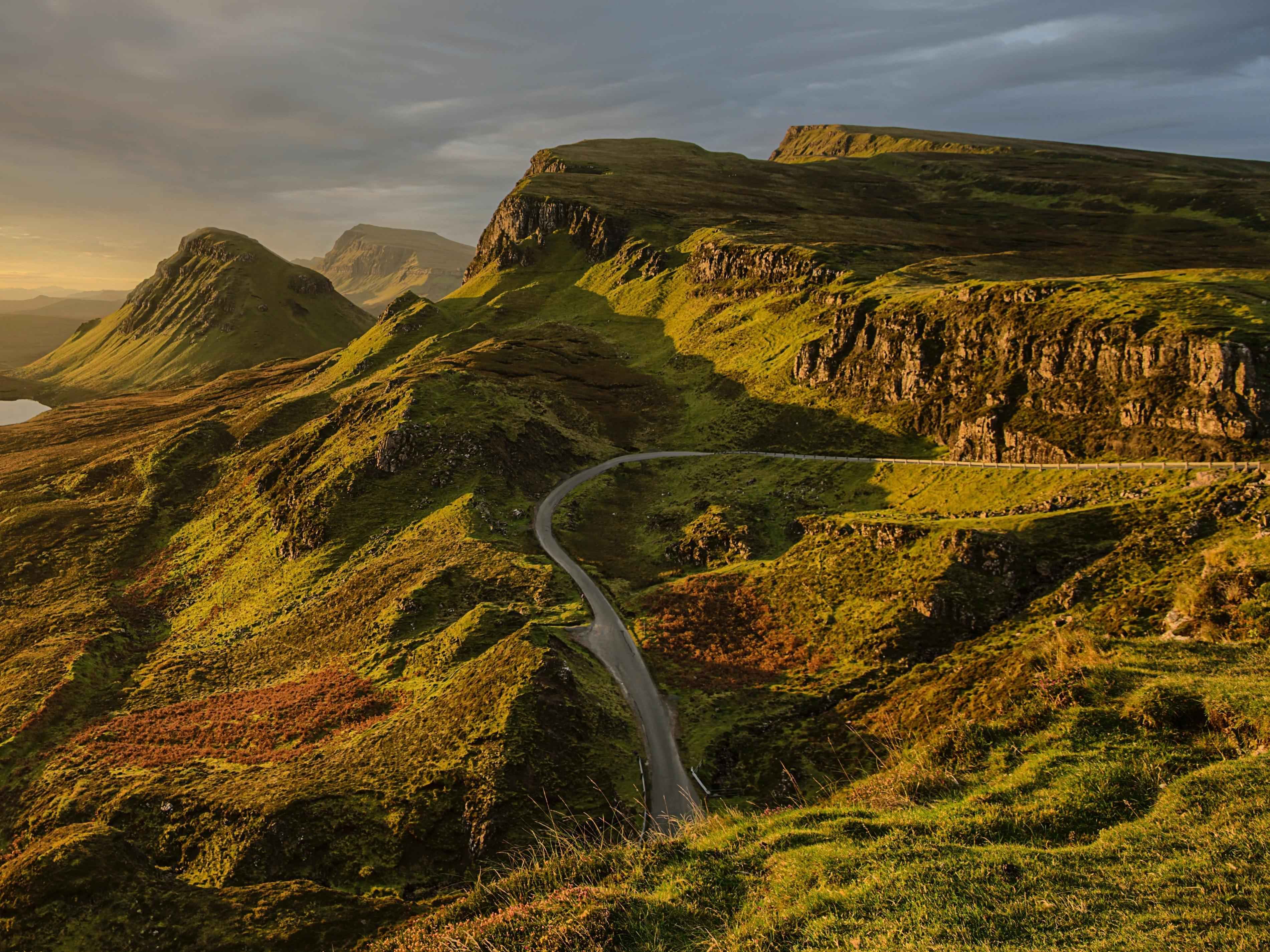 So, join us and our talented experts on a virtual exploration of this lively, yet tiny corner of the world. Pop in for the beginning, middle, end, or all of this quintessentially British and Irish experience according to your schedule. From the bustling cities of Dublin or London to the remote Island of Skye, to the English kitchen, we're set to have a jolly good time. We look forward to seeing you online.
Purchase individually or buy a package: Choose any three-five Destination UK & Ireland seminars for 10% off, any six-nine for 15% off, and any ten or more for 20% off. Discounts automatically applied upon checkout
A Seminar Snapshot
For the Foodies:
The Best of British Cheeses: From Cheddar to Blue with Diana Pittet
Join a cheese and cocktail expert to explore cheeses from all over England, Ireland, Scotland, and Wales. The UK and Ireland is home to over 800 different types of cheese, from the firm and nourishing "territorials," such as Lancashire, Cheshire, and Wensleydale, to the pungent and creamy wash-rinds of Ireland. Diana will also discuss the historical context that led to the creation of these cheeses, as well as what beverages are best to pair with what.
Scotch Whisky and Impending Revolution with Nikki Welch
Take a trip down memory lane as we explore and understand the narrative of whisky in relation to that pioneering Scottish spirit. But just what is the history behind this national nectar? Where was it born and what is the whisky 'revolution' we hear of today? This seminar explores these questions in order to enhance participants knowledge of, and appreciation for, this culturally important brown spirit.
Cooking Class: Chicken and Mushroom Pie (and more) with Clementine Haxby
In the company of a chef, learn how to cook a heartwarming, wholesome, and savory pie from scratch. No Autumn meal is complete without some dessert to leave us feeling warm inside. We'll be finishing off our evening with a blackberry and apple fool, another adaptable and classic recipe that can be dressed up or dressed down to suit your company.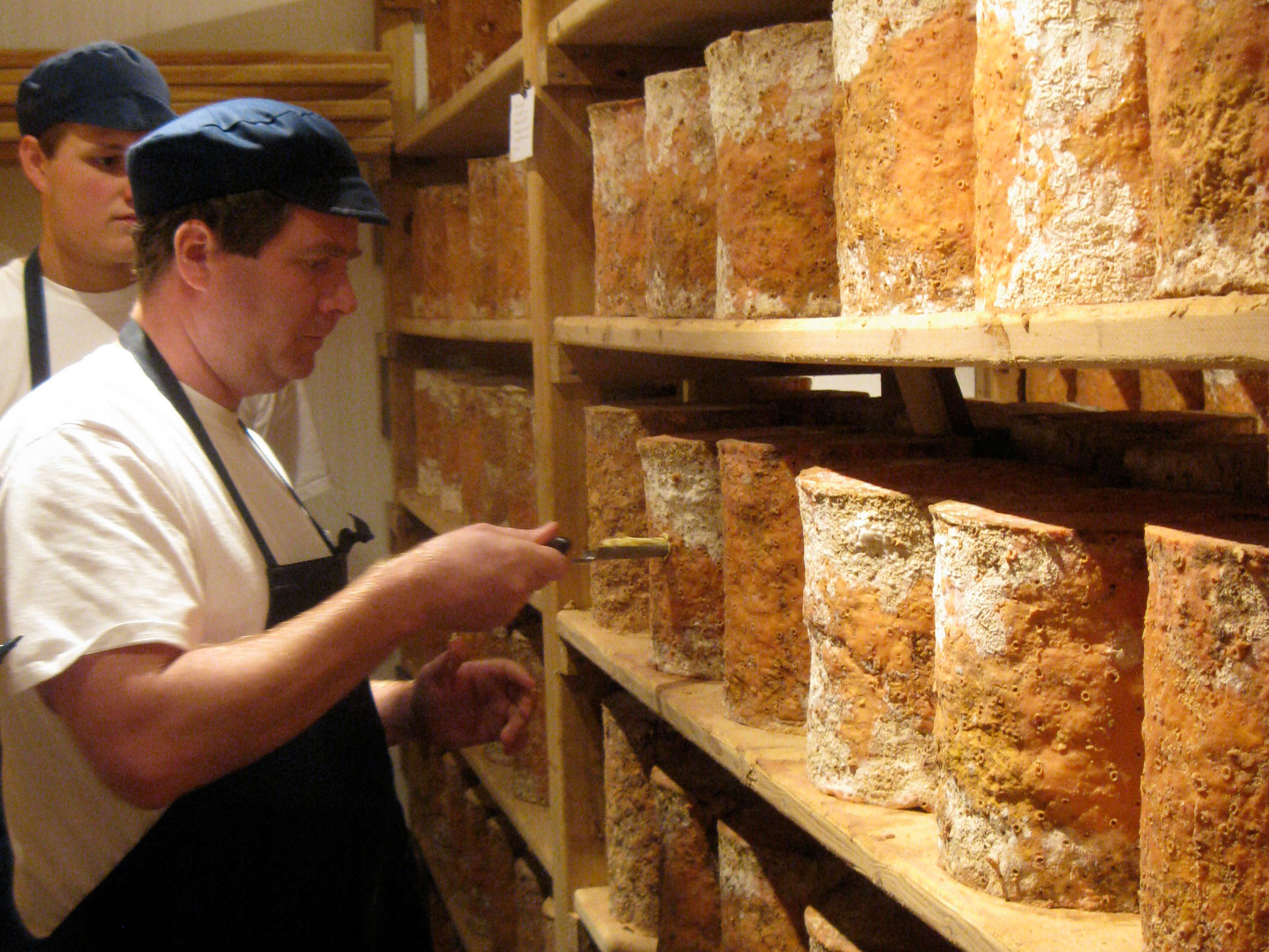 Inside a British cheesemonger
For the Countryside Explorers:
The Scottish Highlands and Skye: An Introduction with Irene Mariani
Explore some of the wildest parts of Scotland as we virtually venture romantic castles, glistening lochs, and characterful swathes of Scottish hills. No visit to Scotland would be complete without a trip to Skye, an island renowned for its dramatic landscape and legends of giants. This seminar is set to awaken that Scottish traveling fervour with interactive appearances of this stunning part of the world.
Poetic Wales: From Castles to Coastline with John Owen
Wales is abound with impressive castles, gorgeous coastlines, stunning beaches, and jagged coastlines. In this seminar, Welsh expert and historian, will provide us with an introduction to this wild and wonderful country as we discuss everything from language to poetry to mythology. This is a tease of a seminar: hearts will be yearning for Wales afterwards.
Exploring the English Countryside: The Cotswolds with Hattie Bennett
Peep into one of England's finest pockets of countryside on this virtual exploration of honey-colored villages, Roman forts, neolithic stone circles, and palaces. Welcome to the stunning Cotswolds.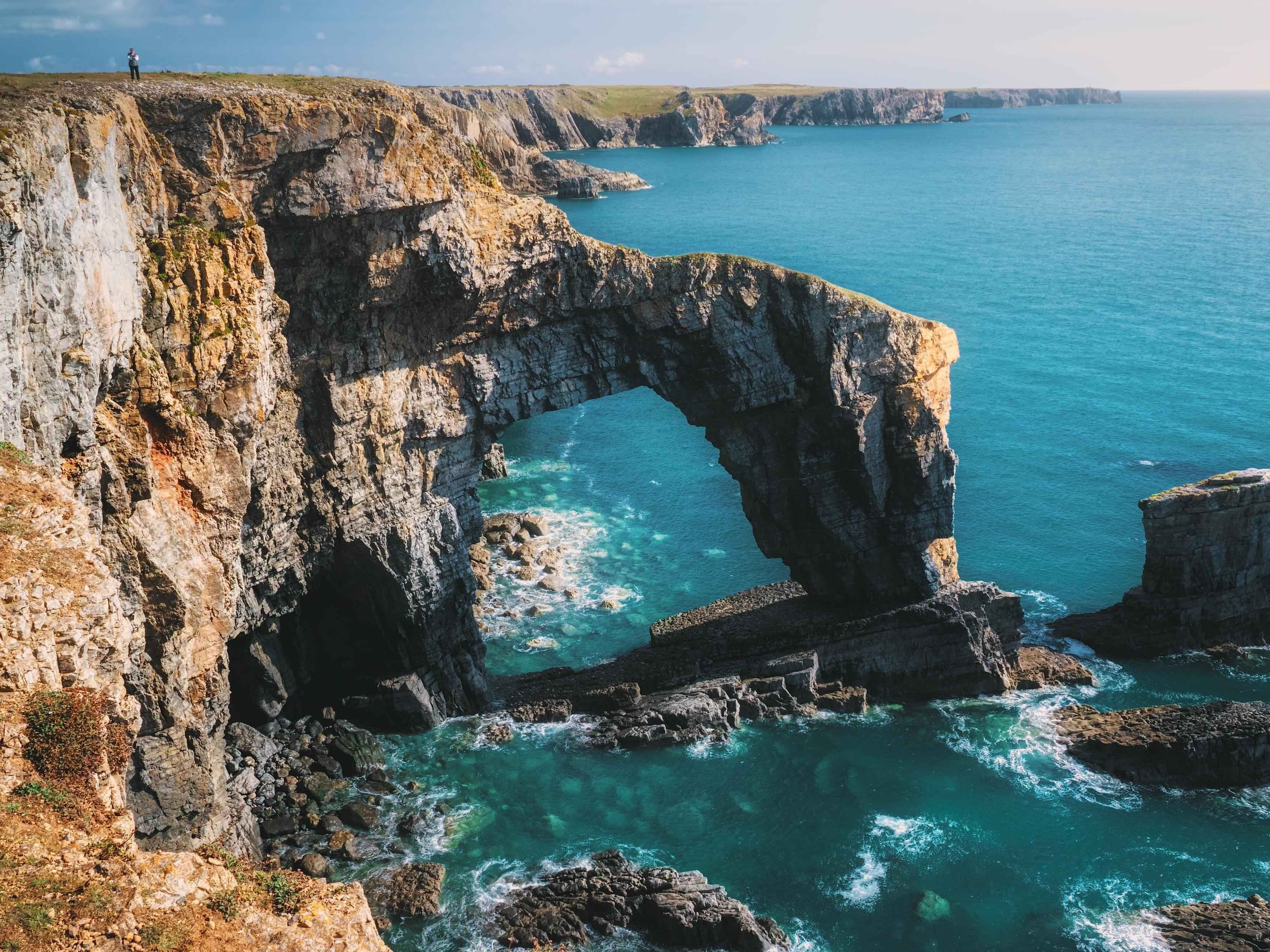 The stunning coastlines of Wales
For the History Buffs
The Irish Potato Famine with Jennifer Carbery
The Great Famine of 1845-49 ravished Ireland in a catastrophe like nothing the country had ever seen before. This seminar will explore the history behind this humanitarian crisis, the lack of action by the British government, and the disastrous effects of the famine which took the lives of 1.2 million people (and forced 2 million to emigrate). It's tough but important history, worthy of curious ears.
The Story of Stonehenge with Sean Moran
So much of this prehistoric stone site still remains a mystery. Just who built it? Why? When? How?! This conversation hopes to unravel some of these questions as we dig into the history of this remarkable site, which we'll discover, is much more than just a heap of stones in the middle of nowhere.
Hadrian's Wall with Dr. Andrew Roberts
This mighty barrier, stretching from sea to sea and covering 73 miles across northern Britain, was the border of the Roman empire for almost 300 years. This conversation will discuss the creation of this enormous wall, the emergence of a multicultural community as a result, and the legacy of this architectural masterpiece. If you're looking for a solid historical and archaeological exploration of Hadrian's Wall, you've come to the right place.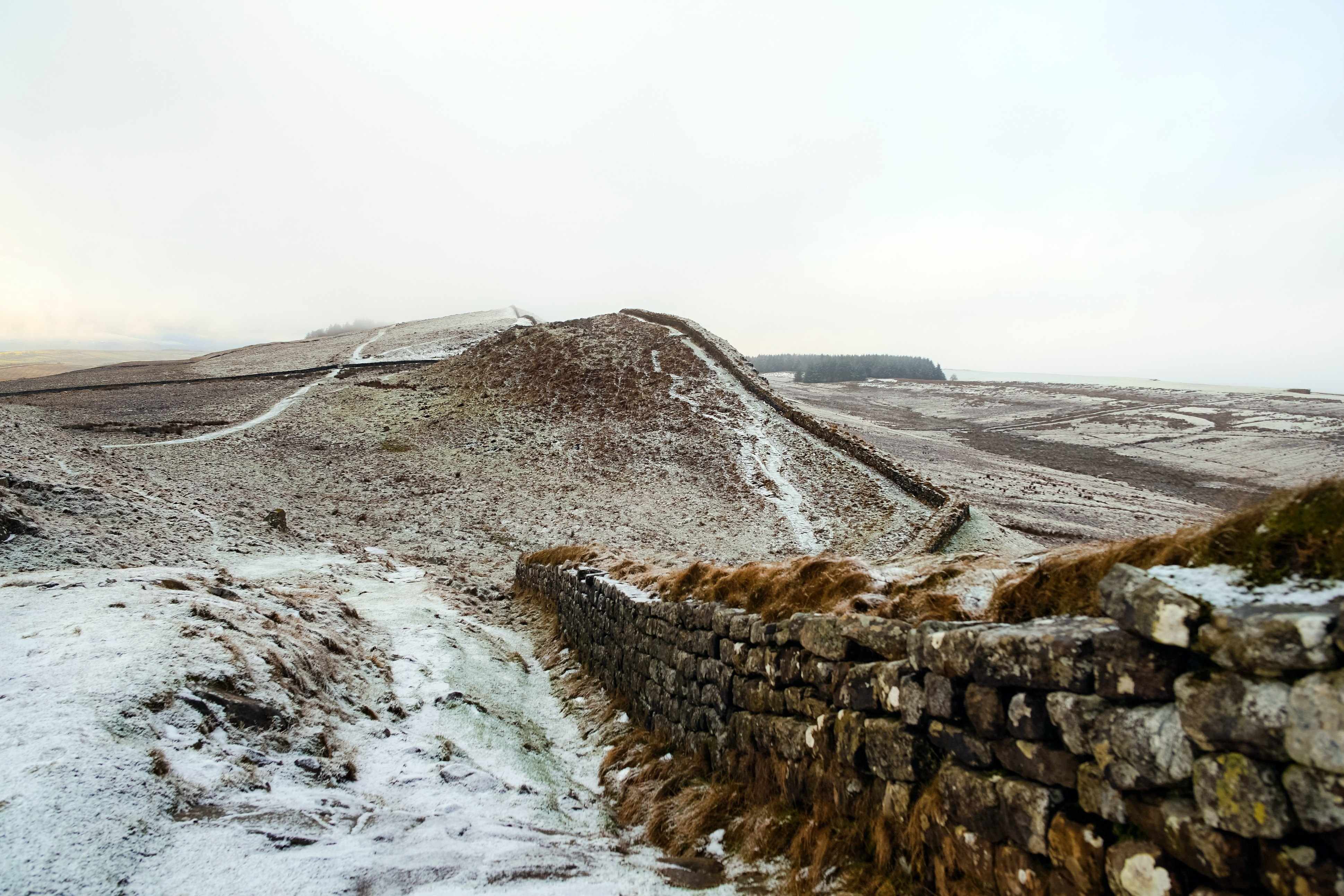 Hadrian's Wall on a crisp day

We've got plenty more online if you want to visit the UK and Ireland with Context this November and beyond... (we're always posting relevant content, courses, and seminars in relation to this wonderful part of the world!)