Tour Details
About the Tour
Duration

From 1 Day to 6+ Days
Tour Description
Visit Berlin in Context. We can design a wide variety of private, bespoke itineraries for people with special interests, lasting from 2 hours to 3 days. Drawing on our network of docents and range of other services, the limits of a custom itinerary are circumscribed only by the bounds of our collective imagination.
Berlin Tour Guides
With over 20 local experts we can design a private tour of Berlin on a wide range of topics. However, before requesting a custom tour, you might want to take a look at our full list of
Berlin walking tours
—chances are, we've already thought about it. For those interested in Nazi history, for example, we suggest our
Berlin Nazi tour
. Want to trace the path of the Berlin Wall and learn about the divided city? Then, you might be interested in our
Berlin Wall tour
. Or, for first timers, either our introductory
Berlin walking tour
or our
Welcome to Berlin tour
.
Not finding the right fit? Or, do you have a very specific interest and want to tap into the expertise of the Context docent network? No problem. You can request a custom tour using this product.
How to Book a Custom Tour of Berlin
When requesting a custom tour, please provide the following details in the Notes section when adding this tour to your shopping cart:
How many hours would you like the walk to be?
What are your main goals for the walk?
Which sites and museums would you like to prioritize? Do you want to just pass by or explore inside as well?
Give us one or two words to describe your group.
Once we receive your custom tour request, we'll review these details and follow up with you by email to refine your itinerary and give you final pricing. Don't worry, we won't be charging your card at this point. Your order will go into our system as "pending."
Seeking Inspiration? Start Here:
We've run custom tours of Berlin on nearly every topic imaginable, from the city's medieval history to pop culture. Here are a few examples of walks we've put together in the past:
A tour of the Berggruen Museum, featuring modernist masterpieces by Picasso, Klee, Giacometti, and Matisse
A tour of the Gemäldegalerie, which contains Italian and Flemish masterworks from the likes of Dürer, Vermeer, Cranach, Rembrandt, Botticelli, Raphael, Titian, and Caravaggio
A visit to the Neues Museum for kids, designed with youngsters in mind
A full-day excursion to Dresden by train, including the historical city center and the reconstructed Frauenkirche
Medieval history in Berlin with an archaeologist, including the Märkisches Museum and Nikolaiviertel
A 3-hour tour of West Berlin, encountering sites like the famed shopping street Kurfürstendamm and the scarred remains of the Kaiser Wilhelm Memorial Church, and diving into the history of the area - the hedonistic Weimar years in the roaring '20s and as an 'island of capitalism' in divided Berlin.
A half-day excursion to Wannsee, focusing on 20th-century history, the Wannsee Conference, and the Max-Liebermann Villa
A walk through hidden courtyards of Berlin-Mitte, with special focus on how these spaces were used for manufacturing and their use today for production of artisanal goods
A tour of Hamburger Bahnhof—contemporary art housed in a former train station
Battles of Berlin—a military history walk with a focus on WWII
David Bowie in Berlin—counterculture and music history walk on divided Berlin in the 1960s-1980s
FAQ
The small-group or private walk in which I'm interested isn't showing available. Should I book a custom experience instead?
If your desired walk does not appear to be available, please contact us directly at
info@contexttravel.com
and we would be happy to advise further on walk availability during your stay in Berlin.
Where You'll Start
Tour Experts
Christina is an East Berliner who was born in the GDR, a socialist republic that no longer exists. She danced on the Wall in 1989, and closely observed the restructuring of Germany and the frantic urban transformation of Berlin. At the European University Viadrina in Frankfurt (Oder) she earned an MA in cultural history and comparative social sciences, particularly the ideology-based history of the twentieth century. Her dissertation was on a more contemporary subject of "The Economic Impact of the Contemporary Art Scene on the city of Berlin." She now works as an arts administrator, manages urban development initiatives, and since 2006 routinely walks guests through the eclectic and varied political, cultural, and architectural histories of the German capital and beyond.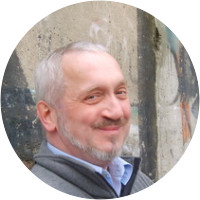 Heribert is a native Berliner whose family history can be traced as far back as the founding of the city. An expert in urban history, for more than twenty years he has been guiding interested crowds through the German capital and the surrounding Mark Brandenburg, letting the stone witnesses of passing time tell their stories while he enthusiastically revives old lifestyles and tastes. He studied sociology, history, and cultural anthropology at the Freie Universität Berlin. His professional experience is varied and far-ranging, including working as a freelance trainer for communication and intercultural education since 1982, and guiding tours since 1986. In the West Berlin borough of Wannsee he runs with his wife two fine cafés (including at the Max Liebermann Villa Museum) and a gourmet delicatessen, and he is well-versed in fine cuisine. With an anecdote for just about every historical detail, Heribert is the consummate companion for any and all learning adventures in this city.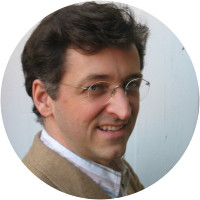 Raised in New York City, Jan graduated from Williams College in 1985 with honors in the history of ideas and later went to the Harvard University Graduate School of Design to receive his MA in architecture in 1990. He has worked as an architect in Berlin since 1994. He has been a regular contributor to a wide range of publications, including The New York Times, the Harvard Design Magazine, the International Herald Tribune, Places Magazine, and the Architectural Record, writing chiefly about European architecture and urbanism. He teaches urban studies and sustainability at the IES Berlin Metropolitan Studies Program, and has served as an invited guest critic or lecturer at the Technische Universität in Berlin, the University of Warsaw Architecture School, and the Architectural Association in London. Jan is the Academic Director of the Northeastern University School of Architecture Berlin Program, where he also teaches two required seminars.
Reviews can only be left by Context customers after they have completed a tour. For more information about our reviews, please see our FAQ.
My guide was so knowledgeable about Berlin architecture and the rebuilding of Berlin! We were privileged to have him!
Dec. 30, 2019
Veronica did a great job putting together a tour of street art in Berlin which per our request concluded with a tour of the East Side Gallery. It exceeded my expectations and I would recommend making this tour a standard offering in the Berlin Context lineup!!
Dec. 9, 2019
Corrie was exceptional and extremely responsive to my many requests in planning this trip which spanned three European cities. She listened to my priorities and made helpful suggestions. She exemplifies what we've come to expect from Context. Likewise Aaron was a consummate tour guide — funny, exceedingly knowledgeable, helpful and flexible.
Dec. 1, 2019