Tour Details
Tour Description
Nothing captures the urban pulse of Berlin like Kreuzberg. Once a forgotten corner of West Berlin, this neighborhood has transformed itself into an energetic hub of counterculture and creativity—but there's much more to this alternative quarter than just buzzing nightlife. On this three-hour alternative tour of Berlin—a Kreuzberg tour with a local historian—we'll encounter the ever-changing identity of this area and exploring how the city battles to stay off-beat in the face of gentrification.
Kreuzberg Tour: Immigrant Roots, Bohemian Haven
When arriving in Kreuzberg, the international character of the area is immediately obvious. We'll begin the walk by discussing the immigrant workers who were invited to fill the void in Berlin's work force after the end of World War II, and who create the multi-cultural ambience felt in the neighborhood to this day. Walking along the canal banks of the Maybachufer, site of the popular Turkish market, we'll see vividly how that community has planted deep roots in the area over many decades.
Alternative Tour of Berlin
The other side of Kreuzberg's story is its strong connection with counterculture. The neighborhood has historically been home to a generation of '68 anti-war draft dodgers, poets, pop stars, and performance artists. Iggy Pop and David Bowie hung out here, Yoko Ono and Joseph Beuys held Fluxus happenings, and the area became a laboratory for hippie culture and alternative movements. We may visit the Regenbogenfabrik, an abandoned building now used as a cultural center, the famous food stands at Markthalle IX food market, and the Künstlerhaus Bethanien, a former hospital also reclaimed as an art hub. Along the way, we'll also step sideways into the courtyards and gathering places of Kreuzberg's diverse communities.
Looking Towards the Future
Kreuzberg finds itself smack in the middle of the German capital, trying to hold off gentrification and conformity. (For more on this check out our
History of Berlin Tour
.) As Berlin continues to evolve and grow, its counterculture is becoming more attractive to tourists—which poses a challenge for the alternative scene trying to stay true to its early values. Our visit to Kreuzberg focuses on introducing this vibrant neighborhood to visitors without resorting to voyeurism or sugarcoating. Instead, we'll come away with an understanding of what makes the city tick by going straight to the spots where Berlin's radical heart still beats.
FAQ
What's the best day of the week to take this tour?
The tour is available any day of the week. We find that Tuesdays and Fridays are the best options because the fantastic Turkish market on Maybachufer is open and can be included on the tour route.
Where You'll Start
Tour Experts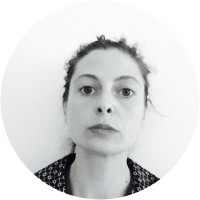 Veronica Posth is an Art Historian and Dancer based in Berlin. She was born in Florence to Italian-German parents and traveled regularly to the UK. She has a BA in History of Art with a Specialisation in Contemporary Art and a MA in Curatorial Practices. She has worked in numerous, eclectic, artistic environments as a Curator, Writer, Art Liaison, Gallery Assistant, Festival Production Manager and Researcher in Florence, Glasgow, London and Berlin. Her interests range from socio-political art to urban 'intervention' to increase awareness about how art and dance can heal and solve personal, social and even global issues. Currently, she mainly works as an Art, Dance Critic, Dramaturge and Co-Choreographer. She is excited to share her passion, knowledge, and interesting stories with visitors on Context tours.
Reviews can only be left by Context customers after they have completed a tour. For more information about our reviews, please see our FAQ.
This exceeded my expectation which was high. Robert was very interesting and also humorous. He uniquely conveyed a good sense of what Kreuzberg is all about and covered a wide range of topics from history to architecture to characterization of the people. I have only one criticism. I wish the weather hadn't changed. It ended up a cold walk but even knowing the cold, I wouldn't have missed it.
Mar. 20, 2013
Robert was a wonderful guide; very knowledgeable and connected deeply to the area. He altered the time frame of the walk to fit my schedule while giving me a thorough overview of the area. Highlighting the locations visited on a local map was a useful touch and a good aide-memoire. I loved hearing his stories of life before abd after the wall. Overall a great experience.
Jan. 28, 2013