Tour Details
Tour Description
Marvel at Budapest on a Context day tour. We've combined some of Budapest's revered sites into a comprehensive 7-hour itinerary. In the company of a local expert, we'll tour Pest, the Jewish Quarter, and finish up in Buda's Castle District. A lunch stop with our guide and will provide the opportunity to learn more about local gastronomy. Thoughtfully planned, this engaging tour allows for travelers to immerse themselves in both Buda and Pest in just one day.
We'll meet together in Buda, where we will begin our tour with panoramic views over the Danube, in Buda's Castle District. We'll explore this medieval area and visit sites such as Fisherman's Bastion, Matthias Church (please note on weekends we will view from the exterior due to other events and liturgical services), and the Buda Castle complex. We'll discuss the Hungarian monarchy and the strategic and symbolic importance of this historic district from a fitting vantage point. Expanding our geographical scope, we will travel across the city to downtown Pest as we observe the eclectic blend of ancient and modern buildings. We'll stop for lunch (at own expense): we may use this time to talk about local gastronomy or Hungarian traditions, among other topics. Refueled, we'll walk through the Jewish Quarter, tracing the development of Jewish culture in the city from the Middle Ages to WW2 to the present. We'll discuss the vibrant Jewish community and the contemporary scene in the 7th district today as we visit the Great Synagogue (please note on Saturdays we will view from the exterior due to venue closures). We'll soak up the varying Pest architectural styles, from Art Nouveau to Baroque to the Neoclassical St. Stephen's Basilica. We will touch upon post-communist contemporary life in the city and discuss the future potential of this constantly modernizing hub.
We will finish our day tour with a greater understanding of this intriguing Hungarian capital. We'll have ventured from Buda to Pest across the Danube and soaked up the buzz of this city. We'll leave one another with a more contextualized approach to the history, politics, and geography of Budapest.


FAQS

What happens if it's raining?
Our tours happen rain or shine. Our guides are great at adapting their route during changes of weather. Please bring an umbrella.

I would like to start at a different time. Is this possible?
Please request this at the time of your booking and we can adapt the itinerary. Keep in mind this is a 7-hour tour.

What is included? Will there be any costs to cover on the day?
Your entrance fees, public transport, and a local snack/refreshment will be pre-paid. On the day, you will be expected to cover the cost of your lunch and any additional refreshments.

Where does the tour end?
We will end on the Pest side of the city in a central area, either near the Basilica or in the Jewish district.


Where You'll Start
Tour Experts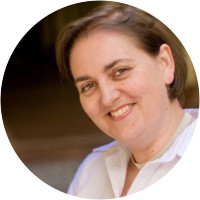 Nada Zečević has a Ph.D. in Medieval Studies. Originally from Sarajevo (Bosnia-Herzegovina), for the past 17 years she has been living in Budapest. As a scholarly researcher, Nada focuses on history and society of Central and Southeastern Europe in the Middle Ages, and these regions' connections with other European realms, namely the Apennine peninsula and Byzantine Empire. The topics of her specialization include medieval charters and scripts, migrations and exchange, towns and their societies, memory and image of the Other, and modern uses of medieval past. Her current research focuses on religious relationships between medieval Hungary and Bosnia. In addition to her scholarly work, Nada is actively engaged in projects dealing with the popularization of history. This all allows her depict Budapest's past and present as an ongoing saga of various perceptions and vibrant interactions between the city and its people.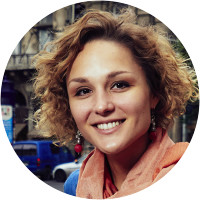 Gréta Süveges holds a BA from ELTE University in Budapest and has finished her MA studies in Jerusalem. Her main interest is in literature, art and cultural history, especially in the context of politics and ideology. She has lived and studied in many cities, including Budapest, Berlin, Saint Petersburg, Tel Aviv, and Jerusalem, and is deeply interested in discovering the urban-cultural context of cities. Gréta writes articles and reviews about museums, memory policy, architecture and urban experience, which are most often published in magazines with a focus on culture and museology. She is involved in teaching and various research projects at ELTE University in Budapest related to art, the influence of collective memory and politics on art and museums. Currently she works as a researcher at an architecture studio and starts her studies in urban sociology at the Central European University, Budapest.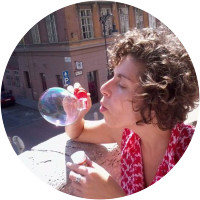 Anna studied in Budapest, Berlin, and Paris, earning a Masters degree in Theory of Art and French studies with teacher training. Her academic interests include Puppet theater studies, modern Jewish art in Central Europe and active learning, but she has also been involved in the local Jewish youth community since 2007. She received her PhD in 2015 in post-Holocaust French literature and philosophy. Meanwhile she started working as a tour guide in 2010, aiming to share the disparate and astonishing cultural heritage of Budapest.
Reviews can only be left by Context customers after they have completed a tour. For more information about our reviews, please see our FAQ.
Greta was such a fantastic tour guide!! Extremely knowledgeable and friendly, our experience was wonderful due in large part to Greta!!
Oct. 7, 2019
Leve was a very knowledgeable guide and a lot of fun to spend the day with. We learned a lot about local culture and history. We just wish we would have seen and toured the Parliament building. We were also happy to have seen Heroe's Square the day prior with Greta.
Sep. 17, 2019
Levente was so interesting and easy to talk with. He was passionate, genuine and committed. It was a pleasure spending time with him.
Aug. 9, 2019