Tour Details
Tour Description
Buenos Aires is one of South America's great melting pots due to an unprecedented influx of European immigrants at the end of the 19th century. During this 3-hour Buenos Aires History Tour we'll look at how Italians, Spaniards, Jews, Germans, and Russians shaped this city over the last 150 years. We'll discuss the reasons for this mass immigration, the expectations of the newcomers, the reality that awaited them, and the international elements that still persist within Argentine identity today.
Buenos Aires History Tour - The Land of Promise
We'll begin our walk where most new overseas immigrants found themselves: at the port of Puerto Madero. Now a luxury housing district, the port features a contrast of the newest, tallest architecture of today alongside the historic immigration buildings of a century ago. The monumental Customs House (Aduanas) nearby will provide an opportunity to discuss the agro-exportation policies that led to Argentina's economic success at that time.


We'll follow this trail of success uphill to the most prominent square of the city, Plaza de Mayo, to discover the political, financial, and religious accomplishments of this multicultural nation. The executive mansion and the President's Office (Casa Rosada), the former city hall (Cabildo), the National Bank of Argentina, and the Metropolitan Cathedral encircle Plaza de Mayo and represent the executive powers, financial policies, and religious underpinnings of Argentina.
New World Struggles and Creativity
We will turn our focus to the general populace during the second part of the walk as we head toward San Telmo, the city's oldest neighborhood. We will learn about how the abandoned aristocratic district became inhabited by less wealthy, late 19th-century immigrants. Once run-down and overpopulated, Calle Defensa is now lined with intriguingly dilapidated yet beautiful architecture, now re-purposed as charming cafes and antiques shops. We will wander the cobblestone streets to experience the new identity of the area as a bohemian recant. We may pass a former conventillo, or tenement house, to discuss how these low-income quarters provoked unique political views among the newcomers to Buenos Aires. As we reach Parque Lezama, we will discuss the dynamic which facilitated socialist and anarchist ideas among the dwellers here.


In parallel to this rich political history, we may take opportunity to discuss dominant artistic and leisure activities that took place in the poorer immigrant communities. These 'new Argentines' are responsible for unique cultural expressions such as
lunfardo
—a local dialect, as well as tango dance and music (which we explore further on our
Buenos Aires Tango Tour
).
Take Aways
Throughout this walk we will demonstrate the city's diversity not only in politics, but through art and culture as well. Anyone with a love for history and a bohemian side will enjoy this walk and the story it has to tell. This walk is an excellent pair to our
Buenos Aires City Tour
, which focuses on the architectural golden age taking place at the same time.
FAQ
Is this tour very walking intensive? This is a moderate walk, and, depending on the expert, more geography can be covered. We can customize the experience if you have mobility issues to reduce walking distance.
Where You'll Start
Tour Experts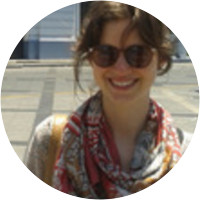 Laura
Laura is an Argentinian-born photographer and art historian. In 2010, she moved to France to study contemporary art and photography at Université Paris 8 and work at the Carnavalet Museum. Back in Argentina, she currently conducts research for a project about the history of nineteenth- and twentieth-century photography in South America. Additionally, Laura has worked for the educational department of several museums, including the Colección de arte Amalia Lacroze de Fortabat, Espacio Fundación Telefónica, Museo Eduardo Sívori, and the Museum of Latin-American Art of Buenos Aires. In 2014 she was selected to participate in the Critics and Curator's Program for contemporary art at the Universidad Torcuato Di Tella.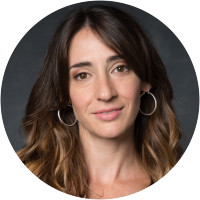 Salome
Salomé was born in Mendoza, Argentina, and moved to Buenos Aires at the age of eighteen to become a professional actress and English translator. She later studied and worked in California, Madrid, and London, where she also taught Spanish, but ultimately moved back to Buenos Aires to develop her acting career in theater, TV, and film. Besides languages and acting, she also has a passion for Argentine social culture, such as the art of dining and Tango. Salome loves helping visitors learn about her adopted city's culture and its diversity, in addition to showing them an insider's view of its cafés, restaurants, theaters, and Tango bars.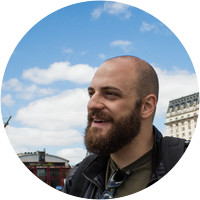 Juan Pablo
Born and raised in Buenos Aires, Juan studied architecture at the Universidad de Buenos Aires during the social and economic crisis of 2001, a critical moment that led to his interest in Argentine history. Currently he teaches at the same university and also works as a consultant in different offices of the federal government for cultural and historic heritage. Juan has an active research life as the coordinator of an inventory of over 4,000 pieces of architecture that was planned in honor of the Argentine Bicentennial (1810-2010), and as a preservation activist, he is especially interested in the symbolic and cultural values of Buenos Aires' architecture and urban spaces.
Reviews can only be left by Context customers after they have completed a tour. For more information about our reviews, please see our FAQ.
Natalia was a great ambassador for Context and Buenos Aires. Her passion and knowledge exceeded our expectations.
Feb. 10, 2020
Natalia was fantastic- very knowledgeable and informative.
Feb. 3, 2020
It is so hard for you....my expectations are always so high for Context travel because I have had AMAZING tours with your guides. Natalia EXCEEDED my expectations! She was a wealth of knowledge and more importantly experience. She absolutely did amazing, she took my million questions with grace and candor. She knows her city....and even more compelling? She loves her city. Highly recommend.
Jan. 12, 2020