Tour Details
Tour Description
Buenos Aires: the land of tango, empanadas, yerba mate, Evita and Perón. Where to start in the "Paris of the south"? We've curated the "must see" sights and flavors of this cosmopolitan South American city into a compact day and a half itinerary. This option is especially geared toward travelers new to the city and wanting the full context but who have limited time. While this is our recommended itinerary, we can customize your experience according to your time and interests.
Day 1 : The Basics in Context
9am: Welcome coffee and city orientation
10am: Introduction to Argentinian history tour
1:30pm: Lunch in cafe downtown
2:30pm: Free time for independent exploration or rest
4:30pm: Tour of tango history, music and dance in a local milonga (tango club)


We'll start the adventure at your doorstep and a short taxi ride to a nearby café. Over a coffee or snack, our expert guide will introduce you to the city and you'll plan the rest of your time together and gain insights on exploring this cultural megalopolis. We'll dive right in to our best-selling
history tour
which covers the entirety of Argentina's intricate history from pampas and Spanish colonization, through dictatorships to today's republic. With appetite for knowledge satiated but tummy quite empty, we'll grab a bite at a sandwich shop, a favorite by locals for their steak sandwiches. Here our guide can engage a discussion on the country's famous meat culture.
After lunch, you have a few hours free to use as you wish. Perhaps the traditional crafts and antiques market is calling your name? Perhaps the jetlag has you wishing for a quick siesta? Our guide can offer suggestions for structured wandering or tips for beating the traffic to your desired location. Finally, as dusk grows near, we will meet up with another expert to switch the topic to a favorite of the Argentine people: tango. At a little-known afternoon locals-only milonga, tango dance hall, we will have the chance to discuss the multifaceted history of this complex artform. We'll learn some of the hidden milonga codes of conduct, and watch the dance as locals do it, which is a more authentic alternative to the flashy and touristic tango dinner shows. We'll also grab a tasty local snack here before we bid adieu for the evening.
Day 2: The Golden Age in Context
10am: Welcome at accommodation and transport to start point
10:30am: Belle Epoque architecture tour in downtown and Retiro neighborhoods
1pm: Annotated lunch, the "Bodegón" experience


Day 2 also begins at your accommodation and a short taxi ride to the meeting point of the first tour. A great compliment to day one's activities is our
Buenos Aires Architecture Tour: the Belle Epoque Era
. On this tour, you'll get the background on the city's most picturesque neighborhoods and learn why Buenos Aires is known as the "Paris of the south."
Following the 2 hour architecture tour, we will meet up with a food expert and take a deep plunge into the Italian and Spanish influence on the city's culinary tradition. Known as "Italo-hispano" cuisine, this bodegón experience with a food expert will enlighten both your knowledge and taste buds to new flavors developed uniquely here.
Booking Notes
You may book The Full Context package as you would any tour on our website. However, due to the logistics of organizing the package, we cannot accept requests for dates under 9 days in advance at this time. Also, as the package covers a diversity of topics, you will be assigned several experts during the experience so that all topics are covered in the depth of expertise Context is known for.
FAQ
What if I arrive in the morning? Can the itinerary adjust to begin in the afternoon of my arrival?
Yes. For simplicity, we would switch Day 2 with Day 1, and it could begin as late as 4pm. If this work-around is not idea for your schedule, please contact us at info@contexttravel.com or call our US office and we can fully customize an itinerary for you.
What is included in the package?
Besides the time with the expert guide, you'll notice there will be a per-person add on fee to cover the costs of lunch on both days, taxi rides, entry fees, coffees and small snacks. If you prefer to order beyond what is included in the package, the guide can assist you in ordering and paying for those additional expenses. Please let us know if you have any dietary preferences or restrictions in the notes section during checkout. For maximum flexibility and comfort, we did not include a snack during the tango outing so that you are free to order according to your interest. For this, it would be helpful to have about 300 pesos per person in cash with you.
What if we need to cancel our tour?
Due to the increased complexity of this booking, we must adhere to a stricter cancellation policy where all sales are final 4 days (96 hours) prior to the start time of package, and any cancellations outside of this timeframe would be refunded at a rate of 70% of full price.
Are the guides flexible as to meetup times and locations?
We understand that you have limited time and may have other obligations. Please let us know of any special requests or time constraints as early as possible and we will do our best to accommodate. Once the booking is confirmed and charged, you may be subject to a change fee of $30, and changes may not be possible within 9 days of the tour date.
Where You'll Start
Tour Experts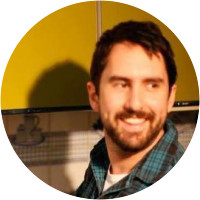 Kevin first visited Buenos Aires during a study-abroad program in college, and, after completing his degree in global studies and Spanish at the University of California: Santa Barbara, he returned to live in the Argentine city. Upon arriving in his new home, he began exploring the city's vibrant emerging arts as the managing editor of bilingual culture website Whats Up Buenos Aires. Currently he runs <a href="http://masamakestacos.com/">MASA</a>, where he organizes a weekly supper club from his home and regular pop-ups with restaurants around Buenos Aires. He is also the restaurant columnist for Buenos Aires-based English news media <a href="http://www.thebubble.com/category/featured/the-clean-plate/">The Bubble</a>. His writing has also appeared in Munchies, The New Worlder and Savoteur.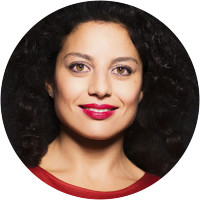 Basak is a tango dancer, instructor, and world-dweller with a BA in Political Science and MA in European Studies with a focus on migration. She has lived in major cities in four countries including, most recently, Berlin, where she taught tango, ran her own tango retail business and freelanced in public relations for seven years. She speaks English, German, Spanish and Turkish fluently. Basak first fell in love with tango in Istanbul, where she had been dancing classical ballet for 16 years. Tango changed the direction of her journey in dance as well as life. After commuting between Buenos Aires and Europe in pursuit of the evasive perfect "abrazo" - tango embrace - the marvelous city of Buenos Aires enticed her to move here. This native of Izmir, Turkey is currently enjoying diving deeper in the cultural diversity of Buenos Aires and is thrilled to share her passion for tango and its wonderful homeland in her tours. She explores elements from history, poetry, music and dance and presents tango as a human condition and definitely more than a dance.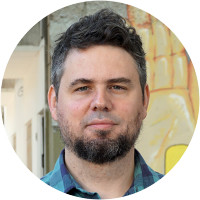 A Buenos Aires native, Santiago studied architecture at the Universidad Nacional de Buenos Aires, where he also taught for six years. His passion for drawing lead him first to became a comic strip artist and later a street artist. He has painted walls all over South America, Mexico and also in Europe. His "signature" is a flying pig, which can be found all over Buenos Aires. He grew fond of these friendly animals while working on his family´s farm, which is located 200 km away from the city, in what used to be a small Irish colony known locally as Arroyo de Luna. This variety of activities give him a unique perspective on the city and its history that he looks forward to sharing with visitors on Context tours.