Tour Details
Tour Description
Need help planning a trip to Burgundy? We can work with you to create a custom tour to suit your interests, from an excursion to an alternative wine tour, drawing on our network of expert Burgundy tour guides. From a half day to a full-day or longer, our planning specialists have your trip covered.
How to Book
Whether you already have something in mind or want help crafting something entirely new, our dedicated planning specialists are on hand to make the most of your travels. Context planners, all travelers in their own right and experts in their dedicated territory, will partner with you to create an itinerary suited exactly to your needs and schedule.
Fill out our
CUSTOM FORM
or email us at custom@contexttravel.com to get started.
Itinerary Inspiration
For those unsure of exactly what they'd like to do, a good place to start brainstorming is with a perusal of our other Burgundy tour options:
FAQ
What is included in the Custom & Multi-Day itinerary of Burgundy?
Cost details will vary based on exact itinerary, but all of our Custom itineraries include the cost of your private guide. In many cases, vehicle/transportation costs, select meals, and site entrances may also be included. Your Context planning specialist will confirm exactly what is included in your personal itinerary before charging your credit card. Accommodation is not included.
What information do you need from me in order to build a custom itinerary?
Our planning experts will be in touch to help you build your perfect tour, but in general, try to include the following pieces of information in your custom request form:
How many days would you like the tour to be?
Do you have specific goals for your trip?
Which sites and venues would you like to prioritize? Do you want to just pass by or explore inside as well?
Do you have any mobility concerns?
Who are you traveling with? What are their ages and interests?
How much does the Custom & Multi-Day tour cost?
Pricing will vary by itinerary. Your planning expert will provide an itinerary and pricing proposal for your trip before confirming your Context tour and charging your credit card.
How does the Custom & Multi-Day bookings process work?
Once you submit your custom request form (or contact us at
custom@contexttravel.com
), we'll get in touch via email or phone to review your ideas and finalize an itinerary. We only charge your credit card once all details have been confirmed.
Is this suitable for children and / or travelers with mobility challenges?
Yes. We can adapt the route based on the ages, needs, and interests of travelers in your party.
Where You'll Start
Tour Experts
Stephen has been living in France since 1992. After 5 years of working in the perfume industry in Grasse, he moved into the wine industry in Provence taking charge of wine tourism development at the Chateau de Berne. Stephen then worked for a fine wine merchant as a Burgundy sourcing agent based in Dijon (Stephen has French family in Burgundy) and became a Burgundy wine broker from then on. He has a consummate knowledge of Burgundy from its long wine history, to the secrets of the terroir and long-standing friendships with the winemakers. Stephen is also a part-time lecturer at various burgundy business schools, runs a wine club and has been initiating wine-lovers into Burgundy since 2012 from novices to winemakers from around the world.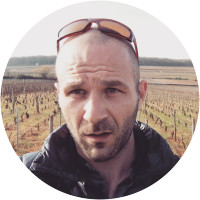 Born and raised in Dijon, the capital of Burgundy, Jeremie has been associated with Burgundy's wine secrets through his family and winemakers' friends for as long as he can remember. After a scholarship based on sports education, project management, tourism guidance, and hotel management, Jeremie has worked in different places in France and Europe as a guide, hotel manager and travel designer. Back in Burgundy since 2016, he has dedicated his activities to local wine tourism as a wine guide, a bike guide, a wines event manager and a photographer. Passionate about his region, its history, and its wines, Jeremie will ensure you discover the wonders and secrets of "his" Burgundy.
Michael was born in Glasgow in 1969, studied Business Administration and History at the University of Strathclyde and arrived in France in 1991 to learn French and experience French life. Two years of organizing clients on camping holidays in Burgundy was followed by 20 years working as a driver-guide for a specialist hotel barge company, based in Dijon, and various other hotel barge companies, providing guiding services off-board and sommelier services on board to high end generally American clients. Michael has worked in almost every region of France, for at least a year each, gaining a broad understanding of French history and culture throughout its diverse regions. Since 2013, Michael has been an independent guide associated with wine, historical walking, and cycling tours.