Tour Details
Tour Description
Cartagena de Indias is a colorful sight by day, but when the sun sets beyond the wall or La Muralla, those colors take on a new life. Plazas that are quaint and tranquil under the Caribbean sun become giant outdoor stages for dining and socializing. On this pleasant 3-hour Cartagena Food Tour, we'll discover the people, plazas, streets, and flavors of Old City and Getsemani. Our guide, a professional musician or local foodie, will help us savor the local flavors the way locals do: a casual beer at sunset, salsa music wafting in the air, a snack of street food, and finally a taste of Colombian rum cocktails.
Cartagena Food Tour
Our evening stroll begins near Plaza Santo Domingo, which is famous for its twilight sunset viewing on the wall of the old city. Here we discuss historical points that are relevant to today's contemporary music culture in Cartagena. We continue through Plaza del Reloj for a taste of local beer and then to Plaza San Diego, where we may peek at the Castillo lit up for nighttime. We will enter an old church, now hotel bar, which includes a candle-lit crypt from the colonial era before pausing in Parque Bolivar for a performance of Mapale, Cumbia, or Porro, all traditional dances and rhythms created in Colombia under African and indigenous influence.
Getsemani Food and Drink
We then shift our focus from old Colonial traditions to contemporary culture as we leave Old City for its sister neighborhood of Getsemani. The former working class neighborhood which serviced the wealthier areas of the old city, Getsemani is now enjoying a renaissance as the hub of Cartagena's food, drink, and music scene. We will taste some of Cartagena's famous street food in Plaza Trinidad and may enter a music venue or two for some auditory indulgence over one of Colombia's many enchanting rhythms of vallenato, mapale, cumbia, and salsa and taste a local drink of mojito, cuba libre, cold beer, or michelada.


Our twilight stroll culminates with two signature rum cocktail tastings in Cartagena's premier rum house, which boasts the largest Colombian rum collection in the country, and possibly in the world. Our rum specialist explains that each rum varies in scent, flavor, and finish, and their regions span both the mountain and coastal regions.
Take Aways
Colombia's cultural heart thrives in Cartagena, where the tastes of the many food, drink, and rhythms are kept alive. With our docent who is a music expert, we will learn the traditions that accompany the street life on this cultural walk through neighborhoods that becomes most animated at night with plenty of eateries, small bars, and music.


FAQ
What is included in the walk?
There is mandatory tasting fee that covers a glass beer, a snack, a coffee drink and the rum tasting and paring.


I have dietary restrictions. Can I take this tour?
We will do our best to accommodate you if you are on a group tour by ordering appropriate items. Taking a private tour would allow us to tailor even more fully to your needs. Please note any dietary restriction in the "notes" section when you book, and keep in mind that if you have severe allergies we cannot guarantee that the foods prepared in restaurant kitchens will not be subject to cross-contamination.


This walk takes place around dinner time. Will the tastings be enough for dinner? The tastings on this walk are mostly of the liquid variety, although one snack is included. Should you wish for something more, the docent can help you order something along the walk or recommend a restaurant for afterwards.
Where You'll Start
Tour Experts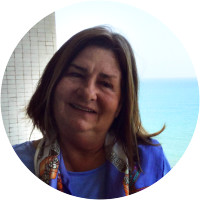 Claudia was born and raised in Cartagena and, with the exception of a few years spent in Spain and Bogotá, has lived most of her life in her native city. She has an intense love for history and culture, both of which helped shape an MA in history from the University of Cartagena. Claudia taught Columbian and world history at the University Jorde Tadeo Lozano for 7 years. She is passionate about her hometown and loves sharing her in-depth knowledge of the area with travelers as she welcomes them to Cartagena.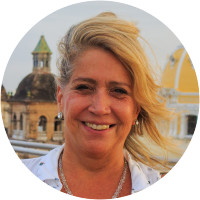 Although Ivonne studied Literature, her passion is in food, travel and history of Colombian culture. She knows all the stories behind Old City and Getsemaní's magical places. In particular she treasures hosting visitors to her city for a taste of life as a local.
Reviews can only be left by Context customers after they have completed a tour. For more information about our reviews, please see our FAQ.
Ivonne was great! We really enjoyed our evening with her, particularly as we had to cut our trip to Colombia short and weren't able to return to Cartagena as we had planned. Ivonne made sure to show us a great time and shared much about the history and culture of the city.
Mar. 19, 2020
Fun night with Ivonne. Wish we'd learned more about rum, but visited some great spots.
Jul. 4, 2018
Claudia is very personable and knowledgeable. We enjoyed the stops we made. Since we aren't big drinkers, we sampled food, instead. Claudia was very accommodating. The tour started an hour late because Contex had given Claudia a different meeting place from ours. It all worked out, though, and we had a good time.
Feb. 4, 2018