Tour Details
Tour Description
A unique combination of both modern and traditional, Beijing has survived khans, emperors, revolution, Starbucks, and—now—COVID-19 to become one of the globe's booming megalopolises.


One of the world's oldest cities, Beijing has spent most of its nearly three-millennia of history at the forefront of Chinese culture and politics: first as one of the country's last Four Great Ancient Capitals, today as capital of the People's Republic of China.


This comprehensive primer on the city's history, broad as it is deep, starts with a short introduction as to how Beijing came to be located where it is. We'll then discuss the city through its various fascinating eras, from imperial capital in the days of Kublai Khan, through to the Ming, the Manchus, Mao, and beyond. Using images from famous sites in and around the city, we'll take in visual evidence of what has changed, what's being preserved, and what's being lost in China's rush to modernize.


Designed to inform curiosity as well as future travels, this interactive seminar will explore how the history of Beijing has shaped its modern and contemporary culture. Led by history teacher, writer, and longtime Beijing resident Jeremiah Jenne.


Duration: 90 minutes, including a 30 minute Q&A


FAQs:
What time zone are events listed in?
All events are listed in US East Coast Time Zone.
I've booked. Now what?
After you confirm your booking, you'll receive an email confirmation with call-in details. You can join the seminar from your computer or tablet running Windows or macOS. You'll need to download Zoom. Once the seminar starts, you'll be able to speak with the scholar leading the seminar, as well as other fellow joiners.


Are these seminars live, or pre-recorded?
These seminars are live! Each seminar will leave 15 to 30 minutes at the end of the session for conversation and questions.


How long does each seminar last?
Each topic will run for approximately 90 minutes, including Q & A.


I'd like to join but these don't work with my schedule. Are you offering other dates and times?
If you're looking for a time not listed, please email us at conversations@contexttravel.com and we can arrange a custom time for you.
Tour Experts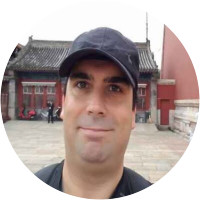 Jeremiah is an American writer and historian based in Beijing since 2002. He has taught Chinese history and philosophy for nearly 10 years and has written extensively on China for a number of publications including The Economist, The Atlantic Monthly, Journal of Asian Studies, Asia Society, Los Angeles Review of Books, and The World of Chinese. His work can be found in the anthologies China in 2008: A Year of Great Significance, The Insider's Guide to Beijing, and the 2015 collection While We're Here: China Stories from a Writer's Colony. He has appeared on Al Jazeera English, NPR, APM Marketplace, Beijing Radio, and the Sinica Podcast. Jeremiah produces and co-hosts the podcast Barbarians at the Gate and is frequently asked to speak on Chinese culture and history to corporate and school groups. Jeremiah also maintains the popular Chinese history website granitestudio.org.