Tour Details
Tour Description
Edinburgh teems with stories of kings and queens, castles and bards just waiting to be discovered. On this 2-hour Edinburgh Old Town Tour for Kids, we'll travel through time from a 400-year-old school for orphans, to an imposing castle, to mysterious Victorian rooftops. Along the way, accompanied by our docent who is trained in inquiry-based learning and comes equipped with fun games and activities, we'll learn to recognize the symbols and characters of Edinburgh.
National Museum of Scotland: Medieval Mysteries and Daily Life
We'll begin in the National Museum of Scotland, where we'll discuss the origins of Scotland and its people. Specifically, we'll learn about the mysterious Picts people, taking a look at the fascinating stones with intricate carvings they've left behind, and examine some artifacts left behind to try to figure out what Norse people were doing in Scotland at the time. We'll also take a look at the Lewis chessmen, beautifully carved 12th century chess pieces, to help us learn about games and daily life in Scotland almost 1,000 years ago.
Edinburgh Old Town for Kids
From here, we'll venture out into Old Town to examine up close what it would've been like to live here. We'll encounter secret passages and medieval alleys, and uncover traces of Scotland's history and traditions in every small detail. Taking in Victoria Street and the Grass Market, we'll learn about water, markets, and daily life in the city—like how at one point, ale was actually safer to drink than water! Our docent will lead us through several activities, through which we'll discover the history of bagpipes, learn about ancient bards, and discover how Scotland eventually became part of the United Kingdom.
Take Aways
By the end of the tour, we will have discovered numerous fascinating characters and stories throughout Scotland's colorful history. Children and adults will come away with a better understanding of Scottish history, and the role of Edinburgh in history and today.


FAQ
Where do we meet?
After your order is placed and confirmed, we will send you a full confirmation with meeting point details and all the information you need to know.


Do we go inside the venues or just see them from the outside? We will go inside the National Museum of Scotland and possibly some other buildings, depending on the weather and the day.

Will you pre-purchase tickets?
Tickets are not necessary as the Museum is free


What if it's raining?
Tours operate rain or shine, but in the case of inclement weather, your docent will modify the tour so more time is spent indoors. It never hurts to have an umbrella on hand.


Is this tour good for kids?
Yes! This tour was specifically designed for families with kids. Feel free to provide us with information such as their favorite school subjects, and hobbies. This will help us match you with the best possible docent.
Where You'll Start
Tour Experts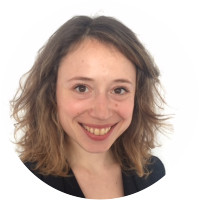 Born and raised in Milan, Irene moved to Scotland in 2009. She achieved a PhD in Art History at the University of Edinburgh in 2015. Her doctoral thesis looked at the artistic patronage of the Vespucci family in fifteenth-century Florence. Irene currently works at the University of Edinburgh. She loves art, coffee, yoga, and the sun – not necessarily in this order. Despite her reluctance to sit on planes, she is a travel addict and she hopes to tour the world one day. Edinburgh stole her heart and it is now her home.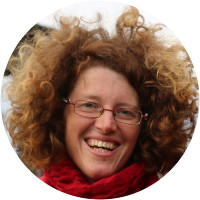 Sandra is a native of Edinburgh. After studies in French and Spanish at Aberdeen University, Sandra returned to her home city. For many years she has shared her passion for Edinburgh with visitors. She loves to introduce others to the hidden corners of her city whilst incorporating her love of literature and her enthusiasm for natural history into her explanations.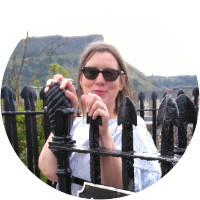 Born and raised in the Scottish Borders, Jenny moved to Edinburgh in the late 1980s to study History and English Literature. She later completed a PhD on the Scottish context of Canadian author L.M. Montgomery at the University of Edinburgh, where she also taught American History. Jenny worked in adult education research and policy at the Institute of Education, London for over a decade, living in Edinburgh and travelling regularly to Europe. Her main interests lie in Scottish literature, culture and folklore and in children's books. She has two daughters.
Reviews can only be left by Context customers after they have completed a tour. For more information about our reviews, please see our FAQ.
Irene was very knowledgeable, and did an excellent job of catering the tour to a wide range of ages and interests. She was also very personable, and our whole family enjoyed meeting her.
Sep. 3, 2019
Alice was a great story teller w great knowledge of the history of Edinburgh
Jun. 19, 2019
Our docent gave us a good overall view of the city. She was flexible and cognizant of what worked for our whole family and pointed out things of particular interest to our sons. One family idea for Scotland: meet someone who plays the bagpipe to hear about what is involved in learning/playing the instrument.
Aug. 29, 2016