Tour Details
About the Tour
Duration

6 days / 5 nights
Photos & Highlights
Expertly-planned 6 day, 5 night itinerary in Florence and Tuscany. Exclusive experience led by an acclaimed professor and enjoyed by lifelong learners.
Small group size (10-18 participants)
Uffizi Gallery, Accademia Gallery, Florence Duomo, Boboli Gardens, Wine Tasting in Chianti, and Walking in the Tuscan hills
Tour Description
Florence and Tuscany: Walking in History with Professor Kate Bolton-Porciatti
Departure 1: March 17 - 22, 2022
Departure 2: May 12 - 17, 2022
Get in touch
about this Journey

Please note that our Journeys are excluded from promotions.


Trip Highlights:
Explore: Traverse the rolling hills of Tuscany with the region's best local guides
Learn: Private tours to encompass the Uffizi Galleries, Florentine churches, Chianti Vineyards, and more!
Connect: Exclusive opportunity to learn from a top-class expert, and create memories alongside fellow curious travelers, in a small group of 10-18 participants
Unwind: Our team of experts on the ground has managed all the details, so guests can relax and enjoy carefree travel
Join cultural historian Kate Bolton-Porciatti to explore Florence and the surrounding countryside of Chianti for a blend of art, history, and walking in Italy. While in Florence, we'll explore the historic city, narrating the story of how it grew from an ancient Roman castrum to a splendid Renaissance town - later chosen to be the first proud capital city of the newly unified Italy. Together we will visit the Uffizi Gallery for an in-depth viewing of its paintings and sculptures, see Michelangelo's David in the Accademia, and stroll through the beautiful Boboli and Bardini Gardens.


We'll take in sweeping views of Florence from just beyond the medieval walls at the city's oldest surviving church, San Miniato al Monte, where we explore the techniques of fresco, panel-painting, mosaic, intarsia, and sculpture – the artistic and artisan skills that ultimately defined the great Renaissance city in the valley below.
From there we journey together into rural Chianti to enjoy its scenery. On our walks through the verdant, vine-clad hills we'll take in the historic abbey and hamlet of Passignano (surrounded by the noble Antinori vineyards), the medieval fortified castle of Montefioralle (family home of explorer Amerigo Vespucci), and the market town of Greve in Chianti, with its delightful arcaded piazza. Our experiences together will include a private vineyard tour, wine-tasting, and a cooking class.


"As a keen walker and nature lover, it is a pleasure to wander through the hills of Chianti, exploring its flora, fauna, and culinary traditions that have evolved in symbiosis with the natural environment. Above all, during stimulating conversations as we sip the exceptional wines of this area, I look forward to sharing our mutual passions for a cultural landscape that has been shaped to perfection by man and nature." - Professor Kate Bolton-Porciatii
*Final itinerary subject to change based on venue availability*
DAY 1: Arrival & Getting Settled
After a busy day of travel, we will enjoy a tour of our neighborhood as well as a traditional Florentine meal while we get acquainted with our fellow travelers and our expert, Professor Bolton-Porciatti.
At a Glance:
Arrive from the airport and check in to the hotel
Meet the group
Meet Professor Bolton-Porciatti for an orientation stroll
Welcome dinner together as a group
DAY 2: Renaissance Florence In Depth
On our first full day together, we'll enjoy an in-depth tour of historic Florence, including the Uffizi Galleries and Michelangelo's David, walking past all of the highlights of the city from the soaring Duomo to the picturesque Ponte Vecchio, putting the pieces of this magical place in context.
At a Glance:
Breakfast at the hotel followed by a personalized introduction to the city's Roman to Renaissance history
Visit the Medici's Uffizi Galleries to see masterpieces of Italian art, including works by Botticelli, Caravaggio, Da Vinci, Michelangelo, Raphael, and Titian.
Experiencing Michelangelo's David up-close with a leading art historian
Sightseeing around the Ponte Vecchio, Piazza della Signoria and the Duomo
Lunch together in a typical trattoria
Finish the day with a rooftop aperitivo as a group to enjoy panoramic views of the city
Guests will enjoy dinner on their own, tailored recommendations will be provided for lunch and dinner
DAY 3: Florentine Panorama: From San Miniato to Boboli Gardens
In the morning we'll visit the city's oldest church, San Miniato al Monte - a 1000-year-old showcase of the artistic skills of Florentine craftsmen. And we'll spend the afternoon taking in the panoramic views of the city as we stroll through historic Renaissance-style gardens of Florence – such as the Bardini and Boboli. We'll stop for lunch in a typical Florentine Osteria.
At a Glance:
Private transportation will convey us all together to San Miniato, above the city.
Guided by Professor Bolton-Porciatti, we'll visit the church and enjoy a private tour of its artistic treasures
We'll catch our breath as we take in the view at Piazzale Michelangelo
Stroll downhill via the Rose Garden into the San Niccolò artisan neighborhood and enjoy a narrated tour of the monuments we'll pass
Lunch in the Oltrarno - a fashionable bohemian neighborhood where many Florentine artisans and craftspeople have their workshops
Afternoon visit to iconic Bardini Gardens and Boboli Gardens surrounding the Palazzo Pitti or opt to enjoy an afternoon at leisure on your own.
Guests will enjoy dinner on their own - tailored recommendations will be provided
DAY 4: From Florence to the Chianti Hills
We'll enjoy a scenic drive through Chianti, and after leaving our bags at our countryside accommodation, we will set out on foot for our first walk in the hills – or our driver can convey guests who do not wish to go on foot. We will cover about 8 miles (13km) today on our circular route. In the evening we'll enjoy a private cooking experience, led by a local chef.
At a Glance:
1-hour drive from central Florence to Chianti in private vans with drivers
Leave luggage and set out on foot for a morning walk in the countryside with Kate
Experiencing the evocative views of the scenery and landscape of the Florentine hills
Touring the beautiful villages of Montefioralle and Greve
Lunch at leisure as a group in Greve and then we'll make our way back to Villa Bordoni
Cooking class at Villa Bordoni with dinner
DAY 5: Walking to Passignano
On our final day together, we will once again take to the hills on foot and walk a total of 8 miles (13 km) to enjoy the flora and fauna of Chianti and to visit the historic village of Passignano, built around an ancient Benedictine Abbey. In the evening we'll enjoy a wine tasting and farewell dinner. We will come away from the wine tasting with a deeper understanding of the role winemaking plays within Tuscany's storied history.
At a Glance:
After breakfast at the hotel, we set out on foot to visit Passignano. For those who do not wish to travel on foot, transportation via private van will be available
Enjoying panoramic views of the idyllic countryside on our way to the Abbey
A leisurely picnic lunch
Free time to lounge at Villa Bordoni, enjoying the pool and additional amenities
Evening Wine Tasting excursion followed by farewell dinner
DAY 6: Departure
Travelers will depart from Villa Bordoni to Florence to continue their Italian journey independently – or our team will be happy to arrange airport transfers for flights home.
For more information, we invite you to
explore our FAQ Page
or
get in touch
about this Journey. To reserve a spot on this tour, you can either place an order from this page or email us. We will charge a $1000 non-refundable deposit to reserve your place, with the balance due 3 months before travel. A single supplement will apply to individual travelers who wish to have a private room.
Where You'll Start
Tour Experts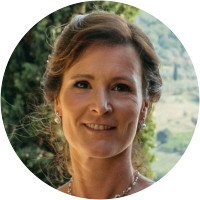 A British-Italian citizen, Kate Bolton-Porciatti is a professor of Italian cultural history and music at the Istituto Lorenzo de'Medici in Florence, where she teaches BA and MA courses in the humanities. She also lectures regularly at the British Institute of Florence and the Chigiana Academy in Siena. Kate first lived in Italy in the 1980s in order to write her M.Phil. thesis - an interdisciplinary study exploring the musical and artistic culture of early Renaissance Florence. Later, she married a Florentine and came back to enjoy 'la dolce vita' permanently! From 1989 to 2005, Kate was a producer and broadcaster for BBC Arts & Classical Music in London, for whom she made hundreds of documentaries and features on cultural topics, including co-productions with WGBH and NPR. She has also published extensively as an academic and a journalist and is a regular contributor to the Italian travel pages of the Daily Telegraph, UK. Kate's guiding ethos is to share her passion for the visual arts, music, and the natural beauty of Tuscany.