Tour Details
About the Tour
Duration

From 1 Day to 6+ Days
Tour Description
Need help planning a trip to Florence? We can work with you to create a custom tour to suit your interests, from the legacy and masterworks of Michelangelo, political intrigue and history of the Medici family, Florentine artisanal traditions to the comprehensive Renaissance collection of the Uffizi, drawing on our network of expert Florence tour guides. From a full-day to a full week, our planning specialists have your trip covered.
How to Book
Whether you already have something in mind or want help dreaming up something entirely new, our dedicated planning specialists are on hand to make the most of your travels. Context planners, all travelers in their own right and experts in their dedicated territory, will partner with you to create an itinerary suited exactly to your needs and schedule.
Itinerary Inspiration
For those unsure of exactly what they'd like to do, below are a handful of
example
Florence itineraries to ignite your imagination; another good place to start brainstorming is with a perusal of our other
private and small group Florence tour options
:
See the Duomo with skip the line access and a private visit to the Terrace for stunning views and an up close look at Ghiberti's marvelous 15th century rose window
Delve into the history of the Medici family, and how their remarkable influence shaped the politics and artistic heritage of the city
Enhance your art history knowledge with an extended visit to the Uffizi and Accademia Galleries
Explore Florence's rich artisanal heritage with hands on experiences with local craftsmen and a specialist in artisanal art
Understand the flavors and layered elements of the region's culinary culture, including its contemporary role in the Slow Food Movement
Couple a custom tour of Florence with explorations of the surrounding Tuscan countryside
FAQ
What is included in the Custom & Multi-Day itinerary of Florence?
Cost details will vary based on exact itinerary, but all of our Custom & Multi-Day itineraries include the cost of your private guide. In many cases, vehicle/transportation costs, select meals, and site entrances may also be included. Your Context planning specialist will confirm exactly what is included in your personal itinerary before charging your credit card. Accommodation is not included.
What information do you need from me in order to build a custom itinerary?
Our planning experts will be in touch to help you build your perfect tour, but in general, try to include the following pieces of information in your custom request form:
How many days would you like the tour to be?
Do you have specific goals for your trip?
Which sites and venues would you like to prioritize? Do you want to just pass by or explore inside as well?
Do you have any mobility concerns?
Who are you traveling with? What are their ages and interests?
How much does the Custom & Multi-Day tour cost?
Pricing will vary by itinerary. Your planning expert will provide an itinerary and pricing proposal for your trip before confirming your Context tour and charging your credit card.
How does the Custom & Multi-Day bookings process work?
Once you submit your custom request form (or contact us at
custom@contexttravel.com
), we'll get in touch via email or phone to review your ideas and finalize an itinerary. We only charge your credit card once all details have been confirmed.
Is this suitable for children and / or travelers with mobility challenges?
Yes. We can adapt the route based on the ages, needs, and interests of travelers in your party.
Where You'll Start
Tour Experts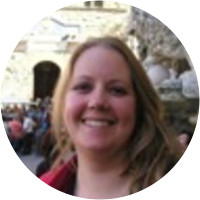 Elizabeth recently received her MA in Florentine Renaissance art from Syracuse University in Florence. Her interests include women's history and women artists, particularly by women in convents. In addition to leading walks, she also lectures at various universities and institutions in Florence.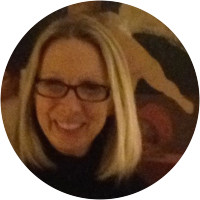 Diane holds a PhD in interdisciplinary studies in architecture from the University of British Columbia and is a visiting scholar at the Faculty of Architecture at the Sapienza University of Rome. A former research fellow at the British School at Rome, she has been appointed as a heritage expert to numerous committees both in Italy and internationally on the conservation and restoration of architecture and urban heritage. One of her main research sites is Hadrian's Villa, Tivoli, and the continued influence of the architecture of the Emperor Hadrian on Brunelleschi, Michelangelo, Borromini, Bernini, and contemporary architects. Diane teaches architecture and urban history in Rome, including a specialized seminar on Michelangelo. Additionally, she was the founding curator of the international architectural collection of drawings, prints, and rare manuscripts for the Canadian Centre for Architecture. She was also an advisor to the Getty funded Architectural Drawings Advisory Committee (ADAG), at the Center for the Advanced Studies of the Visual Arts, Washington, D.C.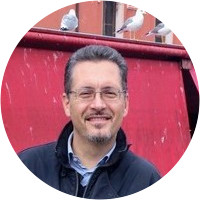 Originally from Siena, Luca has lived in Florence since college. He studied the history and restoration of monuments at the University of Florence and the restoration of historical gardens and parks in Siena. Luca was also co-author of the "Guide to Villa Demidoff and the Pratolino Park." He has continued to study Florentine traditions and arts and crafts, collaborating with the Agency of Tourism on the initiative "Re-Discovering the craftsmen of the Oltrarno." Over the past five years, Luca has contributed to several projects focused on the relationship between artisan skill and local traditional tastes in Tuscan food specialties.
Reviews can only be left by Context customers after they have completed a tour. For more information about our reviews, please see our FAQ.
Valerie was absolutely incredible. So lovely!
Dec. 28, 2019
Another terrific Context tour! Siro was lively and (like Maria) fantastically knowledgeable. He made all kinds of connections that enrich our understanding of Florentine history and art. We arranged to see Santa Maria Novella and Santa Trinita, and he managed to work in Santo Spirito too.
Sep. 30, 2019
Cornelia did an amazing job of adjusting the information & pace of the tour to our family. She is a wealth of information & her passion for telling the stories of art, history & architecture of Florence is a treat!
Jul. 27, 2019