Tour Details
Photos & Highlights
A comprehensive view into the history and culture of Florence for first-time or returning visitors
Led by an expert local guide or scholar
Uffizi Gallery, Accademia Gallery, Florence Duomo, Palazzo Vecchio, Michelangelo's David, The Birth of Venus, Primavera, Venus of Urbino, and Ponte Vecchio
Tour Description
Beautiful Florence in Italy's Tuscany region is home to many significant masterpieces of Renaissance art and architecture. Step back through time with this 6.5-hour tour which pulls together some of the city's most charming highlights on an unforgettable day of Italian adventure. In the company of a local expert, we will visit the world-famous Uffizi Gallery, marvel at the Duomo in the main historical center of the city, stop for a delicious lunch, and visit one of the city's most famous pieces of art, Michelangelo's Statue of David showcased in the Accademia Florence. This day tour provides an overview of Florence's history and some of its most famous sites, perfect for travelers with a desire to soak up this spectacular Italian city.
Sites Visited
Uffizi Gallery
Accademia Gallery
Florence Duomo
Palazzo Vecchio
Michelangelo's David
The Birth of Venus
Primavera
Venus of Urbino
Ponte Vecchio
Included
6.5-hour private tour with a local expert guide
Skip-the-line tickets to the Uffizi Accademia Galleries
Itinerary Details
Our day of Italian adventure begins at the Uffizi Gallery, one of the world's greatest collections of Renaissance art. We'll begin with a short introduction in the Piazza, before spending around 2 hours exploring masterpieces. You'll receive background information of some of the museum's grandest pieces and works by Botticelli, Michelangelo, Giotto, and Da Vinci, as well as many other incredible pieces from world-renowned artists.
Next, we will continue our explorations through a walking tour of the charming city. You'll visit famous sites such as the Arcone, a triumphal arch erected in 1895, the picturesque Ponte Vecchio, and the exterior of Palazzo Vecchio. Then be prepared to be impressed and marvel at the most important landmark in Florence and Brunelleschi's later masterpiece, the iconic Duomo. We will circuit the impressive exterior and discuss the importance of this fourth largest cathedral in the world, and learn about the nearby Baptistery in Florentine art and civic history. Our incredible morning will be topped off with a delicious Italian lunch at a local restaurant.
After lunch, we will make our way to the Accademia Gallery and view the famous masterpiece, Michelangelo's Statue of David. You'll learn about the life of Michelangelo in Florence and how his techniques forever changed the way that artists and sculptors would approach their craft. We will discuss Michelangelo's early years and career under the patronage of the powerful Medici family, and admire David, the artist's masterpiece and consummate symbol of the Florentine Renaissance.
At the end of this awe-inspiring day filled with the best of what Florence has to offer, you will come out with a deeper appreciation and understanding of the city's art, architecture, history, and culture.
Interesting in seeing more of Florence's incredible history? Check out our
Florence Medici Tour.
FAQ
For more information
about Context tours, please visit
our FAQs
.
Book with confidence
— see Context's flexible cancellation policy
here
.
Where do we meet? Where does the tour end?
You will meet your expert guide in front of the wooden door at Piazza della Signoria #4 which is located between Caffè Rivoire and the Chanel store. The tour will end at the Academia Museum. Your confirmation email will have the exact meeting point details along with a map, and a 24-hour phone number for any last-minute issues.
Is the Duomo included on this tour?
Yes, you will see the Duomo on this tour and discuss its magnificent exterior and significance. It doesn't however include a visit inside the cathedral. If you wish to visit inside and learn more about the Duomo, book our
Florence with Kate, Cultural Historian
tour. If you would really like to go inside it as part of this tour please contact us and we will discuss options with you.
Can the tour start later than 8:30 am?
Yes, the latest we can begin the tour is at 10:30 am, and the earliest start time is 8 am.
Does this tour run every day?
No, we are unable to run this tour on Mondays as the Accademia Gallery and Uffizi are closed.
Can I reuse my purchase ticket to visit the museums another day?
We buy single-day tickets that can not be reused.
Is this tour walking-intensive and/or wheelchair accessible?
The route may include narrow sidewalks and cobblestoned streets; please contact us to discuss in more detail your mobility concerns so that we can best advise. We are always happy to design a private, customized tour for visitors with mobility concerns.
What costs will I need to cover on the day?
We will pre-purchase your skip-the-line tickets for both the Uffizi and Accademia. You will be expected to cover the cost of your lunch and any additional refreshments.
Where You'll Start
Tour Experts
Born and raised under the shade of Brunelleschi's magnificent dome in Florence, Siro belongs to an important Tuscan family of art nouveau artists. After a diploma in ceramic decoration obtained in 2000, he has worked in a traditional Florentine workshop. He received his BA at the University of Florence and in 2008 published his research about the Richard-Ginori porcelain production that was commissioned by the vice-king of Egypt for the celebrations of the opening of the Suez Canal. In order to share his passion and love for art, culture, and the Florentine lifestyle, Siro is professionally trained as a tour guide for his hometown.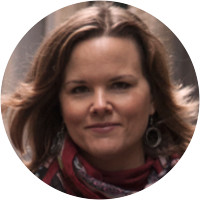 Molly holds an MA in Italian literature from the University of Wisconsin-Madison where she completed her PhD coursework and exams with a specialization in Renaissance and Early Modern periods. She spent a year in Venice as an undergraduate while at the University of California-Santa Cruz and afterwards worked in Siena for two years for the University of California Education Abroad Program. She later went to graduate school and, after finishing her studies in Madison, found herself back in Venice once again for another year, this time conducting archival research for her doctoral dissertation. She has remained in Italy ever since, has taught courses in Renaissance history in Florence, and is a licensed tour guide of Florence and its province.

Born and raised in Florence, Alessandra has a degree in art history from the University of Florence with a specialization in seventeenth-century painting. She obtained an Masters from the European University Institute in Florence, where she defended her Ph.D. in history, focusing on the patronage of Tuscan nobility in Europe during the seventeenth century. In addition, she holds a diploma in archival administration, paleography, and diplomatics from the State Archive in Florence. She has been teaching art history and Italian culture for several years in various schools and institutions in Florence and across Italy.
Reviews can only be left by Context customers after they have completed a tour. For more information about our reviews, please see our FAQ.
Siro was AMAZING! He was knowledgeable, used our time together wisely and was able to accomplish all we wanted plus time to just wander and chat.
Apr. 21, 2022
Molly was excellent! She was great with our son. She gave him small moleskin books for him to sketch in. This made him pay close attention to the artwork and time for us (the parents) to really enjoy the artwork/sculptures. She was very insightful, and resourceful. Truly made our tour worthwhile.
Mar. 30, 2022
Siro has fabulous!
Dec. 23, 2021