Tour Details
Tour Description
The Florentine tradition of producing artisanal goods has been in existence for centuries and remains one of the cornerstones of Florence's visual and social history. This Florence Artisan Workshop tour explores the area known as Oltrarno ("on the other side of the Arno"), which has produced goods for countless generations of kings, queens, gentlemen, and noblewomen. Florentine leatherworkers, silversmiths, shoemakers, and milliners continue to practice their crafts building upon methods passed down through generations. We will visit the private workshops of these distinguished individuals, providing a behind the scenes look at the current state of artisan production.
Florence Artisan Workshop Tour
We will begin in the lovely Piazza Santo Spirito and enjoy a stroll through the Oltrarno neighborhood, which has been home to artisans for the last five hundred years. The neighborhood is virtually carpeted with a maze of these small workshops on tiny side streets, representing some of the most historic enterprises in the city. The group will have the opportunity to see some of these craftsmen at work, observing their meticulous practices and the tools of their trades.
Preserving the Art
In the company of our guide, an expert on these workshops, we'll talk about Tuscan artisan traditions and the value and role of work and manufacturing in Italian culture. This walk is very much for the traveler looking to scratch a little more beneath the surface of the city. It should not be thought of as a shopping tour, instead, it is an in depth look into the workings of this precious industry and should provide a better understanding of the importance of preserving and promoting this dying art.
FAQ
Where does it start? Where does it end? The tour begins near Piazza Santo Spirito and ends in the Oltrarno neighborhood. Your confirmation will have the exact meeting point and our 24-hour phone number.


Why isn't this available in August? Most of the studios are closed, and the artists are usually out of town.
Where You'll Start
Tour Experts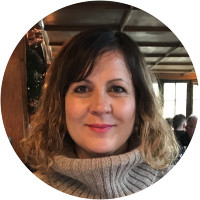 Susanna was born in Arezzo (Tuscany) where she currently resides. She is a PhD Art Historian (University of Florence) and is a researcher of the Medici family collections and Renaissance art of Florence. She is a member of the prestigious Accademia delle Arti del Disegno, worlds' oldest Art Institution, established in 1563 by Duke Cosimo I de' Medici and Giorgio Vasari. The author of several books and other publications about her subject area, including works on the Uffizi Gallery and Florentine art that have been translated into many languages, Susanna is also a teacher and educator. Susanna has collaborated with the Piero della Francesca Project and Susanna is also a certified Sommelier. Her passion for Tuscany, art and Italian wine inform her tours and lectures. She is a licensed tour guide in Florence and Arezzo.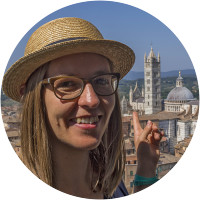 Agata is an art historian specialized in fifteenth-century Florentine art. She graduated in Art History and Italian Studies at the University of Warsaw and then she conducted her PhD research at the Durham University in the UK. In her PhD she focused on the relationship between the monumental fresco decorations created in the fifteenth-century Florence and the world of religious drama. In particular, she focused on Filippo Lippi and Domenico Ghirlandaio's artistic production and the results of her research were published in the academic press. She loves to talk about her research during her tours, introducing the visitors into the fascinating world of religious drama in early Renaissance Florence. Currently, Agata works as lecturer and tour guide in Florence and she continues her research on the Florentine Renaissance art.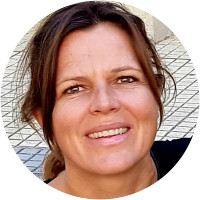 Christiane is a licensed Tour Guide in Florence and a Degreed Conservator of Paintings on canvas and panel. She came to Florence, Italy in 1991 after completing her High School diploma, inspired by the beauty of the city of Florence to study Art History and Conservation of Paintings. Florence is considered one of the most important Restoration and Conservation centers in the world. After years of training, she received the Diploma of Restorer of Paintings on canvas and panel and started to learn and improve the art of restoration in different important studios in Florence. After graduation, she started to work on important projects and artworks in different museums like the Uffizi Gallery, Galleria Palatina and private Collectors. In 2007 she became a licensed Tour Guide of Florence and since then has been making the gems of historical art accessible to interested visitors from all over the world.
Reviews can only be left by Context customers after they have completed a tour. For more information about our reviews, please see our FAQ.
This tour was the highlight of my stay in Florence. I still have a few more towns to visit however I expect it will likely be the highlight of my time in Italy. It's a special treat to buy something handmade by the artisan you meet. Items I will treasure for ever. Adrienne was the best!
Oct. 17, 2019
Very well planned and organized. Adrienne was very patient and answered our many questions.
Sep. 27, 2019
The tour was perfect for us as we wanted to see something outside of the ordinary in Florence and this tour fit the bill. On top of that, Adrienne was an amazing guide, with excellent knowledge of the areas we toured. Altogether an A+++
Sep. 5, 2019