Tour Details
Tour Description
Full of verve and energy, and also steeped in history, Israel is an entrancing destination. Where the ancient intermingle seamlessly with the modern, and archaeological ruins and religious narratives still shape daily life, culture, and conversations. Alongside our more typical private day tours, we can also arrange a multi-day itinerary that explores Israel more broadly. Here is an example itinerary for a six-day trip, with the potential to revise according to individual interests. Accommodation is not included. Pricing starts for 2 people. Please contact us for hotel suggestions and discounts.

*This itinerary is a proposal and is open to changes, including the reduction or addition of days, according to individual interests.*
Private Multi-Day Tour of Israel
Day 1 - Holy Jerusalem
This full-day tour focuses on the intersection of Christianity, Judaism, and Islam in one of the oldest and holiest cities in the world. Together with a local expert, we will explore Jerusalem and its turbulent history over the centuries, including visits to some of Jerusalem's most notable religious and cultural sites.
Duration: 7 hours
Overnight: Jerusalem
Day 2 - The Lowest Place on Earth
We'll get outside on Jerusalem with a full day excursion to Ein Gedi Nature Reserve, the Dead Sea, and Masada, three magnificent historic and religious sites. With the guidance of a local expert, we'll discuss the history and importance of each location, as well as the complex ecology of the area.
Duration: 10 hours
Overnight: Jerusalem
Day 3 - Following in the Footsteps of Jesus
Our journey will continue north, to Qaser El Yehud (Jesus's baptism site) and a visit to an organic agricultural Kibbutz. Optional afternoon tour of Hula Valley for hiking or an Israeli wine tasting.
Duration: 8 hours
Overnight: Galilee
Day 4 - Spiritual and Physical Heights
Our itinerary will be determined by individual interests with several thematic options: a Jewish-focused tour of Tzfat and Tel Dan, a Christian-focused tour of Capernaum and Mt. of Beatitudes, or a multicultural tour combining Jewish, Christian, Arab, and Druze sites. Optional afternoon tour of Golan Heights with a geopolitical focus.
Duration: 8 hours
Overnight: Galilee
Day 5 - From Lower Galilee to an Ancient Herodian Port
We'll begin with a morning tour of Nazareth (Israel's largest Arab city and home to numerous Christian sites). Optional Druze home hospitality experience. Afternoon tour of Caesarea, an ancient port and impressive archaeological site.
Duration: 8 hours
Overnight: Tel Aviv
Day 6 - Jaffa & Tel Aviv: Old vs. New
Our journey will conclude with Tel Aviv, Israel's bustling metropolis. We'll get an introduction to the city with a morning tour of historic Jaffa (Old City) and the Neve Tzedek neighborhood. To further our understanding of Israel, we'll embark on a culinary and tasting tour at Carmel Market, followed by an afternoon tour of the Independence Trail.
Duration: 8 hours
Overnight: Tel Aviv
*Optional additional activities:
Jerusalem:
Friday night (Shabbat) home hospitality and dinner with a local family in Jerusalem
Jerusalem Yad Vashem Holocaust Museum
Sound and Light show at the David Citadel


Tel Aviv:
Tel Aviv street art graffiti tour with a local artist and/or art specialist
Tel Aviv Bauhaus architecture tour
Israel Museum
Start-up and innovation tours


Additional Day Options:
Beit Guvrin National park, the Ayalon Institute (bullet factory), and a boutique winery
Day tour to the Bahai Gardens in Haifa, Akko & Rosh Ha'Nikra and more
Variety of workshops, such as: arts and crafts, cooking
Nature and desert hikes
Family attractions, such as: the water tunnel in the City of David, rappelling, ATV's
Agriculture and ecotours
Geopolitical tours


Please feel free to place a booking and add additional information in the client notes section if you'd like an alternative itinerary.
For further inquiries please contact us at israel@contexttravel.com


FAQ About the Private Multi-Day Tour of Israel

What is included in this experience?
The private guide, vehicle and all entrances are included. The cost of some lunches are included. Accommodation, breakfast, and dinner are not included.

Do you have accommodation recommendations?
Yes, we can send a list of recommendations as well as discount links. In some cases, we are also able to book accommodation. Please contact us for more information.

Why does the price change when I add more than 2 people?
The pricing for this experience starts at 2 people. Each subsequent person is subject to an additional charge.

Is this suitable for children?
Yes. We can adapt the route to be more family-friendly and pair your family with a suitable family guide.

I'd like to revise this itinerary. Is this possible?
Yes, absolutely. Please let us know in your client notes or email us at israel@contexttravel.com. This product is an example of the types of multi-day itineraries that we can craft for an in-depth trip through Israel.
Where You'll Start
Tour Experts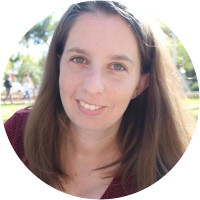 Reut has been guiding for over ten years, leading tours and educational programs for all age groups. After military service, she went on two volunteer trips overseas. She first spent a year in Melbourne, where she led activities and seminars at a school in a local Jewish community, serving students from first grade through university. When she came back to Israel, she participated in Ein Prat Midrasha, a program focused on Israeli and Jewish studies. She also graduated with a degree in Middle Eastern studies from Hebre University. Alongside her university studies, she completed tour guide courses and began guiding groups across the country. She specializes in Israel's archaeological sites and enjoys working with groups of all backgrounds to find individual connection points with Israel's religion, history, art, technology, or food.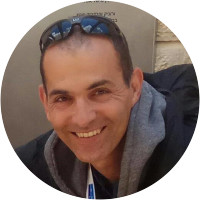 Segev was born in Jerusalem. After his army service, he explored South America and the Far East. His adventure didn't end when he came back. He walked all Israel by foot on his own. His "Israel Trail" journey led him to seek a better understanding of Israel's cultures, trails, and people. He became a social worker, and worked with various groups of people: he mentored Israeli at-risk youth, developed leadership and outdoor programs for army military commanders, and created programming for private organizations and special needs groups. Today, Segev is married with 3 children. In addition to being a certified tour guide since 2011, he continues his work as a social worker. He is also a licensed snake catcher and a marathoner.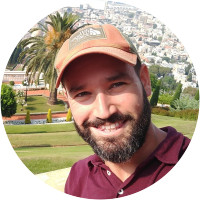 Asaf earned a BA in Jewish History and Archaeology from Hebrew University, and an MA in Middle Eastern Studies and Islam from Bar Ilan University. He has worked for over ten years for the Western Wall Heritage Foundation, and has led many missions and tours across the country. Asaf is passionate about sharing his love of Israel and its people through stories, personal experiences, and hands-on learning; he specializes in tours of Jerusalem and the Old City. Asaf has led many groups and individuals on exciting and educational tours throughout Israel (including heads of state, famous celebrities, and even Pope Francis). Asaf is married with 2 kids and lives in Jerusalem.