Tour Details
Tour Description
Spanning two continents and hemmed in by two seas, Istanbul is a vast and growing metropolis. A complex layering of history, culture, and religion form the background of this bustling city of over 17 million inhabitants. Begin your Istanbul travel with our personalized Welcome to Istanbul experience, which is designed to familiarize you with this dynamic and ever-changing city.
Meet a Local in Istanbul
We'll begin our experience in your hotel or apartment where our docent, a long-time resident and Istanbul expert, will explain the layout of the city as well as the specific area where you are staying. Using maps and public transportation plans, our docent will help you get acquainted with the places you will be visiting and how to get there. We'll also offer tips on navigating local customs; share some useful Turkish words; offer suggestions for dining, shopping, music, and insider events; and open the floor to any specific questions. If you have additional walks booked with us, we will examine your itinerary and address any concerns.
Explore Your Neighborhood
After our chat, we will head outside for a stroll into the lively streets of Istanbul. Absorbing the neighborhood ambiance under the guidance of a seasoned local, we'll go over how to use the public transportation system and provide tips for using taxis outside of the main transportation routes. We can take this opportunity to discuss historic buildings and monuments, or perhaps go over proper etiquette when visiting a mosque or walking around conservative neighborhoods. We will make sure to point out the best markets and cafes, as well as where to find the freshest
simit - çay
duos, a glass of Turkish
rakı
, and some delicious
mezes
(though we'd recommend our standalone
Istanbul Food Tour
for serious gourmands). We'll leave you with maps, a little bit of history, and a better sense of how best to navigate this complex city.
Please provide your hotel name or exact apartment address (any entrance codes, the floor, etc.) in the Notes box during checkout so that we can arrange for our docent to meet you directly at your lodging. In order to help us prepare the experience, please also share your interests and any specific questions about Istanbul. This will enable us to fully personalize the chat so that it best fits your needs.


This experience is part of our Meet a Local series which aims to orient first-time visitors to Context cities.
Where You'll Start
Tour Experts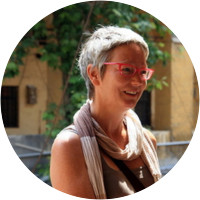 Claire has dual degrees in English (University of Michigan) and medieval art history (Università di Roma "La Sapienza"). She lived in Rome for a decade where she taught art history at Trinity College and study abroad programs for other American universities. She has lived in Istanbul for the last twelve years. She is presently an adjunct instructor at Yeditepe University and a freelance translator. Originally from Washington, DC, Claire is very interested in social history. She is the author of "Topkapı Palace: Inside and Out", published by Citlembik in 2004.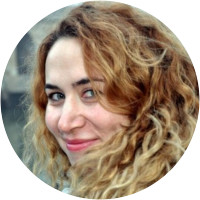 Melike holds degrees in Tourism and Guiding from Marmara University and Art History from Mimar Sinan Fine Arts University in Istanbul. Studying (MA) Museology in Mimar Sinan Fine Arts Universiy. Her special interests are Late Antiquity period in Istanbul and Clasiccal Period of Ottoman Empire.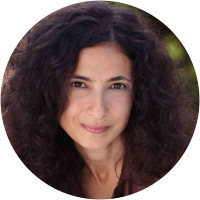 Born in the Aegean city of Izmir, Reyan studied English Language and Literature at Istanbul's Bosphorus University and received her master's degree in Documentary Production at the Northern Media School in England. She has worked for various newspapers and magazines as a reporter/editor and has traveled all around Anatolia, the Turkish heartland for the travel supplement of one of the best selling Turkish newspaper, Hürriyet. Amongst some of the magazines she wrote for is National Geographic, Turkey. Reyan worked as a producer- researcher for foreign TV channels, such as BBC, Finnish TV YLE and also worked as a script writer/ researcher in various documentaries filmed in Turkey and abroad on travel and different cultures of the world. She traveled and worked as Asst. Expedition Leader with Starquest Expeditions based in Seattle, USA, for their expeditions ''Around The World By Private Jet''. She also acted as an advisor for TRT (Turkish State Television) for their documentary series. She has been working as a professional tourist guide since 1989 and has a certificate of specialization on Istanbul. She herself enjoys to walk in Istanbul discovering new routes for her guiding, photography and culinary purposes. She not only sees Istanbul as a historical treasure while reflecting that on her tours but a great destination to get an insight into the lifestyle, culture and culinary traditions of the people of Turkey in depth and likes to share this as a complete experience with her guests. Her interest in the social issues in her own country and the world led her in the way of becoming an independent documentary maker. Her documentaries still continue to be screened at many film festivals in Turkey and around the world, receiving some awards. Reyan Tuvi has three guide books on Turkey, is still writing feature stories, travel articles, continuing shooting documentaries and sharing her passion for her country through guiding.
Reviews can only be left by Context customers after they have completed a tour. For more information about our reviews, please see our FAQ.
We were given a warm and professional introduction to Istanbul on our first morning. It was a valuable experience to have our guide give us an overview of the area in which we were staying, information about how to get around and where to eat. This knowledge saved us lots of time in the days ahead.
Oct. 14, 2015
First we really appreciated going somewhere to sit and talk about the city. Much better than doing the same on foot. Her handouts were very good and her explanation of the language and the culture also very good. A very good tour for the first day of a visit.
May. 12, 2014
Docent showed up at our hotel on time. She had a lot of depth and was able to give us a perspective on Istanbul that we otherwise would not have been exposed to. She got us comfortable with navigating the city by public transportation and her restaurant recommendations were excellent. Would definitely do it again!
Oct. 1, 2013