Tour Details
Tour Description
Ancient history and former empires come to life before our eyes. Established in the 19th century, Istanbul's Archaeological Museum now contains over a million artifacts, making it one of the greatest archeological collections in the world. During this Istanbul Archeology Museum for Kids Tour, we take children (and their lucky parents) into the museum for an engaging, hands-on look at its magnificent treasures. Children will don their investigative hats and learn how to see a museum—and history—through the eyes of an archaeologist.
Young Archaeologists
We begin in the Ancient Orient building where we will look at the spectacular artifacts and cuneiform tablets from Mesopotamia and Anatolia, including the Kadesh Treaty—the world's first peace treaty written on a clay tablet in cuneiform. The Large Tablet Archives, containing some 75,000 cuneiform scriptures, provide a perfect setting to practice the earliest form of writing with children and discuss ancient languages.


Ottoman Indiana Jones
Next, we will explore the main building and learn about Osman Hamdi Bey, the museum's founder and an early archaeological excavator and painter in Turkey. The comprehensive collections of photographs taken during his excavations illustrate the exciting ways archaeologists have contributed to our understanding of ancient cultures. We will shift our focus to the rare and exquisite sarcophagi with rich decorative reliefs and sculptures. Our docent will draw our attention to various aspects of ancient civilizations utilizing inquiry-based teaching methods honed in our
Family Program
. For example, we will have a fun and informative time learning about Roman floor mosaics on display.
Schedule permitting, we may also include a visit to the Tiled Kiosk, a separate building where some of the world's finest tiles and ceramics are on display. This will give us the opportunity to explore the colorful geometric and floral patterns used to decorate the walls of the Ottoman Palaces.


Take Aways
As we dig through the layers of ancient history in the Istanbul Archaeological Museums, your family will gain a clear understanding of the context and history of the incredible archaeological artifacts from Asia Minor and Mesopotamia.


Please note: The Istanbul Archaeological Museums are undergoing a long-term restoration project, and therefore some sections of the museum may be closed periodically. We will do our best to work around these closings.
FAQ
Is there a dress code for your tours in Istanbul?
Yes, sites visited on this tour are considered holy places. Shoulders and knees must be covered. Dresses and shorts must be below knee level, and shoulders must be covered (zip-on jackets or scarves are acceptable). We recommend bringing along scarfs or shawls to be able to cover those body parts.
These rules may seem unduly strict, but remember, you are a guest visiting sites that are regarded as a religious sanctuary.
Where You'll Start
Tour Experts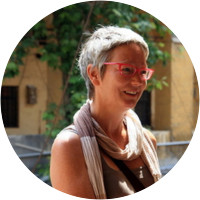 Claire has dual degrees in English (University of Michigan) and medieval art history (Università di Roma "La Sapienza"). She lived in Rome for a decade where she taught art history at Trinity College and study abroad programs for other American universities. She has lived in Istanbul for the last twelve years. She is presently an adjunct instructor at Yeditepe University and a freelance translator. Originally from Washington, DC, Claire is very interested in social history. She is the author of "Topkapı Palace: Inside and Out", published by Citlembik in 2004.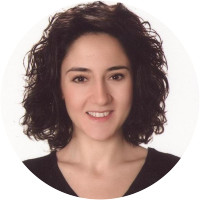 Betul was born in Bursa, Turkey in 1981. She went to university in Izmir and studied Classical Archaeology at Ege University. She participated in the archaeological excavations at the ancient city of Antandros located on Northern Aegean coast. Following graduation, Betul spent one year in the United States studying English. While there, she worked at Smithsonian Institution National Museum of Natural History as a volunteer. Upon returning to Turkey, Betul started work as an archaeologist in one of the biggest archaeological projects of Turkey (Istanbul Marmaray Underwater Tunnel Project). While working for the Marmaray Project, she received a Master's degree in Art History from the Istanbul Technical University in 2011. Betul has been guiding tour groups all around Turkey since 2011.
Reviews can only be left by Context customers after they have completed a tour. For more information about our reviews, please see our FAQ.
Very passionate and knowledgeable about archeology
Dec. 24, 2017
Clair was excellent and kept, not only our kids, but the four of us attentive to her explanations. Being an interactive tour makes a huge difference.
Aug. 22, 2013
Writing the cuneiform letter was particularly amazing.
Apr. 23, 2013