Tour Details
Tour Description
Garden and landscape design is an art form that has helped define the aesthetics of Japan for centuries. By knowingly shaping their gardens, both emperors and nobles have recreated miniature landscapes with a level of precision and idealization that has made garden design a staple of Japanese culture. With its high ratio of well-preserved temples, Kyoto has always been the perfect environment for seeing a wide variety of garden styles. During our three hour walking tour we will focus on garden design during the Muromachi period, which saw a flourishing of Japanese culture, including the creation of Zen Buddhism.
Exploring the Golden Pavilion
We begin this walk at the dazzling Kinkaku-ji (the Golden Pavilion). This Zen Buddhist temple was in fact first used as a private villa by Shogun Ashikaga Yoshimitsu who purchased the land and transformed it into his home in the 14th century. The lush gardens allow us to delve into villa garden design during the Muromachi period, which ran from approximately 1337 to 1573. Aside from dissecting the various natural elements used to create the gardens, we'll also discuss how these spaces were used for contemplation and entertainment, and how these uses changed as the space transformed from private villa to Buddhist temple (a subject we explore further on our
Kyoto Temple Tour
).
Ryoanji Temple Visit
Moving on, we'll hop on the bus to two important Kyoto attractions and excellent examples of Zen rock gardens. The Karesansui Garden at Ryoan-ji is a prime example of dry Zen gardens, giving great contrast to the water used at Kinkaku-ji. The stylized landscape created from gravel and rocks represents an alternative garden type from the Muromachi Period and exemplifies the type of design one finds at Zen Buddhist temples.


Ninna-ji, our final Kyoto garden destination, gives us a means to compare earlier landscape design against the later Muromachi period. The covered walkways of the Goten, former residence of the head priest, were modeled on an Imperial style and feature painted sliding doors that mirror the surrounding landscape. Ninna-ji contains both dry gardens and gardens with water features, tying together the principles we've discussed during our walk and serving as a suitable stop to end our walk.
Take Aways
At the end of this tour, we will come away with a deeper understanding into how Japanese gardens and landscape reflect a wider philosophy and culture. Hungry? Check out our
Kyoto Food Tour
.
FAQ
Is it okay to tip my expert in Japan?
Context clients generally tip anywhere from 10-25% of the purchase price of a personal service such as this, depending on the quality of the experience and their tipping habits.

Are there any other fees associated with this tour?
There may be nominal site entrance costs or other fees, like bus fare, that are not included in the price of the tour. It is a good idea to have some small coins on hand for these.
Where You'll Start
Tour Experts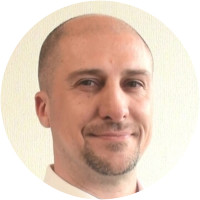 Marc enjoys sharing the understanding and the knowledge he gained over the years regarding traditional Japanese culture, Kyoto's historical patrimony and Japanese society. After earning a Ph.D. in Biology and an M.A. in Psychology in France, he originally came here to carry out postdoctoral research. Passionate about the history and culture of Japan since childhood, he decided to stay in order to learn and study it first-hand. He studied several crafts including pottery, as well as several traditional arts. After many years of study, Marc was granted a 2nd degree tea ceremony instructor certificate and obtained a 3rd Dan in iaido. He also became a connoisseur of Japanese antiquities which he has been collecting and restoring. Before settling in Kyoto, he lived all around the country, in the countryside as well as in large cities for more than 12 years; a rich experience providing him with a wide knowledge of Japan. Marc now lives in the heart of Kyoto with his family in a 100-year- old house he is currently restoring. He presently teaches foreign languages at university and instructs local Japanese guides.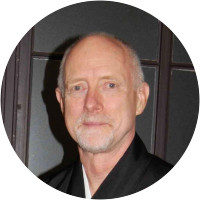 Preston came to Kyoto in 1981 to pursue his interests in Zen Buddhism and traditional Japanese music, specifically the zen repertoire for the shakuhachi bamboo flute as played by the "komuso" monks of the the Fuke-shu sect. He earned his "shihan," master's license, took the name Keido, and performs frequently in Japan and America (https://www.youtube.com/watch?v=M1XguDd43gc). An award-winning writer (and frequent contributor to Writers in Kyoto (http://www.writersinkyoto.com/)), Preston has authored books on Japanese gardens, including "Invitation to Tea Gardens: Kyoto's Culture Enclosed"; "The Courtyard Gardens of Kyoto"; as well as the text for the acclaimed CD-ROM "Kyoto Gardens: A Visual Stroll Through Zen Landscapes" (https://kyotogardens.org/). In addition to Asia studies, Preston holds a Ph.D. in English literature (Shakespeare Studies) from the University of Pennsylvania. As a recently retired professor from Otani University in Kyoto, Dr. Houser currently lives in nearby Kameoka and divides his time playing music, cycling, hiking, as well as rereading Shakespeare and Buddhist texts. Recently Preston provided the English translation for the Android Kannon Mindar at Kodaiji Temple in Kyoto He also spoke on "Bob Dylan and the I-Ching" at the World of Bob Dylan Conference held in Tulsa, Oklahoma, June 2019. An accomplished poet, Preston has three volumes of poetry available in Kindle ebook and paperback formats via Amazon.com (https://www.amazon.com/Preston-Keido-Houser/e/B08CV7HYTH?ref_=dbs_p_pbk_r00_abau_000000).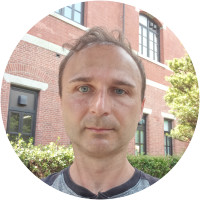 Janusz has spent over a decade living in close proximity to the most famous spots in Kyoto, but his passion for them remains the same as when he first visited the city as a young student. A devout fan of Japan's old capital, its vibe and creativity, he has obtained his MA and Ph.D. in Japanese contemporary history from Kyoto University, where he currently is a researcher.
Reviews can only be left by Context customers after they have completed a tour. For more information about our reviews, please see our FAQ.
Excellent information about the gardens and Japanese culture.
Sep. 24, 2019
It was well set up with an interesting mix of gardens and temples to see.
Sep. 14, 2019
Marcin was wonderful. He presented the information in such a great way and we learned so much. We liked the structure of the tour as well. It felt well paced.
Aug. 20, 2019