Tour Details
Tour Description
The centrality of nature has long been part of Japanese culture. Japanese traditional customs and Buddhist aesthetics suggest that there is no fundamental difference between nature and humankind; in fact, nature is what represents the core background of human existence. During this three-hour Philosopher's Path Tour, we will join a local historian for a nature-inspired stroll along Philosopher's Path, following the course of the canal while visiting some of Kyoto's most important temples and exploring the Japanese' philosophical commitment to nature.
Philosopher's Path Tour
Philosopher's Path is a beautiful canal walkway located in northern Higashiyama. The path was named after Nishida Kitaro, a famous philosophy professor at Kyoto University who is said to have practiced meditation while walking this route on his daily commute. Thanks to the hundreds of cherry trees lining the canal, the Philosopher's Path remains awash in color for much of the year, whether it's spring's explosion of cherry blossom or fall's fiery red foliage. We will take a scenic stroll through Philosopher's Path and enjoy a quiet retreat surrounded by mountains and traditional houses away from the city.
Pure Land Buddhism and Nature
Along the way, we will make a stop at Honen-in Temple and learn about the principles of the Pure Land Buddhism (Jodo-shu), observing the harmony between nature and the temple buildings. We will discuss the temple's Zenki-sui water spring, which represents the Japanese adoration of water as part of the aesthetic element. We will then continue our walk to Eikan-do, another Pure Land Buddhism temple built on a hillside. We'll take a deep dive into the historical background of the temple, admiring the unusual Amitabha Buddha, with its head turned leftwards, the serene Hojo Pond, and the view from the Tagoto Pagoda.
Take Aways
At the end of our time together, we will have set our mind at peace away from the city's hustle and bustle and emerge with a better understanding of the concept of nature, as well as the ideological underpinnings of buddhism and how they play a role in Japanese culture.
FAQ
Is it okay to tip my guide in Japan?
Context clients generally tip anywhere from 10-25% of the purchase price of a personal service such as this, depending on the quality of the experience and their tipping habits.
Where You'll Start
Tour Experts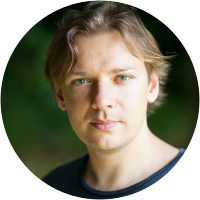 Marcin is a scholar and a part-time lecturer at Kyoto University. He specializes in Japanese folklore, History of Kyoto, History of Japanese culture and Japanese religions. The big theme of his research is "How did Japan create the traditional image it is know for?". Marcin is currently in the middle of a very slow and painful process of writing his Ph.D. thesis at Kyoto University, where he also got his Master's degree. His future Ph.D. is focusing on the traditional depictions of Japanese otherworld and usage of these traditional motifs in present-day Japanese culture and Kyoto tourism. Marcin also has a Master's degree in Japanese studies from Warsaw University, Poland. In Poland he published a book "Kaidan - Strange Tales of Edo period" (2011) in which he introduces Japanese ghosts, demons and goblins in 17th- &18th-century Japan. He also co-wrote "The Culture of Heian Imperial Court" (2008) about Japanese culture in the 9th and 10th Centuries. Marcin has a wide knowledge of Japan, starting from its history, folklore and religion, through its politics and post-war society, but also has an interest in its more recent pop culture and media. In his spare time, he enjoys walking through Kyoto's streets, rediscovering its secrets and searching for delicious local treats. He also enjoys riding his Kawasaki motorcycle, seeking more remote and hidden places. Marcin has lived in Kyoto for 14 years and is working for Context since 2016.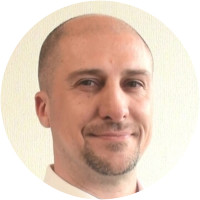 Marc enjoys sharing the understanding and the knowledge he gained over more than two decades regarding traditional Japanese culture, Kyoto's historical patrimony and Japanese society. After earning a Ph.D. in Biology and an M.A. in Psychology in France, he originally came here to carry out postdoctoral research. Passionate about the history and culture of Japan since childhood, he decided to stay in order to learn first-hand its traditional culture and to experience its way of life. He studied several crafts including pottery, as well as several traditional arts. After many years of study, Marc was granted a Second-degree Tea Ceremony Instructor Certificate and obtained a Third Dan in Iaido. Before settling in Kyoto with his family, he lived all around the country, in the countryside as well as in large cities, for more than a decade; a rich experience providing him with a wide knowledge of Japan. Currently, Marc instructs local Japanese guides and teaches foreign languages at university. During his free time, he enjoys hiking, climbing, and kayaking, while exploring Japan's wilderness.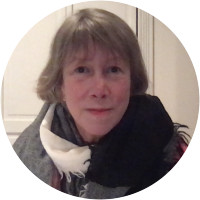 Elizabeth has lived in Kyoto for more than thirty-five years. She is a professor of Japanese religions and Buddhism. In particular, she has studied Japanese graveyards, the Fushimi Inari fox shrine, and Buddhist doctrine. She loves yoga, cats, walking, and visiting Europe. Elizabeth is from San Rafael, California. Before life took her to Japan, she spent two years in Beijing (as a graduate student at Beijing University), a year in Taiwan (studying Chinese), and a year in Dharamsala, India (studying Buddhism). She has an M.A. in Religious Studies from Stanford University and a B.A. in Anthropology from Princeton University.
Reviews can only be left by Context customers after they have completed a tour. For more information about our reviews, please see our FAQ.
We really enjoyed this tour and felt inspired by Elizabeth Kenney to return to Kyoto. Traveling at times can be stressful and she really allowed us to relax into the timeless beauty of Kyoto's treasures. She was also very generous with her knowledge and wisdom. Arigato gozaimasu Elizabeth and Context!
Oct. 10, 2018
The tour was outstanding, our docent extremely knowledgeable, personable, and enthusiastic. We were also grateful for his flexibility in rescheduling, making it possible for us to enjoy the tour without a typhoon in the background.
Oct. 1, 2018
Tour was excellent and i have posted a trip advisor review. Thank you
Jun. 15, 2018