Tour Details
Tour Description
The centrality of nature has long been part of Japanese culture. Japanese traditional customs and Buddhist aesthetics suggest that there is no fundamental difference between nature and humankind; in fact, nature is what represents the core background of human existence. During this three-hour Philosopher's Path Tour, we will join a local historian for a nature-inspired stroll along Philosopher's Path, following the course of the canal while visiting some of Kyoto's most important temples and exploring the Japanese' philosophical commitment to nature.
Philosopher's Path Tour
Philosopher's Path is a beautiful canal walkway located in northern Higashiyama. The path was named after Nishida Kitaro, a famous philosophy professor at Kyoto University who is said to have practiced meditation while walking this route on his daily commute. Thanks to the hundreds of cherry trees lining the canal, the Philosopher's Path remains awash in color for much of the year, whether it's spring's explosion of cherry blossom or fall's fiery red foliage. We will take a scenic stroll through Philosopher's Path and enjoy a quiet retreat surrounded by mountains and traditional houses away from the city.
Pure Land Buddhism and Nature
Along the way, we will make a stop at Honen-in Temple and learn about the principles of the Pure Land Buddhism (Jodo-shu), observing the harmony between nature and the temple buildings. We will discuss the temple's Zenki-sui water spring, which represents the Japanese adoration of water as part of the aesthetic element. We will then continue our walk to Eikan-do, another Pure Land Buddhism temple built on a hillside. We'll take a deep dive into the historical background of the temple, admiring the unusual Amitabha Buddha, with its head turned leftwards, the serene Hojo Pond, and the view from the Tagoto Pagoda.
Take Aways
At the end of our time together, we will have set our mind at peace away from the city's hustle and bustle and emerge with a better understanding of the concept of nature, as well as the ideological underpinnings of buddhism and how they play a role in Japanese culture.
FAQ
Is it okay to tip my guide in Japan?
Context clients generally tip anywhere from 10-25% of the purchase price of a personal service such as this, depending on the quality of the experience and their tipping habits.
Where You'll Start
Tour Experts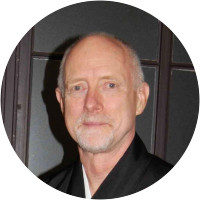 Preston Keido Houser came to Kyoto in 1981 to pursue his interests in Zen Buddhism and traditional Japanese music, specifically the zen repertoire for the shakuhachi bamboo flute as played by the "komuso" monks of the the Fuke-shu sect. He earned his "shihan," master's license, took the name Keido, and performs frequently in Japan and America (https://www.youtube.com/watch?v=M1XguDd43gc). An award-winning writer (and frequent contributor to Writers in Kyoto (http://www.writersinkyoto.com/)), Preston has authored books on Japanese gardens, including "Invitation to Tea Gardens: Kyoto's Culture Enclosed"; "The Courtyard Gardens of Kyoto"; as well as the text for the acclaimed CD-ROM "Kyoto Gardens: A Visual Stroll Through Zen Landscapes" (https://kyotogardens.org/). In addition to Asia studies, Preston holds a Ph.D. in English literature (Shakespeare Studies) from the University of Pennsylvania. As a recently retired professor from Otani University in Kyoto, Dr. Houser currently lives in nearby Kameoka and divides his time playing music, cycling, hiking, as well as rereading Shakespeare and Buddhist texts. Recently Preston Keido provided the English translation for the Android Kannon Mindar at Kodaiji Temple in Kyoto He also spoke on "Bob Dylan and the I-Ching" at the World of Bob Dylan Conference held in Tulsa, Oklahoma, June 2019. An accomplished poet, Preston Keido has several volumes of poetry available in Kindle ebook and paperback formats via Amazon.com.
Reviews can only be left by Context customers after they have completed a tour. For more information about our reviews, please see our FAQ.
This tour was fantastic,. The Silver Pavilion and its setting is much more charming than the Golden Pavilion
May. 3, 2018
Our docent, Marc, was fantastic! Super knowledgeable about Kyoto and its religious history, and he really tailored the tour to my wife's and my interests. Highly recommend him!
Jan. 24, 2018