Tour Details
Tour Description
Join us on a fascinating 3-hour walking tour, led by a local expert historian throughout Lisbon's oldest neighborhood Alfama. While enjoying expansive views overlooking the River Tagus, we will learn human stories via the historical architecture of São Jorge Castle, Lisbon Cathedral, and Miradouro das Portas do Sol. From Phoenician settlers to the ruling of the Moorish, Euro integration to Lisbon's working class, and the rise of the emotive and nostalgic Fado music and culture. We will explore through winding hills, cobblestone streets, and narrow hidden avenues, to experience the fascinating history of Lisbon. This tour provides a fascinating insight into what has given rise to this exciting and vibrant historical neighbourhood.
Sites Visited
São Jorge Castle
Alfama Neighborhood
Lisbon Cathedral (Sé de Lisboa)
Miradouro das Portas do Sol
Itinerary Details
Meeting in the Praça da Figueira in Baixa, we'll journey with our guide by elevator to the top of Alfama Hill in Lisbon's Old Town. Here we'll find the splendid São Jorge Castle, one of Lisbon's most visited sites. Much of what exists of the castle today was constructed during the Moorish occupation of the 10th and 11th centuries. However, there is archaeological evidence that fortifications have existed on the site as far back as the 2nd century BC when Phoenician traders settled in this area.

Our guide, a trained historian, will discuss the early history of Lisbon and how Moorish influence can be traced through architecture and design throughout the city. Continuing our walk further into the neighborhood, we'll uncover other archeological ruins, such as a Roman theater, another fascinating addition to the rich and complex history that created Alfama.
As we arrive at the Miradouro das Portas do Sol, one of the most iconic lookout points in Lisbon, we can delight in the sweeping views of Alfama and observe some of the principal structures in Lisbon's skyline. Here we can compare contemporary and historic maps to grasp the complex maze of narrow streets that weave amongst Alfama's beautiful buildings.
Next, we will make out way to the Lisbon Cathedral, or Sé, and focus on the exterior, gaining insight into the Christian experience during the Moorish occupation, as well as the period following the 1147 reconquest. Construction began on the church, the oldest in the city, that same year, though its architectural identity has changed over the centuries with modifications made necessary after various earthquakes. The building is also a wonderful introduction to understanding Alfama and Lisbon in more recent times.
During our walk, our conversation will most certainly turn to Fado. One of Portugal's best-known exports, this genre of music is said to have originated in the popular port districts of Lisbon, particularly Alfama. Raw, sultry, and often spontaneous, the songs of Fado tell the daily narratives of Lisbon's working-class. We'll pass by historic spots in the story of Fado, while our discussion covers the social significance of the genre and how it fits in with Alfama's greater history.
By the end of our time together, we'll have a better sense of the varied people and events that have formed Lisbon's captivating history which has created the unique personality of Alfama.
This tour is nicely complemented by our 3-hour Introduction to Lisbon Walking Tour, which includes the central Baixa, Chiado, and Bairro Alto neighborhoods.


FAQ
For more information
about Context tours, please visit
our FAQs
.
Book with confidence
— see Context's flexible cancellation policy
here
.
Will we hear Fado on this tour?
While we will most definitely discuss the origins and social significance of Fado music on this tour, we will not attend a concert.
Does this tour include a visit to São Jorge Castle?
Our tour will meander through the streets of Alfama, incorporating some of its most iconic monuments, like the São Jorge Castle. We will certainly discuss the castle from its exterior but do not tend to include the interior. If you want to extend your tour to include a visit inside the Castle please contact us.
What if it's raining?
Tours operate rain or shine. It never hurts to have an umbrella on hand.
Is this tour walking-intensive, and/or wheelchair accessible?
While we don't cover a large distance on the tour, nor do we take a fast pace, Lisbon is the City of Seven Hills and Alfama is no exception. We will be walking upstairs and inclines, as well as on cobblestoned streets. If you have mobility concerns, please feel free to contact us before booking; we can help you decide if our group walk or a private walk, with a modified route, will be best.
Will we see the interiors of the castle and the cathedral?
No, the stops do not include the interiors but depending on time and ticket availability, it may be possible as an add-on.
Can I do this tour by car?
No, unfortunately, due to the width of the hilly streets of Lisbon there isn't a way to do this tour by car. We have designed this tour to generally walk downhill although there are occasional uphill stairs and inclines.
Where You'll Start
Tour Experts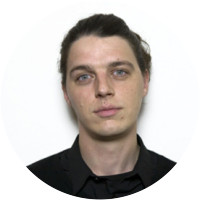 Bert is an architect and writer, and holds an MA in architectural engineering and cultural sciences. Born in Belgium, in the past decade he has lived and worked in architectural consultancy, writing and academia in Amsterdam, Beijing, and Shanghai and that before relocating to Lisbon in 2018. He is the co-director of "MovingCities", an independent research organization investigating the role that architecture and urbanism play in shaping the contemporary city. Bert has been living in China from 2006 to 2018, and has a great understanding of Lisbon's historic, cultural, Jewish and architectural past and present, an interest he has been developing since his first visit to the city in 2003.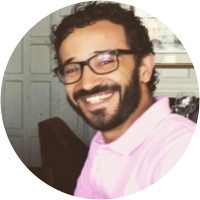 Hugo Maia is an Architect and Social Psychologist living and working in Lisbon. He is currently a PhD candidate in Architecture and History at the University of Tokyo. He received his MA and BA in Architecture from the Faculty of Architecture in Lisbon and also holds a BA in Psychology from the Higher Institute of Applied Psychology in Lisbon. His quest on Architecture is mainly focus on the understanding of the city built environment and the possibility it offers to its inhabitants, supported therefore on a grounded historical, cultural, social and architectonic analyses of the city. His understanding and investigation of Lisbon is both related to an affective relation with the city spaces as to a built understanding of the place from an architectural and psychological perspective. Hugo focus on the search of a relation between built and un-built; old and new; space and place; construction and memory, humanity and culture. He is interest on the complexity of the elements that define the understanding of the place, allowing the definition of an image of the city that supports it's shared understanding.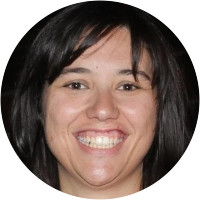 Patrícia Brum is a Portuguese archaeologist. Her first excavation was at the Alleins Castle, in France. From 2008 to 2021, she was part of the archaeology team of the Roman Ruins of Tróia, where she developed her interest not only in the research but also in its social return and community participation in heritage conservation, leading her to develop her master's thesis in Museum Studies. Between 2016 and 2019, she participated in a European project dedicated to the study of the effects of climate change on Cultural Heritage. She is now working at the Lisbon Museum - Roman Theatre, located in one of the oldest neighborhoods of Lisbon.
Reviews can only be left by Context customers after they have completed a tour. For more information about our reviews, please see our FAQ.
Excellent tour. Estella is personable and very knowledgeable and friendly. We enjoyed this very much!
Sep. 15, 2022
We had a wonderful experience with Tiago. His knowledge of architecture, art and history provided a tour that was beyond compare. He showed us amazing small details that we would have never appreciated without his expertise and patience. Thank you so much!!
Sep. 3, 2022
Bert was awesome! Knowledgeable, informative and personable!
Aug. 31, 2022