Tour Details
Tour Description
Where can I find the best pastel de nata in my neighborhood? Which tram do I take? How do I communicate in Portuguese? Welcome to Lisbon. As easy as international travel has become, it can still be unnerving to arrive in an unfamiliar city with unanswered questions. Our personalized orientation tour, in the company of a local insider, is essential for first-time visitors seeking advice on Lisbon sightseeing and how to plan their time. Designed to answer practical questions about living and staying in the City of Seven Hills, this 2-hour experience will help navigate public transportation, understand local customs, secure a few Portuguese phrases to help you along the way, and better discover Lisbon.
"We were so glad we booked this tour. We had never been to the city before and our guide shared so much invaluable information - even took us the grocery store so we could find lactose free milk. It was an excellent experience!"
Bem-vindo a Lisboa! (Welcome to Lisbon!)
We'll begin our experience in your hotel lobby or apartment where our guide, a resident of and expert on Lisbon, will explain the layout of the city and the area where you are staying. Looking at a map, we'll pinpoint your closest transportation options, from the tram to the metro system. We'll then offer tips on local customs, a basic language lesson, suggestions for dining, shopping, insider events, and concerts, before opening the floor to any specific questions. If you have additional walks booked with us, like our
Baixa Walking Tour of Lisbon including Bairro Alto & Chiado
(another excellent choice for a first-timer), we will examine your itinerary together and go over any last-minute questions.
Discover Lisbon
We will then head outside for a stroll, allowing for a discussion of your area's history and an opportunity to absorb the neighborhood ambiance under the guidance of a seasoned local. We'll stop occasionally to talk about historic buildings and monuments, or maybe to go over how to purchase transit tickets. We'll point out the best markets, cafes, and yes, the pastry shop where that pastel de nata can be found. We'll leave you with maps, a head full of knowledge, and a better sense of how best to navigate this charming city. Please note, while our guide will provide a crash course on the basics, bringing your own questions and interests to the table can help us personalize the experience and help you get the most out of your visit.
Booking Instructions
Please provide your hotel name or exact apartment address (any entrance codes, the floor, etc) during checkout so that we can arrange for our guide to meet you directly at your lodging.


This experience is part of our Welcome To
series, which aims to orient first-time visitors to Context cities by pairing them with local experts. You can read about
Welcome To tours
in our other cities.
FAQ
I would like the guide to answer some very specific questions I have about the city. Can I let you know in advance what those questions are?
Please do let us know in advance if you have specific questions so that your guide can come prepared with answers to your questions.


I am interested in getting a historical orientation to the city. Is that what this tour will provide?
This tour focuses on the practical side of navigating a city like Lisbon and is based in the neighborhood where you're staying. If you'd like a historic overview, you may like our orientation tours.


When during my stay would you recommend I book this tour?
We recommend organizing this tour as close to your arrival as possible.
Where You'll Start
Tour Experts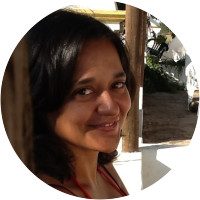 Rita Alves is a native Lisbonian, however it seems that she has traits of Indian, or so people say. Her taste for travel probably came from her ancestors, who might have travelled to India or Goa. Despite her enormous sense of wanderlust and curiosity about other cultures, gastronomies, people and beliefs, Rita never forgets Lisbon, the city where her heart belongs and where she adores enjoying the light beautifully shinning on the river. She keeps travel journals from her journeys and shares some thoughts on her travel blog. She also writes about Lisbon for various online travel guides, and is the AFAR local expert for Lisbon.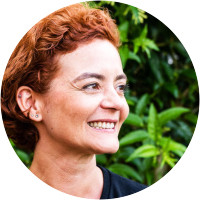 Patrícia Gabriel is a creative and enthusiastic chef based in Lisbon since 2010. Having initially pursued a master in Computational Mathematics, Patrícia was a teacher and researcher before changing course to follow her true passion—food. In 2016, she completed a master in Sciences of Gastronomy at the Universidade Nova de Lisboa. She loves to cook with unique ingredients found in authentic shops here, and is always looking for the stories and history behind them. In addition to her work with Context, Patrícia offers tailor-made workshops, private chef services and develops menus for special events.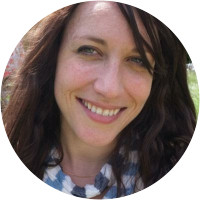 Gemma is an Australian shutterbug, foodie and freelancer with a fine arts and design background. A love for visual story telling, Gemma spent an inspiring six years living in Paris before packing her suitcase to move to Lisbon. You can keep up with her wanderings via her visual storytelling @gemmazu via Instagram.
Reviews can only be left by Context customers after they have completed a tour. For more information about our reviews, please see our FAQ.
Great experience
Oct. 20, 2019
We all thoroughly enjoyed our tour with Monica - she was very informative, knew the city like the back of her hand and was able to give personal insight into how life in Lisbon/Portugal has changed over the years. She walked us through a lot of different places - having checked we were happy with that - so we got a good feel for places we'd like to return to over our 3-day stay, and we were able to get tips for restaurants and bars, several of which we followed up on. Just what we needed, thank you!
Sep. 23, 2019
Gemma was an absolute delight and we thoroughly enjoyed our introduction to Lisbon. Gemma shared her own knowledge of the city, where to eat and the places to wander as well as some history about the city. Gemma was extremely generous with her time and we felt like we were being shown around by a friend. Thank you Gemma for a wonderful day!
Jul. 17, 2019