Tour Details
Tour Description
Where can I find the best pastel de nata in my neighborhood? Which tram do I take? How do I communicate in Portuguese? Welcome to Lisbon. As easy as international travel has become, it can still be unnerving to arrive in an unfamiliar city with unanswered questions. Our personalized orientation tour, in the company of a local insider, is essential for first-time visitors seeking advice on Lisbon sightseeing and how to plan their time. Designed to answer practical questions about living and staying in the City of Seven Hills, this 2-hour experience will help navigate public transportation, understand local customs, secure a few Portuguese phrases to help you along the way, and better discover Lisbon.
"We were so glad we booked this tour. We had never been to the city before and our guide shared so much invaluable information - even took us the grocery store so we could find lactose free milk. It was an excellent experience!"
Bem-vindo a Lisboa! (Welcome to Lisbon!)
We'll begin our experience in your hotel lobby or apartment where our guide, a resident of and expert on Lisbon, will explain the layout of the city and the area where you are staying. Looking at a map, we'll pinpoint your closest transportation options, from the tram to the metro system. We'll then offer tips on local customs, a basic language lesson, suggestions for dining, shopping, insider events, and concerts, before opening the floor to any specific questions. If you have additional walks booked with us, like our
Baixa Walking Tour of Lisbon including Bairro Alto & Chiado
(another excellent choice for a first-timer), we will examine your itinerary together and go over any last-minute questions.
Discover Lisbon
We will then head outside for a stroll, allowing for a discussion of your area's history and an opportunity to absorb the neighborhood ambiance under the guidance of a seasoned local. We'll stop occasionally to talk about historic buildings and monuments, or maybe to go over how to purchase transit tickets. We'll point out the best markets, cafes, and yes, the pastry shop where that pastel de nata can be found. We'll leave you with maps, a head full of knowledge, and a better sense of how best to navigate this charming city. Please note, while our guide will provide a crash course on the basics, bringing your own questions and interests to the table can help us personalize the experience and help you get the most out of your visit.
Booking Instructions
Please provide your hotel name or exact apartment address (any entrance codes, the floor, etc) during checkout so that we can arrange for our guide to meet you directly at your lodging.


This experience is part of our Welcome To
series, which aims to orient first-time visitors to Context cities by pairing them with local experts. You can read about
Welcome To tours
in our other cities.
FAQ
I would like the guide to answer some very specific questions I have about the city. Can I let you know in advance what those questions are?
Please do let us know in advance if you have specific questions so that your guide can come prepared with answers to your questions.


I am interested in getting a historical orientation to the city. Is that what this tour will provide?
This tour focuses on the practical side of navigating a city like Lisbon and is based in the neighborhood where you're staying. If you'd like a historic overview, you may like our orientation tours.


When during my stay would you recommend I book this tour?
We recommend organizing this tour as close to your arrival as possible.
Where You'll Start
Tour Experts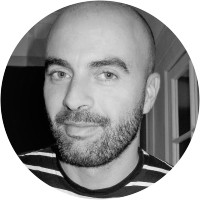 Tiago Miranda Neiva was born and raised in Lisbon. He studied architecture in Rome and worked later in distinct offices in Portugal and Spain. For several years he was Professor of Arts and Art History, having a Master's degree in Teaching of Visual Arts. He is currently working towards a PhD focused on the Art and Architecture of al-Andalus: the confluence between the Arab, Jewish and Christian medieval world. In recent years he has been working as a tour guide in his hometown, seeking to show and reveal its most intimate secrets through an authentic and passionate local vision. He loves to read, talk and travel, and is through the contact with the diversity of the world around where he finds the particularities and answers of his own life.
Born & raised in Lisbon, MÓNICA CARRIÇO is an architect-urbanist [Master in Architecture Urban & Territorial Planning @Technical University of Lisbon] and since 2004 a member of the Portuguese Architects' Guild. Monica first practiced in Amsterdam, the NETHERLANDS, and then lived in CHINA for 12 years [Beijing 2006/Shanghai 2009-18]. Currently back after 16 years, and living in Alfama's historic district, she develops architectural and urban research, with a focus on housing rehabilitation, community-led housing, real-estate and prop-tech. As an architecture guide, she aspires to bring a unique sense and context to the city's past and present developments, along with a broad knowledge regarding architectural, cultural and political histories. Whether exploring the city's centre or Sintra's magical 19th century constructions, Monica brings a specific focus on its local gems, along with great interest in the city's (Jewish) culture, global outreach and local neighbourhoods. When free, Mónica likes to drive Portugal's lesser know roads, exploring countryside villages, beaches and rural simpler food cultures.
Reviews can only be left by Context customers after they have completed a tour. For more information about our reviews, please see our FAQ.
Monica was informed and enthusiastic and she was great with the kids. We loved the tour!
Feb. 18, 2019
Coffee and a Stroll is a great way to get acquainted with a city. Strongly recommend it as the first thing to do on a visit. Monica was awesome—so knowledgeable and helpful and an absolute pleasure as a tour guide.
Oct. 1, 2018
Gemma was fabulous. Knowledgeable, thoughtful, understood quickly what that things were that we were most interested in. She is a great ambassador for your company.
May. 27, 2018