Tour Details
Tour Description
Uncover London's 2,000-year history in the company of a local historian on this London City Tour, broadly covering the history of England's capital. Providing an overview of London from Roman outpost to cutting-edge world capital, this walk is history-focused, tracing the city's long, turbulent history and rise to prominence while visiting quintessential landmarks like the Tower of London, All Hallows-by-the-Tower, and the Monument, which marks the spot at which the Great Fire, which nearly consumed the city, is believed to have originated.
London City Tour
We will begin at the Tower of London, one of the primary symbols of London (and where we run a focused
Tower of London Tour
), which was built in 1078 to protect the city from invaders. Here we will discuss the Norman invasion and separation of City of London from the monarchy, delving into one of the most interesting periods of British history. We will continue the walk with a visit to one of the few sites that escaped the fire (though not the Blitz), All Hallows-by-the-Tower. The church is the oldest known in the City of London area and contains remnants of the Roman, Saxon, medieval, and modern periods. It was also the place where Samuel Pepys watched the Great Fire spread across the capital, where William Penn was christened, and where John Quincy Adams was married.
Architecture Through the Ages
As we leave the church, we will pass some of the remainders of the Roman and medieval wall and fort that was situated in this area. While making our way in the medieval streets of the city, we will discuss the architectural development of the square mile, from St. Andrew Undershaft which survived the fire, the Blitz (the focus of our
London WWII Tour
and a Victorian refurbishment, to the Lloyd's Building and the controversial Gerkin. We will continue our walk with a visit to the fourteenth-century Leadenhall Market, where we will discuss the importance of trade to the history of the city and to the flourishing coffeehouses in this part of London. If time allows, we will veer off to Guildhall, the medieval town hall and the only pre-1666 secular building that survived the fire and the 1940-41 Blitz. This site is also home to a Roman amphitheater situated in the ground level of the structure, whose remains we may examine.
Take Aways
Depending on the day and your interest, we may take a short walk to the third century AD Roman Mithraeum, or we could proceed to walk through Eastcheap, in the heart of the City. From here, we will walk to the Monument, a large monolith, which commemorates the believed starting-point of the Great Fire of London in 1666. The fire consumed many of the ninety-six churches that existed in this part of London, and the job of their restoration was given to Sir Christopher Wren (on whom we also run a
Christopher Wren Churches Tour
), whose masterpieces are still a feature of London today.
FAQ
What is a private tour?
Our private tours are limited exclusively to travelers in your party. They are designed to provide a learning experience that is completely tailored to you and your traveling companions. Private tours give you more flexibility with scheduling (you decide when the walk best fits in your trip), the ability to tailor your itinerary (we'll work to match the itinerary to the interests and dynamics of your group), and more personalized time with your guide.


What is a small group tour?
Our small group tours cover many of the same itineraries as our private tours, but they place you with other travelers in groups of 6 or less. They operate on a pre-scheduled calendar, and are designed to provide an opportunity to engage with and learn from other travelers. Most of our small group tours require at least three (3) participants to run, although there is some variation from walk to walk. However, there is some variation from walk to walk. As you sign up for a tentative walk we display the minimum number required in order to confirm.


Will we see the Tower of London on this tour?
While the Tower is not included in the tour, we start the walk very near it, and we briefly discuss its role in the creation of the City. If you are interested in visiting the Tower, please see our
Tower of London
tour.
Is this walk accessible to wheelchairs?
Yes, the City is fully accessible, so wheelchairs are not a problem.


Do we need to bring cash for entrance to sites?
Most sites we visit are free, however, they welcome donations. For this reason we recommend carrying some cash.


What if it's raining?
Tours operate rain or shine, but in the case of inclement weather, your guide will modify the tour so more time is spent indoors. It never hurts to have an umbrella on hand.


Is this tour good for kids?
Yes! We have some excellent family friendly experts who can appeal to the learning styles of children. Please book privately if you have children under 13. Feel free to provide us with information about your children such as favorite school subjects, and hobbies. This way we can match you with the best possible guide.


Is this a walking intensive tour?
The tour covers about 2 miles. All of this is on even ground
Where You'll Start
Tour Experts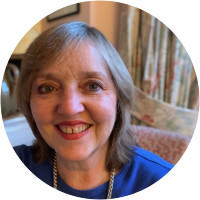 Imogen Rumbold is a retired solicitor living in London. She is the mother of 3 children, now grown up, but not so long ago that she cannot remember what it is like to be in children's company! Originally called to the Bar in 1979, she then swapped sides to become a solicitor and partner in the law firm of Lawrence Graham (now Gowlings WLG), and thereafter as a partner in the niche City shipping practice of Lax & Co. Practising as a shipping litigator led to quite a lot of travel, to such places as Russia, Bulgaria and land-locked Switzerland. In 2018, Imogen retired to devote herself to guiding, thus indulging her interests in history without quite abandoning the law. She is a fully qualified tourist guide and holds the coveted Blue Badge, which permits her to lead tours in London, the Cotswolds, Bath and Stonehenge, amongst other sites. She loves sharing London with visitors, the capital city where she has lived and worked for over 40 years. She gets just as much pleasure from guiding children as she does from guiding grown-ups. Come and visit!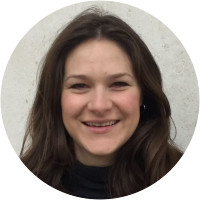 Following her studies in History of Art at Edinburgh and Oxford universities, Emily first joined Context in the Rome office in 2013. On her return to the UK, she began working as a docent while completing her doctorate in eighteenth-century British portraiture at Oxford University. She has worked in museums, historic houses and the commercial art world in various capacities and is now the Assistant Curator of Paintings at the V&A. Emily has tutored students of all ages on various aspects of the history of art, has published on both art and travel.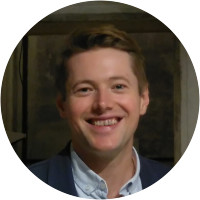 Peter is a London native whose biography reads like a picture postcard book of the capital. Born 'within the sound of the Bow Bells', he spent his formative years as a chorister at St Paul's Cathedral, was a John Carpenter scholar at the City of London School, and went on to complete two degrees at the London School of Economics. While studying for the 'Knowledge of London', London's legendary taxi-driver test, he worked as a driver on the city's iconic red Heatherwick buses. He loves sharing his unique insights and observations of his home town with visitors from around the world.
Reviews can only be left by Context customers after they have completed a tour. For more information about our reviews, please see our FAQ.
Andrew was great, fun and informative
Aug. 3, 2019
Provided an outstanding knowledgable and personable guide - he was solicitous of the group and had a delightful self deprecating sense of humour - we all thought he was great!
Aug. 2, 2019
Peter is truly outstanding! He is truly knowledge and engaging.
Jul. 6, 2019