Tour Details
Tour Description
Meet Sean, your guide to the history of London.
Sean is one of London's elite Blue Badge Guides. He has had a lifelong passion for the history of the British people and how that history has been shaped by their monarchy, parliament and political leaders, especially Winston Churchill during World War II.
A retired financial service executive, with experience of working and living across the globe, he now spends his time working solely for Context in London, Bath and Stonehenge. Sean particularly enjoys bringing history alive for families with inquisitive and questioning kids.
He is the Chairman of his local Arts Society; A freeman of the City of London and a Liveryman of the ancient City Livery Company of Clockmakers. Sean lives in London and in Wiltshire, in the shadow of the stones of Stonehenge. His walks around the Stonehenge landscape explain why it is more than just a heap of stones!
Sean relaxes by having fun with friends, traveling the world exploring other cultures and histories, and is often found in a cinema or theatre.
Itinerary Inspiration
For those unsure of exactly what they'd like to do (beyond exploring the Tower of London or Buckingham Palace!), below are a few examples of Sean's favorite spots in London, and beyond, to ignite your imagination.
Delve into Royal London with an insider. Witness the changing of the guards so close, you can hear the guards breathe, march with the band, and stroke the horses. Explore the Banqueting House where monarchs have partied over the centuries and Charles I was executed. Finally, stand in the hallowed space of Westminster Abbey, the site on which we have crowned all our monarchs since 1066, where 19 of them are buried and where our royal family comes to pray, to commemorate and to celebrate, the site on which we have crowned all our monarchs since 1066, where 19 of them are buried and where our royal family comes to pray, to commemorate and to celebrate.
Amble through the Royal Parks. Six times larger than Central Park in New York and once the Royal Hunting grounds, they are now a place where Londoners relax. They also showcase Buckingham Palace, the London home of Elizabeth II, Kensington Palace, the London home of Prince William and his family, and the most senior royal palace, St James' Palace - a stately Tudor building originally built by Henry VIII as a hunting lodge. Stroll through the streets around it which contains some of the most elite of Londons shops including Fortnum and Mason, so quintessentially English, and where The Queen buys her tea and coffee from!
Venture outside London to explore the ancient landscape of Stonehenge, which is so much more than just the stones that stand there today, then travel onto the beautiful Georgian City of Bath and take in the uniformity of its architecture or visit the medieval city of Salisbury and its Cathedral with the worlds oldest medieval stone spire and one of four remaining original manuscripts of the Magna Carta.
FAQ
What is included in a Private Guide itinerary?
Cost details will vary based on the exact itinerary, but all of our Private Guide itineraries include the cost of your time with your private guide. In many cases, vehicle/transportation costs, select meals, and site entrances may also be included. Your Context planning specialist will confirm exactly what is included in your personal itinerary before charging your credit card. Accommodation is not included.
What information do you need from me in order to build a Private Guide itinerary?
Our planning experts will be in touch to help you build your perfect itinerary, but in general, try to include the following pieces of information in your request form:
How many days would you like the itinerary to be?
Do you have specific goals for your trip?
Which sites and venues would you like to prioritize? Do you want to just pass by or explore inside as well?
Do you have any mobility concerns?
Who are you traveling with? What are their ages and interests?
How much does a Private Guide itinerary cost?
Pricing will vary by itinerary. Your planning expert will provide an itinerary and pricing proposal for your trip before confirming your itinerary and charging your credit card.
How does a Private Guide booking process work?
Once you submit your private guide request, we'll get in touch via email or phone to review your ideas and finalize an itinerary. We only charge your credit card once all details have been confirmed.
Is this suitable for children and / or travelers with mobility challenges?
Yes. We can adapt the itinerary based on the ages, needs, and interests of travelers in your party.
Where You'll Start
Tour Experts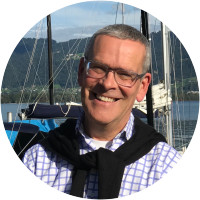 Since leaving university in 1982, Sean has lived and worked across the globe in a nearly 30-year career as a senior executive in financial services. He put his skills and knowledge to work in the Charity Sector in the UK for 7 years but decided life was too short to not focus entirely on his passions for people, history, art and architecture. When not guiding, Sean is restoring a Georgian House and serving as a Parish Councillor. He is a freeman of the City of London and a freeman of the City Livery company of Clockmakers. He lives in London and Wiltshire.
London with Sean
Get to know Sean, London historian