Tour Details
Tour Description
Located a short bus ride from Madrid, the monarchical complex of San Lorenzo de El Escorial—situated on a hilltop with stunning views over the Spanish landscape—is critical to understanding Spanish power and politics in the 16th and 17th centuries. A sprawling, palatial complex, El Escorial occupied a central role in Spanish political history as a seat of power outside of the urban center of Madrid, and in this way provides an interesting contrast to Versailles and other rural royal residences throughout Europe. As a UNESCO World Heritage Site, it's a major must-see site. Our four hour guided El Escorial excursion, one of our many
half- and full-day trips from Madrid
, is led by an accomplished historian or art historian. This El Escorial tour will draw connections between politics and religion in 16th century Spain, putting the stunning landmark in a new perspective.
El Escorial Excursion from Madrid
Our excursion begins in Madrid, with a bus ride (45 mins) out to the site. Along the way, we'll look at the figure of Philip II of Spain, who founded the complex in 1563 with a dual purpose: as both a monastic foundation and a pantheon for the Habsburg dynasty—specifically as a burial place for his father, the Holy Roman Emperor Charles V, and other members of the royal family. The direct involvement of Philip II in the project has been discussed by historians at length, and we'll look at some of these interpretations as we tour the site.
El Escorial Tour
Once on site, we'll explore the residential quarters, the monastery, and most of the major buildings. We'll have ample opportunity to explore and discuss the layers of meaning within the complex, which came to symbolize both the international prestige and the private beliefs of a monarch who ruled over a vast empire. Religion and politics are linked together at El Escorial, reflecting the convergence of the spiritual and the secular in the politics of 16th-century Spain.
El Escorial with an Expert
Our visit will also include the Library whose holdings rival those of the Vatican in number and importance, as well as a collection of Flemish, Italian, and Spanish paintings, and two eighteenth-century recreational lodges for the royal family. (If you wish to see more art while in Spain, consider our
Prado tour
.) At the end of the visit, participants are free to remain and continue exploring on their own and will be provided with instructions for getting back to Madrid.
FAQ About the El Escorial Day Trip

Where do we meet? Where does it end?
You'll meet in Madrid, at Moncloa Bus Station (your confirmation will have the exact meeting point). In total, this is a 4 hour excursion. Travel time to El Escorial is about 1 hour, then we'll spend 3 hours on site. Return time is not included in the excursion. You can stay in El Escorial on their own and eat lunch, or return to Madrid with the guide.


Do we need tickets?
You will purchase your bus and entrance tickets on-site (your guide can assist you with this). It is a good idea to have cash on hand—approximately €25.


Can I participate in another tour in the afternoon?
Depending on the timing of the second tour, it may be possible. Please contact us to see if this is feasible.


Is this tour mobility friendly?
The Palace is not mobility friendly. It is "partially accessible" which means visitors with reduced mobility can see about a third of the palace. There are a lot of stairs throughout the venue. If you are restricted to a wheelchair, the most you will be able to see is the Basilica. Our typical tour involves bus service between El Escorial and Madrid. We recommend private car service for those with reduced mobility.


Can we arrange private car service instead of taking the bus?
Ys we can. We can arrange be at your disposal for the duration of the day. If you'd like to arrange car service, just mention this in the notes section of your booking. We will follow up with you to establish your exact needs in order to provide a quote and then adjust your order accordingly after it's been submitted.
Where You'll Start
Tour Experts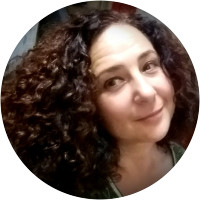 Professor Marta López Beriso is an active scholar and educator in the field of Art History. She teaches at various American universities in Madrid. She holds degrees in Art History and Arcaheology (B.A. Université de La Sorbonne-Paris IV), Arts and Culture Administration (M.A. Universidad de Barcelona), and a PhD in Art History, expertise in History of Photography (Universidad Complutense de Madrid). Her publications include articles and papers published in catalogues, scholarly magazines and guides for the general public. She is also the founder and director of "Aulas de Arte", a private non-profit organization, dedicated to educational services in museums, nationwide and internationally. She is the former Adjunct Director at the Esteban Vicente Contemporary Art Museum, Segovia, as well as Director of Education at Museo Picasso Málaga. Born and raised in Madrid, she has studied in Paris and also worked in New York at the beginning of her professional career, at MOMA. Back in Madrid she feels the city as a cosmopolitan insider. She knows both the historical and traditional Madrid she discovered with her mother and grandmother as well as the most contemporary and alternative side of the city.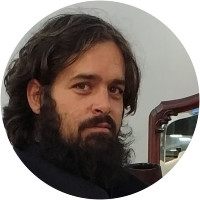 Enrique has lived in Madrid since he was three and at an early age he had already discovered his love for art when he went to visit "the most viewed painting of all times" Guernica, by Pablo Picasso. This led him into study art history, where he specialized in Nineteenth Century Spanish painting, and began a doctorate in History focusing on the Death penalty in Spain from 1800 until1975. Well travelled, art and history lover and true "local" passionate about the history of his beloved city, he will be a great match for anyone looking for authentic in-depth history or art tour.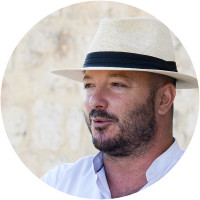 Sean has a 5 year History degree from UAM (Madrid) where he specialized in late medieval Castilian history. He also spent a full year at NUI (Maynooth, Ireland) researching the history of the Irish Colleges in the continent during the early 1600's. He later moved on to the study of the hispano-portuguese colonial presence in Asia and worked for the Spanish Association for Pacific Studies at UCM, Madrid. He's been a visiting professor at KYUDAI (Fukuoka, Japan) and has lectured at many seminars and conferences in Spain during the early 2000's precisely in the field of Southeast Asian studies. In the meantime Sean has been actively working as a tour guide in Spain running cultural tours for English-speaking travelers. He is currently working mostly as a local guide in Madrid.
Reviews can only be left by Context customers after they have completed a tour. For more information about our reviews, please see our FAQ.
Enrique was an excellent guide! FANTASTIC TOUR!
Aug. 22, 2018
Lourdes F was exceptionally knowledgable. She went into almost too much detail, but better that than not enough. She could perhaps read her audience better and concentrate on the high points, but she did a wonderful job.
Jan. 3, 2017
Our guide Andrea V was smart, knowledgeable, and a pleasure to be with.
Oct. 16, 2016