Tour Details
Tour Description
It is often unsettling to arrive in an unfamiliar city for the first time. Our private, personalized Welcome to Madrid orientation experience, guided by a resident of and expert on the city, is an ideal option for new visitors seeking a practical orientation to the city and its daily life. Created to ease the transition from new visitor to comfortable habitué, you will come away from the tour with answers to your questions about living and staying in the Spanish capital, in addition to a context for Madrid sightseeing.
¡Bienvenidos! (Welcome to Madrid!)
We'll begin our experience in your apartment or hotel lobby where our docent will explain the layout of the city and the neighborhood where you are staying. We'll provide advice on local customs, recommendations for dining, shopping, and insider events and concerts, a basic language lesson, and open the floor to any specific questions. If you have other walks booked with us, we will examine your itinerary and go over any questions.


We will then head outside for a stroll, allowing for a dialogue on the area's history and an opportunity to absorb the neighborhood ambiance under the guidance of a seasoned madrileño. We'll pause from time to time to talk about historic buildings and monuments, or maybe to review how the subway and buses work. We'll point out colorful markets or the café where the best tortilla in the area can be found. We'll leave you with maps, a head full of knowledge, and a better idea of how best to maneuver in this enchanting city.


Booking Instructions
Please supply your hotel name or exact apartment address (building entrance codes, apartment number, floor, etc) in the Notes box during checkout so that we can arrange for our docent to meet you directly at your lodging. In order to help us prepare the experience, please also share your interests and any specific questions about Madrid. This will enable us to fully customize the experience to speak to your needs.


This experience is part of our
Welcome To
series, which aims to orient first-time visitors to Context cities by pairing them with local experts. Read about our other
Welcome To
experiences in our other cities.
FAQ
I would like the docent to answer some very specific questions I have about the city. Can I let you know in advance what those questions are?
Please do let us know in advance if you have specific questions so that your docent can come prepared with answers to your questions.
Tour Experts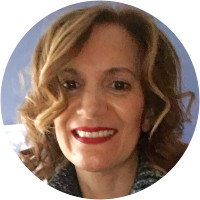 Originally from the Dominican Republic, Lourdes Fernández Bencosme has made Madrid her home for the last nineteen years. She is very passionate about the city and Spain in general. She holds a BA in History from the Universidad Autónoma de Santo Domingo after which she moved to Chicago to pursue her graduate work. She holds a MA degree in Hispanic Studies from the University of Illinois at Chicago and a PhD in Romance Languages & Literatures from the University of Chicago. She has taught courses at the University of Illinois, The University of Chicago, Colgate University, Universidad Autónoma de México, Syracuse University Madrid, Suffolk University Boston and is currently part of the faculty at Suffolk University Madrid Campus where she teaches a course entitled Madrid Cosmopolitan City among others. Her main interests are visual culture, popular music, urban life and their literary representations in Hispanic literature. Lourdes lives with her husband, her two daughters and two cats in the historic center of Madrid.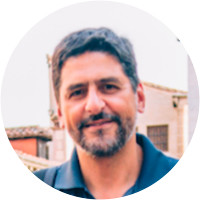 Héctor was born and raised in San Juan, Puerto Rico. He obtained a B.A. in Architecture and Humanities and an M.S. in Historic Preservation from Columbia University, New York City, and in 1996 he studied at Rome's International Centre for the Conservation and Restoration of Cultural Property. He returned to Puerto Rico to become Executive Director of Heritage Programs at the Institute of Culture, and then worked independently on research projects for historical and archaeological sites in the Caribbean. In 2003 he moved to Madrid, where he is currently working on his PhD thesis in Colonial Latin American History. Héctor has taught undergraduate courses in the History and Theory of Historic Preservation, Spanish and Latin American History, and Spanish Culture and Civilization at universities in Puerto Rico and Spain. He has a particular passion for Spanish cities and fortifications of the Middle and Early Modern ages. Héctor speaks Spanish and English fluently, and has an intermediate level of Italian.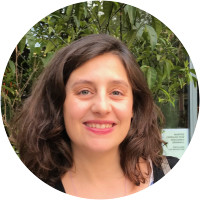 Helena Vaello's passion for food has determined her career. After finishing her Audiovisual Communication studies at the age of 23, she changed course and started a successful catering business that was in operation for 5 years. Then, whilst pursuing a postgraduate course on gastronomic journalism, she began working as a freelance restaurant consultant and cooking instructor. Helena has written about food for several media outlets, including the Guía Repsol, covering a wide range of national events related to haute cuisine, food trips, conventions, and different presentation and specialized courses. She currently works on communication and PR for Arturo Sánchez, a brand of jamón Ibérico.
Reviews can only be left by Context customers after they have completed a tour. For more information about our reviews, please see our FAQ.
Fabulous tour--just what we were hoping it would be. Too bad you couldn't have gotten us better weather! Helena was very informative and went out of her way to make us a lunch reservation at a restaurant that we would never have found on our own.
Dec. 16, 2019
Susana adapted well to our needs and preferences so that we got maximum benefit from the tour
Jun. 6, 2019
It was exactly what we wanted. Susana obviously read the description of our needs and she had our time planned out wisely. Not a moment was wasted. We enjoyed our time with her and it was the perfect intro to Madrid for our daughter who's just arrived for a study abroad.
Sep. 1, 2018