Tour Details
Tour Description
With a fantastic array of monuments from Roman, medieval, and Renaissance times, Segovia is one of the best-preserved historic cities in Castile. Its charming medieval streets and squares are dotted with Romanesque churches, Gothic private homes, and Renaissance palaces earning it a place on the UNESCO Heritage list in 1985. Our Segovia day trip from Madrid, in the company of an expert guide, provides an excellent introduction to the many special cultural facets to this exceptional city.
Segovia Excursion from Madrid
Beginning with a bus ride from Madrid's Moncloa bus station, we will proceed directly to the base of the Roman aqueduct with a discussion of this structure, the best preserved example of its type — highlighting the skill of Roman engineers.


As we make our way towards the castle—known as the Alcazar—we will come across late Gothic palaces and squares, go past the city's medieval grain depot, and learn about Segovia's tumultuous relationship with the Spanish crown, which resulted in the destruction of its cathedral and the foundation of the current one. The last great Gothic cathedral to be built in Europe, it houses a triptych by Ambrosius Benson and an important collection of Flemish tapestries, as well as Baroque altarpieces. As we reach the outside of the Alcazar, its fanciful reconstruction provides an opportunity to discuss the romanticized view of the Middle Ages and issues of conservation, while its commanding view of the plain below includes a Templar church and two important monasteries.
Explore Segovia with an Expert
Segovia was once the seat of the royal court. It is historically tied to Isabella, the Catholic Monarch who, together with her spouse Ferdinand of Aragon, sponsored Christopher Columbus' expedition to the Indies, as well as setting up the Inquisition. It was in this city that she was crowned Queen of Castile, and also where the headquarters of the Inquisition were set up.


After a short break to take in the views, we will make our way back through the Jewish neighborhood. The itinerary includes a stop in the church of Corpus Christi, the converted main Synagogue. After, we will assess the reuse of religious and lay buildings as we stroll through the once-gated Jewish quarter.
For a full-fledged multicultural experience, we recommend our Madrid to Toledo day trip—Toledo being known as "City of Three Cultures."
A Closer Look at Segovia's History
If time allows, we could visit the 15th-century Clarissan convent of St. Antonio el Real, which features breathtaking Mudejar wooden carved and gilded ceilings, produced by Muslim craftsmen. Alternatively, we might visit the 12th century church of San Justo, and discuss its Romanesque frescoed and carved decoration.


Following the tour, you are free to wander through the town and perhaps sample the local culinary specialty, roast suckling piglet. Your guide will provide you with open return tickets for a leisurely return to Madrid from Segovia.


Looking for another historian-led day trip from Madrid? Try our Madrid to El Escorial tour.
FAQ About the Segovia Day Trip from Madrid
Where do we meet? Where does it end?
You meet in Madrid at the Moncloa bus station. Your confirmation email will have the exact meeting point into. The tour ends in Segovia. Your bus tickets are open-ended, so you can return to Madrid at your leisure. Most visitors choose to stay in Segovia, get lunch, and explore on their own.


How do we get there?
You will meet in Madrid and take the bus with your expert. The journey is about 1 hour.


Can you focus in depth on a specific area?
We can potentially organize a private walk on a special theme. Please contact us for more information.


Can we arrange a private car instead of taking the bus?
For private tours, sure. Just mention this in the notes section of the booking, and we'll get in touch with a quote.


Is this tour walking-intensive and/or wheelchair accessible?
This tour is fairly walking-intensive and the route may include narrow sidewalks and cobblestoned streets. Please contact us to discuss in more detail your mobility concerns so that we can best advise. We are also happy to design a private, customized tour for visitors with mobility concerns.
Where You'll Start
Tour Experts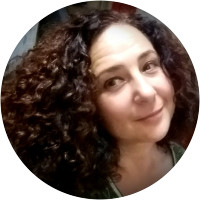 Professor Marta López Beriso is an active scholar and educator in the field of Art History. She teaches at various American universities in Madrid. She holds degrees in Art History and Arcaheology (B.A. Université de La Sorbonne-Paris IV), Arts and Culture Administration (M.A. Universidad de Barcelona), and a PhD in Art History, expertise in History of Photography (Universidad Complutense de Madrid). Her publications include articles and papers published in catalogues, scholarly magazines and guides for the general public. She is also the founder and director of "Aulas de Arte", a private non-profit organization, dedicated to educational services in museums, nationwide and internationally. She is the former Adjunct Director at the Esteban Vicente Contemporary Art Museum, Segovia, as well as Director of Education at Museo Picasso Málaga. Born and raised in Madrid, she has studied in Paris and also worked in New York at the beginning of her professional career, at MOMA. Back in Madrid she feels the city as a cosmopolitan insider. She knows both the historical and traditional Madrid she discovered with her mother and grandmother as well as the most contemporary and alternative side of the city.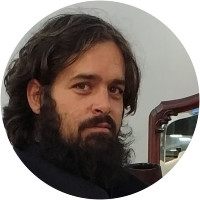 Enrique has lived in Madrid since he was three and at an early age he had already discovered his love for art when he went to visit "the most viewed painting of all times" Guernica, by Pablo Picasso. This led him into study art history, where he specialized in Nineteenth Century Spanish painting, and began a doctorate in History focusing on the Death penalty in Spain from 1800 until1975. Well travelled, art and history lover and true "local" passionate about the history of his beloved city, he will be a great match for anyone looking for authentic in-depth history or art tour.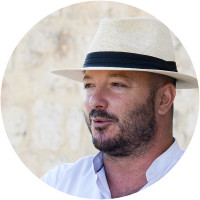 Sean has a 5 year History degree from UAM (Madrid) where he specialized in late medieval Castilian history. He also spent a full year at NUI (Maynooth, Ireland) researching the history of the Irish Colleges in the continent during the early 1600's. He later moved on to the study of the hispano-portuguese colonial presence in Asia and worked for the Spanish Association for Pacific Studies at UCM, Madrid. He's been a visiting professor at KYUDAI (Fukuoka, Japan) and has lectured at many seminars and conferences in Spain during the early 2000's precisely in the field of Southeast Asian studies. In the meantime Sean has been actively working as a tour guide in Spain running cultural tours for English-speaking travelers. He is currently working mostly as a local guide in Madrid.
Reviews can only be left by Context customers after they have completed a tour. For more information about our reviews, please see our FAQ.
The tour was interesting and informative. Barbara was nice, friendly and very knowledgeable. The fact that this is our 13th tour with Context Travel - should say the rest of what I think...
Oct. 10, 2019
Clara was friendly and engaging. She had an easy command of the complicated history of the region and explained it in a most accessible way. Overall, another excellent Context experience.
Oct. 5, 2019
Great city. Our guide was underwhelming. We are comparing her to Hector in Madrid and Dan in Seville. She was much less a content expert; it is clear that she is not a teacher of history. Several basics that Hector and Dan shares were not at her disposal. She also lacked enthusiasm/passion. Great day, but our guide was a bit flat
Aug. 10, 2019