Tour Details
Tour Description
A center of culture and religion since the Middle Ages, Toledo has been home to Jews, Christians, and Muslims from the Maghreb. Now a UNESCO World Heritage site, the churches, synagogues, and mosques that dot this beautifully preserved city are a testimony to the heterogenous history of Europe. During this full day trip from Madrid to Toledo, we'll join a historian to explore the architectural and social history of Toledo, offering insight into the city that is traditionally known as 'the melting pot of three cultures."
Sites Visited
Cathedral of Santa Maria of Toledo
Synagogue of Santa Maria la Blanca
Church of San Tomé
Jewish Quarter
Monastery of San Juan de los Reyes
Included
8 hours with a PhD or MA-level guide
Itinerary Details
Our Toledo excursion will begin on the 35-minute train ride from Madrid, during which our guide will lay out the basic timeline of the city's history and some of the main themes to think about. Once in Toledo, we begin our walk at the main square Plaza Zocodover, so called because it once served as the towns Souk, or main market. We will surely visit the stunning Cathedral, whose origins go back to the seventh century, and which boasts a superb collection of Gothic altarpieces, funerary monuments and choir stalls. It also contains a rare religious painting by Francisco Goya.
From here, we may head to the Synagogue of Santa Maria la Blanca, stopping along the way at the church of San Tomé to examine one of El Greco's masterpieces, The Burial of the Count of Orgaz, within the context of medieval funerary customs and the relevance of its setting in Toledo. The fourteenth-century Synagogue nearby, which houses the Museum of Sephardic Culture, is crucial to our understanding of the Jewish influence on Spanish culture. After a tour of the Jewish quarter, we will visit the late fifteenth-century Monastery of San Juan de los Reyes, commissioned by the Reyes Católicos, and a perfect setting for a discussion of the political and religious decisions taken by the monarchs.
We'll leave you with an understanding of Toledo's rich history, a true city of three distinct culture. From here, you may choose to further explore the rest of Toledo on your own, armed with your expert guide's recommendations.
Looking for another day trip that explores turbulent Spanish political history? We suggest our
Madrid to El Escorial
excursion.
FAQ
What is a private tour?
Our private tours are limited exclusively to travelers in your party. They are designed to provide a learning experience that is completely tailored to you and your traveling companions. Private tours give you more flexibility with scheduling (you decide when the walk best fits in your trip), the ability to tailor your itinerary (we'll work to match the itinerary to the interests and dynamics of your group), and more personalized time with your guide.


What is a small group tour?
Our small group tours cover many of the same itineraries as our private tours, but they place you with other travelers in groups of 6 or less. They operate on a pre-scheduled calendar, and are designed to provide an opportunity to engage with and learn from other travelers. Most of our small group tours require at least 3 participants to run, although there is some variation from tour to tour. As you sign up for a tentative tour we display the minimum number required in order to confirm.


Where do we meet? Where does it end?
The tour begins at Madrid Atocha train station and ends in Toledo. Your confirmation email will have the exact meeting point details along with a map, and 24 hour phone number. The train journey takes about 35 minutes, and your guide will have in her possession your advance round-trip train tickets. This walk includes a stop for lunch at a restaurant of your choice based on your expert guide's recommendations (at your own expense). If you would like an earlier or later return, please do let us know by leaving us a note or emailing Spain@contexttravel.com ; we will follow up with options before we arrange the tickets.


Is this tour walking intensive, and/or wheelchair accessible?
We do cover extensive territory on this tour. Please contact us with any questions; we will be happy to advise if this tour will be appropriate for you. Please note that many sites in Toledo are unfortunately not very wheelchair-accessible.

Is lunch included on this tour?
Yes. Based on client feedback we now include a lunch break on the tour. If you have special dietary requirements please let us know by leaving a client note or emailing info@contexttravel.com
Where You'll Start
Tour Experts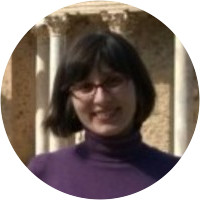 Barbara Perucka has been living for more than five years in Madrid. She earned her Ph.D. in Art History, as well as her Bachelor's degree in Italian Philology, at Adam Mickiewicz University in Poznań (Poland). Her research interests focus on medieval painting, art at European courts, and travel literature. Her doctoral thesis was dedicated to the decoration of a French manuscript "Livre des merveilles" (Book of Wonders, Paris, Bibliothèque nationale de France, ms. fr. 2810). She has published papers about late medieval tapestries and medieval illustrated accounts of a journey, and was a professor of art history at Adam Mickiewicz University in Poznań and Nebrija University in Madrid. She also received several research grants in Paris, Dijon, Vienna, Pisa and Brussels.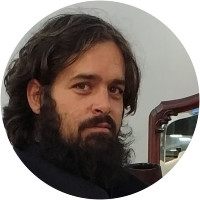 Enrique has lived in Madrid since he was three and at an early age he had already discovered his love for art when he went to visit "the most viewed painting of all times" Guernica, by Pablo Picasso. This led him into study art history, where he specialized in Nineteenth Century Spanish painting, and began a doctorate in History focusing on the Death penalty in Spain from 1800 until1975. Well travelled, art and history lover and true "local" passionate about the history of his beloved city, he will be a great match for anyone looking for authentic in-depth history or art tour.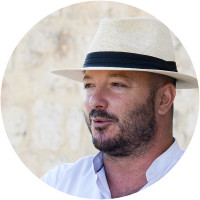 Sean has a 5 year History degree from UAM (Madrid) where he specialized in late medieval Castilian history. He also spent a full year at NUI (Maynooth, Ireland) researching the history of the Irish Colleges in the continent during the early 1600's. He later moved on to the study of the hispano-portuguese colonial presence in Asia and worked for the Spanish Association for Pacific Studies at UCM, Madrid. He's been a visiting professor at KYUDAI (Fukuoka, Japan) and has lectured at many seminars and conferences in Spain during the early 2000's precisely in the field of Southeast Asian studies. In the meantime Sean has been actively working as a tour guide in Spain running cultural tours for English-speaking travelers. He is currently working mostly as a local guide in Madrid.
Reviews can only be left by Context customers after they have completed a tour. For more information about our reviews, please see our FAQ.
Barbara was articulate, well informed, very pleasant and helpful. She tailored the tour to our needs as we had an elderly gentleman who needed more time navigating the walk. No problems....all enjoyed. Thank you.
Feb. 28, 2020
Diego was a wonderful tour guide, a complete pleasure to spend an afternoon with. Very knowledgeable and very warm. ¡Muy bien!
Jan. 10, 2020
Barbara was terrific! Her knowledge of the art, history and culture was impressive and she brought her wonderful persona to the entire day. I don't have any suggestions for improvement. We have now enjoyed many Context tours. This one ranks right up there. Continue the good work of employing qualified and inviting guides.
Dec. 11, 2019