Tour Details
Tour Description
Explore Munich's somber period of history with a local historian on this full-day tour. We'll begin by tracing the rise of Hitler and the Third Reich's power in Munich's historical center and the afternoon visiting the former concentration camp, today's Dachau Memorial Site. We will have a brief stop for lunch, and we will take a train and a bus in between Munich and Dachau. With our trained local historical expert, we will discuss the sobering history and events that happened at various locations in Munich and its environs.

In the morning, we'll spend around 3 hours visiting sites relevant to the 1920s and 30s, such as the Hofbräuhaus beer hall, the Feldherrnhalle and the Haus der Kunst. We'll talk about the foundations that led to the rise of the DAP and subsequent Nazi Party, the economic and political atmosphere at the time and efforts to resist this emerging power. We'll stop for a bite to eat before heading on the train to the Dachau Memorial site, where we will spend the next few hours. With our foundational historical knowledge from the morning, we may be better placed to understand the events that led to those who died on this site between 1933 to 1945. We'll talk about the earlier days of political prisoners at the camp before the number of Jewish prisoners at Dachau rose. We will also discuss and explore the site's design: from the medical experiment rooms to the barracks, to the prison block and watchtowers, execution sites, gas chamber, and crematorium. With our trained local historical expert, we will discuss the sobering history and events that happened at this location.

At the end of a heavy day, we will digest one of history's darkest chapters together on the train. We may reflect on the rather-all-too-recent events and their connection to the present in shaping attitudes in both Germany and the rest of the world today.


FAQs
Where do we meet? Where does it end?
We meet near Frauenkirche where we start the tour. We will end the tour at Munich's main train station. Your confirmation email will have the exact meeting point details.


What if it's raining?
Tours operate rain or shine. The majority of this walk is outside, so please be prepared with either an umbrella or a hat/sunscreen.

When will we have lunch?
We will plan to have lunch after our morning WW2 tour. We can either choose a sit-down lunch or peruse the plentiful options in the train station before we visit the Dachau memorial site in the afternoon. The cost of lunch is not included.


Can children participate in this tour?
No, not below the age of 13. There is no special exhibition for children at the Dachau Memorial Site, and the Dachau Memorial Site restricts participation in any on-site tours to ages 13 and up. Context does not offer a family program to this site; however, families with teenagers ages 13 and up can book our tours.
Is this seminar walking intensive, and/or wheelchair accessible?
We do cover quite a bit ground on this seminar and therefore we recommend contacting us with any mobility questions; we will be happy to advise if this seminar will be appropriate for you or propose modifications where necessary.
Where You'll Start
Tour Experts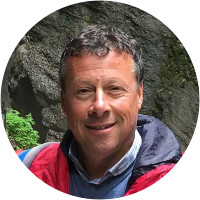 Jeff arrived in Munich quite by accident just after his 21st birthday and since then has lived for around 35 years in Bavaria's capital. He began tour guiding in 2000 and is now one of the most experienced on the circuit. He has in this time been a co-founder and owner of a Munich tour company but in 2010 decided to go freelance. Articles on his Third Reich tours have appeared in respected national publications such as Süddeutschezeitung and Der Spiegel. Most of his tours centre around this subject and the Dachau Concentration Camp Memorial but in his days as a company owner he designed the first ever tour in Munich dedicated to beer and brewing. As well as this he enjoys all things related to food and loves introducing people to the multi-faceted world of gastronomy in what has become an increasingly cosmopolitan city. Munich has many other charms and a history which he loves to show and explain on a walk through the charming medieval old town.