Tour Details
Tour Description
Discover Munich in a day, with a local expert. We'll start in the morning walking through Munich's historical center as we trace the evolution of this Bavarian capital. We'll discuss monks and monasteries, the Bavarian Royal family, Hitler and the Third Reich, and Munich's current status today. We'll have a Bavarian lunch together before spending the afternoon strolling through the English Gardens and stopping in a local beer garden. Comprehensive and all-encompassing, this 7-hour itinerary has been crafted to help us make sense of this lively German city and understand its deep-rooted traditions and rich history.
Munich in a Day
We'll meet one another near the official historic center of the city since Munich's birth in 1158. We'll spend a portion near this area as we pass by sites such as the New Town Hall, Viktualienmarkt, Frauenkirche (Munich's cathedral), Hofbräuhaus beer hall, the Opera House, Feldherrnhalle, and the Royal Residence. We'll use these visual pointers and interesting architectural feats to talk about the Bavarian monarchy before moving onto the city's darker days, the rise of the Third Reich, and the impact of World War II. We'll stop for a local lunch (at own expense), using this time to explore (and taste!) some of the nuances in Bavarian cuisine. After lunch, we will spend the afternoon soaking up more of the city; this time the green urban space of the English Gardens. From here, we'll discuss the important role landscaping played in the development of the Bavarian identity. We'll close our time together from the setting of a traditional beer garden, with a local beverage in hand, as we discuss the significance of beer in Germany history, including its contribution to laws, Bavarian diet, its social status, and impact on global events.
At the end of our 'Munich in a Day' tour, we will have a more extensive grasp of Bavarian culture, history, and tradition. We'll have learned from our expert how Munich has changed over the centuries and where it stands today. We'll emerge with a deeper appreciation and background to this stylish and historic capital.


FAQS
What happens if it's raining?
Our tours happen rain or shine. Our guides are great at adapting their route during changes of weather. Please bring an umbrella.

I would like to start at a different time. Is this possible?
Please request this at the time of your booking and we can adapt the itinerary. Keep in mind this is a 7-hour tour.

What is included? Will there be any costs to cover on the day?
A local snack/refreshment is included. You will be expected to cover the cost of your lunch and any additional refreshments.

Where does the tour end?
This may vary according to your expert however we usually end in the English Garden.

Can I request a car service?
We find this tour best suited on foot as everything is within walking distance. If you require a car service for mobility reasons, please let us know in your clients notes and we can arrange it for you.
Where You'll Start
Tour Experts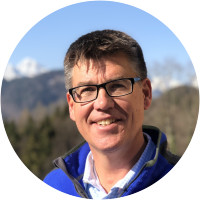 Scott is American and is fluent in German, having studied in Kassel, Germany. His undergraduate work was in German Language studies and European History at Northern Michigan University in Marquette, Michigan. After college he spent several years in the hospitality industry on Michigan's Mackinac Island, then went on to co-own a manufacturing business and teach German courses. Now a Diplom Bier Sommelier, he lives in Munich full time and is also a silent partner in a German-style microbrewery/restaurant near Grand Rapids, Michigan. His passion for the Bavarian culture and history has made him an authority on all things Bavarian!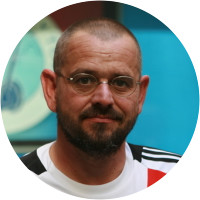 Achim is a writer and tour guide originally from Ochsenfurt, a tiny village around a huge sugar factory between the vineyards of Lower Franconia. He obtained his MA from the University of Erlangen after submitting his thesis focusing on the Nuremberg Party Rallies of the NSDAP. He has published travel books on Montenegro and Munich, both currently still in print and well selling in the 4th, respectively 5th edition. He is fully licensed by the Memorial site in Dachau as a docent and has eight years experience of tour guiding in and around Munich with an emphasis on NS related topics, but also claims to prepare the best beer garden food in town.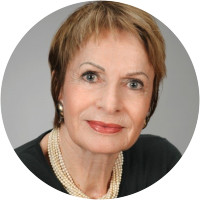 Tina finished secondary school in Stuttgart and subsequently studied Communications, English, and Politics at Ludwig-Maximilians-University in Munich. She worked for several years as an independent book publisher, focusing on paperbacks for journalists & students studying economics. After this she joined an American publishing house (International Data Group/IDG), where she was responsible for international marketing solutions and international advertising sales. Since 2014 Tina has been a tour guide, leading many kinds of tours, including: Hitler's Munich and the Third Reich, the resistence group 'White Rose', and excursions to Dachau Memorial Site (former concentration camp) or Neuschwanstein & Castle Linderhof. She also works at the BMW plant on their internal team of guides.