Tour Details
Tour Description
Munich: the birthplace of the Nazis. But how and why? How did Adolf Hitler and the Nazis rise to power in Germany, ultimately committing one of the greatest atrocities in human history? On this 3-hour WW2 Nazi Munich Tour led by a historian, we will explore the early life of Adolf Hitler from his move to Munich in 1913 to his involvement in the DAP, and the subsequent rise of the Nazis from the 1920s. Visiting some of the most crucial sites in the "Hauptstadt der Bewegung"—the Capital of the Movement, or the birthplace of the Nazi Party, we'll examine the rise of the Third Reich, the horrors and tragedies of their regime, and the events and circumstances that led to their grasp of German politics. Our tour may include visits to the Haus der Kunst and the Hofbräuhaus beer hall.
You can also select to add a visit to the
Dachau Memorial Site
and former concentration camp, which would make this a full-day experience with one of our history experts.
WW2 Nazi Munich Tour
We begin our WW2 Nazi Munich Tour at Marienplatz, from which we are able to introduce the themes of our tour and dive off in the direction our guide chooses. We might go to the former Sterneckerbräu, a Munich brewery which gained fame as the place where the first branch of the German Workers' Party (DAP) met, before becoming the Nazi Party (NSDAP). We'll visit today's Hofbräuhaus, another brewery which helped propel Hitler to the center political stage and where he gave his first speech in 1920. We'll continue on our WW2 Nazi Munich Tour to Feldherrnhalle and Odeonsplatz as we discuss how this location took on new significance in the run-up to the Nazi power takeover. A former memorial to the Bavarian army, Feldherrnhalle was the site of the failed Beer Hall Putsch of 1923 and for future parades, rallies, and Nazi meetings. Here, we could discuss the evolution of this important space over the Nazi rule and the visible damage that can be seen today from the fallout for the constant bombings throughout WW2.
Scholl Siblings and Resistance
After visiting the Feldherrnhalle, our guide may spend time in the Hofgarten talking about the Scholl siblings and the resistance to the Nazi regime during WW2 (the Weiße Rose, or White Rose, movement). From here, we'll move to the Haus der Kunst, Nazi Germany's first building designed specifically to demonstrate Nazi architecture and propaganda. We will pass by former NSDAP buildings such as Reinhard Heydrich's office, the former Gestapo HQ, and the site where Hitler first met Eva Braun. We'll finish in the area of Munich that was the administrative district of the Nazi Party during the 1930s and 40s. As we spend some time in and around Königsplatz (where the Party held mass rallies/book burnings) our guide will discuss the 'Führerbau'. This building was where the famous Munich Agreement was signed in 1938: a document which world leaders, such as Neville Chamberlain, strongly believed would avert another world war.


If you are interested in extending your day to include a visit to Dachau Memorial Site, please select the option at checkout. This will be a 9-hour day, meeting for a morning tour at 9 am, followed by a brief lunch (at own expense) before getting the train to the Dachau Memorial Site. We will spend 3 hours on-site before traveling back to Munich together, finishing around 6 pm. Transport to Dachau is included.
Alternatively, you can visit the Dachau Memorial Site on your second day in Munich on our Dachau Day Trips tour.
Take Aways
At the end of our three hour WW2 Nazi Munich Tour, we will have encountered the ghostly spaces of Munich's dark history, but not in an attempt to sensationalize or historicize the years of Hitler's ascent to power. Instead, we will have returned to those events of the not-yet-distant past in order to forge a connection to the present and understand how the history still shapes Munich and Germany today.
FAQ
Where do we meet? Where does it end?
We meet near the Frauenkirche. The ending point may vary, but we tend to finish near the NS Documentation Center. Your confirmation email will have the exact meeting point details along with a map, and 24-hour phone number for any last-minute issues. If you have chosen the Dachau extension option, we will end the tour at Munich's main train station.

If I would like to visit the Dachau Memorial Site, can I just check the optional box?
Yes. We will then adjust your walk duration to be 9 hours and we will adjust the start time to 9 am. You will be back in Munich around 6 pm.


What if it's raining?
Tours operate rain or shine. The majority of this walk is outside, so please be prepared with either an umbrella or a hat/sunscreen.


Can children join this tour?
We don't encourage children to join this tour, given the subject nature.


Is this tour walking intensive, and/or wheelchair accessible?
We do cover quite a bit ground on this tour and therefore we recommend contacting us with any mobility questions; we will be happy to advise if this tour will be appropriate for you or propose modifications where necessary.
Where You'll Start
Tour Experts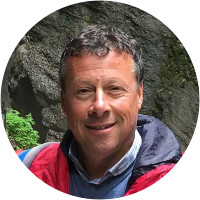 Jeff arrived in Munich quite by accident just after his 21st birthday and since then has lived for around 35 years in Bavaria's capital. He began tour guiding in 2000 and is now one of the most experienced on the circuit. He has in this time been a co-founder and owner of a Munich tour company but in 2010 decided to go freelance. Articles on his Third Reich tours have appeared in respected national publications such as Süddeutschezeitung and Der Spiegel. Most of his tours centre around this subject and the Dachau Concentration Camp Memorial but in his days as a company owner he designed the first ever tour in Munich dedicated to beer and brewing. As well as this he enjoys all things related to food and loves introducing people to the multi-faceted world of gastronomy in what has become an increasingly cosmopolitan city. Munich has many other charms and a history which he loves to show and explain on a walk through the charming medieval old town.
Reviews can only be left by Context customers after they have completed a tour. For more information about our reviews, please see our FAQ.
Our tour guide was fabulous! Very personal and informative. I would highly recommend her! Fantastic tour!
Jun. 29, 2019
I'm not sure we have ever had a guide more knowledgeable about the subject matter. He was also very engaging to listen to and very receptive to questions. Would highly recommend him as a guide. Excellent experience. Could have listened to him for longer than 3 hours
Jun. 20, 2019
Brendan was very knowlegable and tried to accommodate my husband who walks with difficulty and is hard of hearing. Brendan should make it a point to stand near/closer to those with hearing disability instead of standing far away my husband could not hear him therefore he was not engage. The tour guide we had today (not with context) made it a point to stand close to him st all times so he could hear him speak with clarity. I was more impressed with that tour guide. Brendan could improve by taking steps to be more sensitive to hearing impaired
Jun. 20, 2019