Tour Details
Tour Description
Discover the Basilique Cathédrale Notre-Dame de Chartres on this half day excursion from Paris in the company of a local medievalist, architect, or art historian. Just over an hour from Paris by train, Chartres Cathedral is an exemplary physical textbook on the Gothic style, known for its exquisite stained glass, labyrinthine floor plan, and extensive exterior carvings. During our exploration of its magnificent interiors and exteriors, we'll use the cathedral as a conduit for exploring not only Gothic architecture, sculpture, and stained glass, but also Medieval religious, secular, and intellectual life.
Sites Visited
Chartres Cathedral (interior and exterior)
Note that this tour does not include touring of Chartres town
Included
Train tickets to and from Paris
Tickets to Chartres Cathedral
Itinerary Details
Our short journey to Chartres starts from the Montparnasse train station in Paris. On the train, your guide will recount the cathedral's riveting history of reincarnation—most notably, the series of fires that led to at least five different versions of the cathedral over the centuries. Indeed, the bulk of the Cathedral we see today was rebuilt after the crippling fire of 1194, taking only 30 years to complete—a dazzling display of architectural unity for the time.

Home to the Sancta Camisa, a tunic believed to have been worn by the Virgin Mary at the birth of Christ (which miraculously survived the 1194 fire), the Cathedral has long been a destination for pilgrims. Arriving at the cathedral as pilgrims ourselves, we will begin by examining at the exterior. Each of the three heavily decorated entrances (west, north, and south) are comprised of three doorways, showing the stylistic transition from Early to High Gothic architecture. Once inside the cathedral, we will marvel at intricate original thirteenth-century stained glass.

While our half-day tour ends with the guided visit of the cathedral, we encourage you to have lunch or spend the rest of the afternoon visiting the charming town of Chartres and all of its attractions on your own.


This is an excellent excursion to take after our
Notre Dame Tour
, as it builds on ideas first explored there. Or, if you're looking for another day trip from Paris, this tour is an excellent complement to a Custom Saint Denis or Rouen Tour. Interested in booking a
Custom tour
? Please contact us to discuss options.
FAQ
What is a private tour?
Our private tours are limited exclusively to travelers in your party. They are designed to provide a learning experience that is completely tailored to you and your traveling companions. Private tours give you more flexibility with scheduling (you decide when the walk best fits in your trip), the ability to tailor your itinerary (we'll work to match the itinerary to the interests and dynamics of your group), and more personalized time with your guide.

Where do we meet? Where does it end?
You'll meet in Paris, at the Montparnasse train station. The tour duration includes the train ride to Chartres with your guide. The tour will end in Chartres. You can then get lunch and explore the town on your own, or return to Paris with your guide.


What if it's raining?
Tours operate rain or shine, but in the case of inclement weather, your expert will modify the tour so more time is spent indoors. It never hurts to be prepared; we encourage keeping an eye on the weather and bringing along an umbrella, sunscreen, water, or a hat as needed.

Does this excursion include a visit to the town of Chartres?
No, our half-day tour is a guided visit of the cathedral only; however, we encourage you to have lunch or spend the rest of the afternoon visiting the charming town and all of its attractions on your own. If you are booking privately and would like to extend your time with the guide to include a visit to the Cathedral's crypt, the Stained Glass Museum, the nearby Church of Saint-Pierre, and a walk through the town, we can arrange this as part of a full-day tour. Please let us know and we can provide you with an additional quote.
If I take your Chartres tour in the morning, will I have time for a second tour in Paris that same afternoon?
We usually take the train back to Paris at 1:34pm arriving in Paris at 2:30/3pm. Depending on the day of your tour we could recommend an Evening Louvre tour or a Paris Evening tour. We can also arrange for a custom full day tour to include Chartres and other venues of your choice. Please contact us to discuss options.


Can I stay after the tour to see Chartres on my own?
Absolutely. We buy the round trip train tickets for this tour, but if you choose to stay in Chartres for the afternoon please let us know and we will change the time on your return train tickets accordingly.


Is this suitable for children and / or travelers with mobility challenges?
Yes. We can adapt the route of our private tours based on the ages, needs, and interests of travelers in your party. In this particular tour, the terrain is easy. The walk is slightly up hill from the station to the cathedral, and then totally flat. There are no cobblestones.
Where You'll Start
Tour Experts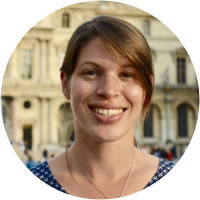 Since she was a child, Caroline has always been fascinated by the world of museums. Holding a Bachelor's degree in Cultural Interpretation, followed by a Master's degree in Museology, she decided to become a professional guide. Her profession and love for travel took her first to different parts of France (she lived in Paris, Burgundy, and the southwest regions) and later on to Canada, in Montreal, but also to London where she spent two years to improve her English before coming back to her home city, Paris. Since 2015, she has been sharing her knowledge of the City of Lights and the French culture with the intellectually curious travelers. She thinks the best part of this job is to keep learning every day!
Reviews can only be left by Context customers after they have completed a tour. For more information about our reviews, please see our FAQ.
Elaine P is incredibly knowledgeable about the. Middle Ages in general and Chartres Cathedral in particular. Her enthusiasm about the topic is contagious. In addition, when she met with us about our full-day trip, she explained that our idea of touring the town of Chartres would be a let-down, since the city was bombed twice in WWII, which destroyed much of the medieval parts of the city that were not around the cathedral. Instead, she offered to take us on another half-day tour to Rouen, that would include both the lovely cathedral town and the Rouen Cathedral. Her honesty and flexibility were greatly appreciated. Our only disappointment was that we were unable to locate the stained glass museum—the person in the gift shop provided very vague directions and we were unable to locate the museum. That's not Context's fault, but it was a little disaapointing.
Nov. 5, 2017
Nicole G is so knowledgeable and fun to be with. We so enjoyed our time with her and learned so much. With her deep knowledge of the subject, she answered all of our multitudinous questions with ease. Cannot recommend this tour enough for anyone who is interested in Chartres Cathedral and its construction during the late Middle Ages.
Oct. 9, 2017
The Chartres tour was really exceptional - Elaine P was so knowledgeable, giving us a full hour of info on the train trip - about cathedrals, the Middle Ages in general, so many things. And that was before we got to the cathedral where she had all the specifics of the stories in the stained glass, the statuary, the architecture, etc. The one thing that I would suggest is that you warn participants to dress very warmly for Chartres since it was quite cold and damp as we stood outside the cathedral looking at the carvings and architecture and the inside was cold as well. Also, you could mention that binoculars are useful at Chartres for a close look at the stained glass since most of it is up so high.
Oct. 27, 2015