Tour Details
About the Tour
Duration

From 1 Day to 6+ Days
Tour Description
Need help planning a trip to Paris? We can work with you to create a custom tour to suit your interests, from Parisian patisseries to French grapes, or the French Revolution to the impacts of modern immigration, drawing on our network of expert Paris tour guides. From a full-day to a full week, our planning specialists have your trip covered.
How to Book
Whether you already have something in mind or want help crafting something entirely new, our dedicated planning specialists are on hand to make the most of your travels. Context planners, all travelers in their own right and experts in their dedicated territory, will partner with you to create an itinerary suited exactly to your needs and schedule.
Fill out our
CUSTOM PARIS FORM
or email us at custom@contexttravel.com to get started.
Itinerary Inspiration
For those unsure of exactly what they'd like to do, below is an
example
Paris itinerary to ignite your imagination; another good place to start brainstorming is with a perusal of our other
private and small group Paris tour options
:
Paris, from Foundation to the Revolution (Estimated Cost: $2700)


Day 1
We'll kick off our understanding of Paris on the Ile de la Cite, the city's first settlement. Exploring Notre Dame (from the outside), we'll unpack how Paris grew from a remote river-outpost of the Roman Empire to a capital of Western Europe.
Weaving across the Seine, we'll then explore key sites of the French Revolution, seeking to unravel the tangled timeline of 1789. Sites include the Place de la Concorde, Bastille, Hôtel de Ville, Place des Vosges, Marais, and Église Saint-Paul-Saint-Louis.
Day 2
Our second day will explore the royal history and extravagance leading up to the Revolution, with a day-long visit to the Palace of Versailles.
Once inside the opulent summer home of Louis XIV (among others), we'll discuss key personalities and events in the history of the monarchy while exploring Versailles Palace and Gardens, and Marie Antoinette's Hamlet and Grand Trianon.
FAQ
What is included in the Custom & Multi-Day itinerary of Paris?
Cost details will vary based on exact itinerary, but all of our Custom & Multi-Day itineraries include the cost of your private guide. In many cases, vehicle/transportation costs, select meals, and site entrances may also be included. Your Context planning specialist will confirm exactly what is included in your personal itinerary before charging your credit card. Accommodation is not included.
What information do you need from me in order to build a custom itinerary?
Our planning experts will be in touch to help you build your perfect tour, but in general, try to include the following pieces of information in your custom request form:
How many days would you like the tour to be?
Do you have specific goals for your trip?
Which sites and venues would you like to prioritize? Do you want to just pass by or explore inside as well?
Do you have any mobility concerns?
Who are you traveling with? What are their ages and interests?

How much does the Custom & Multi-Day tour cost?
Pricing will vary by itinerary. Your planning expert will provide an itinerary and pricing proposal for your trip before confirming your Context tour and charging your credit card.
How does the Custom & Multi-Day bookings process work?
Once you submit your custom request form (or contact us at
custom@contexttravel.com
), we'll get in touch via email or phone to review your ideas and finalize an itinerary. We only charge your credit card once all details have been confirmed.
Is this suitable for children and / or travelers with mobility challenges?
Yes. We can adapt the route based on the ages, needs, and interests of travelers in your party.
Where You'll Start
Tour Experts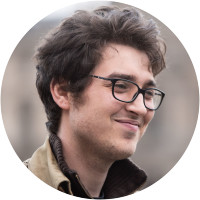 Lucien is a tour guide based in Paris. After a brief career in academia as a tutor for undergraduate students of the Sorbonne University, he started working as a tour guide in 2015, and has now lead over 2,000 tours. A graduate from both the Sorbonne University with a Master's Degree in French Politics of the 1800s, and of Nanterre University with a Bachelor in Tour Guiding, he has lead tours for groups of 1 to 70, families and VIPs, institutions and companies alike. He is passionate about sharing French heritage to visitors from all around the world, from Monet's gardens in Giverny to the traces of the tropical sea that once covered Paris. Currently, he is working on partaking in a family tradition by writing a book mixing personal anecdotes and unorthodox approach of the city that he'll talk tirelessly about : Paris. Lucien looks forward to meeting any Context travellers willing to discover with him all that Paris has to offer.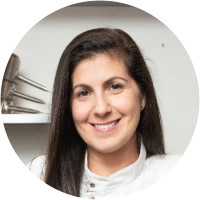 Lisa is a Pastry Chef, Chocolatier and Culinary Educator currently based in Paris, France. After fifteen years working as an Arts Educator in her home city of New York City, then internationally in Taiwan, Argentina, Switzerland and Venezuela, Lisa decided to move to Paris to explore another of her lifetime passions- baking and chocolate! Once in Paris, she earned her diploma in French Patisserie from the esteemed Ferrandi Academy, adding to her BA from Tufts University and MFA in Photography and Arts Education from the School of Visual Arts in New York City. She also holds certifications in Bean to Bar Chocolate from Callebaut Academy in Belgium and the FBM program in Italy. Lisa decided to combine these passions and create special learning experiences for visitors to Paris, providing the unique insights of a trained pastry chef through the lens of an experienced teacher, so that each traveler gets the most out of their tour.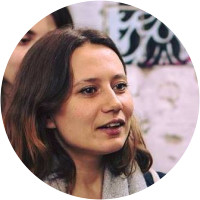 Dasha graduated from the Sorbonne University in Paris where she obtained a Master's degree in literature and art history. At present, she is a Ph.D. student specializing in 18th and 19th century painting and the history of public and private art collections. In the past few years, she has been working for the Christie's and Piasa auction houses and also at a number of contemporary galleries. Dasha was also a co-curator of exhibitions involving young contemporary artists. Dasha has different passions in life such as art, literature, jazz, opera, food and cinema but most of all she is passionate about Paris! She has traveled a lot in her life, notably in France, Italy, Spain, Turkey, Sicily, United Kingdom and Ireland. She lived one year in Dublin where she has a chance to be a Trinity College student. Her travels and her very active social life made her an open minded and curious person. As a Licensed Guide, she takes real pleasure in sharing with people her knowledge of the history of France, Parisian museums, historical monuments, and helping them discover the spirit of Paris, the city where she has been living for 16 years. Anatole's France quote reflects perfectly her credo: "With science and love we made the world" (Le livre de mon ami, 1885).
Reviews can only be left by Context customers after they have completed a tour. For more information about our reviews, please see our FAQ.
Thibaud was AMAZING, so knowledgeable, eager to share his knowledge and love of Paris. Our tour was outstanding!
Sep. 4, 2018
Marie planned an excellent itinerary, a mix of Art Nouveau and Art Deco architecture and a tour of the Musée des Arts Décoratifs and ending at Castel Béranger in the 16th, designed by Henri Guimard. She customized it to meet our objectives, and was an excellent and highly knowledgable guide. And also very personable. A very interesting tour on these subjects.
Jun. 12, 2018
Such an interesting and academic young lady. Sandra L. is an asset to your business.
Sep. 30, 2017