Tour Details
Tour Description
During this three-hour WWII tour of Paris, we'll explore life in the occupied French capital during the years of horrifying and unrelenting rule of Nazi Germany. Our expert WWII historian will take us through the city's Left and Right banks, learning about various individuals key to the Occupation and the complex narrative of the German and French Gestapo. We'll hear the accounts of various inhabitants of the city—from Jewish families to members of the WWII Résistance, which will help tell the story of the city during this era.
Sites Visited
7th arrondissement
16th arrondissement
Hotel Majestic
Champs Elysées
Place de la Concorde
Included
3 hours with a PhD or MA-level guide
Itinerary Details
We begin our walk in the seemingly calm, residential district of the 7th arrondissement to provide the backdrop for life in Paris leading up to the Nazi invasion. We will then make our way past the iconic Ecole Militaire to the former site of the Rafle du Vel' d'Hiv, where in 1942, over 13,000 Jewish individuals were rounded up and detained before being sent to concentration camps. Here we'll delve further into discussion about the altered living conditions and the horrific deportations of French Jews.


Jumping on the métro, we'll travel to the 16th arrondissement, where we'll turn our attention to the complexities of the German military presence in Paris. Among other sites, we'll visit the Hotel Majestic (now the Hotel Peninsula), the German military headquarters at the time. We may discuss the assassination plot against Hitler, partially planned by a German officer stationed at Hotel Majestic. We may also examine the role of Le Meurice, another Parisian hotel where high ranking German officer Dietrich von Choltitz famously denied Hitler's order to level Paris—to whom Hitler famously asked "Is Paris burning?!" We may discuss the role von Choltitz played in preserving the city's landscape, as well as the ruling forces of the French and German Gestapo.
We will then travel over to the famed Champs Elysées, where we'll examine archival photos of Hitler's grand tour of Paris. Being in this area will also open up the discussion to entertainment during the era, as the Champs Elysées retained many theaters and other venues that were open during the war. Our attention may turn to the roles played, true or alleged, by personalities like Josephine Baker, Coco Chanel, and Ernest Hemingway.
Ending near Place de la Concorde, we will turn our focus to the liberation of Paris and the final four days. Was Paris really burning? We will conclude by discussing the reaction of Jewish survivors upon coming back to Paris, what happened to German collaborators, and how France has coped with this dark period since.
Customize this Tour
Whether you already have something in mind or would like to craft something entirely new, our dedicated planning specialists are on hand to help you develop a tour that will be just right for you. Context planners, all travelers in their own right and experts in their dedicated territory, will partner with you to create an itinerary suited exactly to your needs and schedule.


FAQ
What is a private tour?
Our private tours are limited exclusively to travelers in your party. They are designed to provide a learning experience that is completely tailored to you and your traveling companions. Private tours give you more flexibility with scheduling (you decide when the walk best fits in your trip), the ability to tailor your itinerary (we'll work to match the itinerary to the interests and dynamics of your group), and more personalized time with your guide.

What is a small group tour?
Our small group tours cover many of the same itineraries as our private tours, but they place you with other travelers in groups of 6 or less. They operate on a pre-scheduled calendar, and are designed to provide an opportunity to engage with and learn from other travelers.


Is this tour walking intensive and/or wheelchair accessible? We do cover extensive territory on this tour, some of it by public transport. Please contact us with any questions; we can advise if this tour will be appropriate for you, and are also happy to design a private, customized tour for visitors with mobility concerns.


Is this tour appropriate for children and teens? We cover mature topics on this tour. It is not designed as a family tour, though we welcome inquisitive minds of all ages (note: all group tours do have an age minimum of 13). Please contact us to discuss further if you're concerned about age-appropriate content.
Where You'll Start
Tour Experts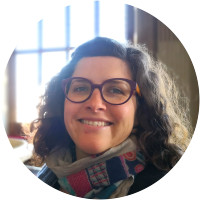 Gwennaelle
Gwennaëlle was born in the South of France. She has been living in Paris since 2002 and working as a guide since 2008. Ever since she was a child, she has been passionnate about art and history, and wanted to become a guide. She studied Art History at the Ecole du Louvre and holds a Ph.D. from the university Paris-Diderot on the history of museums. She is both working as a guide and as an art history teacher in different universities for French and foreign students. She loves Paris and discovering the treasures of Parisian museums and monuments, as well as sharing her passion through visits.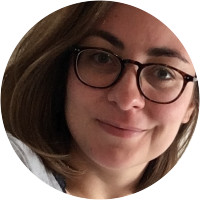 Gabrielle
Gabrielle was born in Paris and lived in the UK for 12 years before coming back to her native city in 2016. Passionate about both languages and history, she is about to gain her PhD in ancient history from University College London and is now working as a translator and higher education teacher. Gabrielle loves walking through the streets of Paris and is always on the lookout for undiscovered spots and details, for many old and hidden stories are lurking beneath the smooth Hausmannian façades of the city of lights ... An enthusiastic and cheerful communicator, Gabrielle is thrilled to be part of the Context team!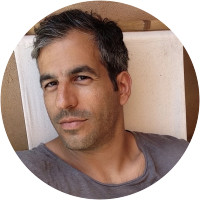 Gil
Born in San Diego (USA), Gil graduated in Politics and English from Brandeis University in 1997 and spent one year at Trinity College Dublin (Ireland). He pursued public service in Boston, New Orleans, and New York, and upon earning a Master of Public Administration from NYU in 2001 he traveled around the world for a year to meet the people he hoped to one day represent. In 2003 he was working at the Claims Conference when he decided to move to San Francisco in pursuit of a backdoor option to public office: writing fiction. Some years later he completed a Master of Fine Arts in Creative Writing, produced his first book, and married a Parisienne. Since 2010 he is based in Paris where he has worked for years presenting and developing many different walks while holding on to the writer's dream and founding the Yefe Nof Residency in Lake Arrowhead, California. He specializes in the craft of writing and has a strong education in both the literary works of canonized and contemporary fiction writers and poets and the inner workings of cities, which has amply equipped him to tell his narratives as experiences.
Reviews can only be left by Context customers after they have completed a tour. For more information about our reviews, please see our FAQ.
Gil is very knowledgeable and easygoing. He encouraged group discussion and dialogue. We enjoyed the tour immensely.
Oct. 23, 2019
He was incredibly informative. He was knowledgeable and detail oriented and patiently answered all questions. His tour was fascinating.
Oct. 20, 2019
Nigel was fantastic. Passionate and knowledgeable about his subject matter. Fascinating information. Just great!
Oct. 17, 2019