Tour Details
Tour Description
If you're looking for revolutionaries, look in cafes. This Prague Cafe tour examines the key role that the city's spectacularly preserved coffee houses have played in the lives and works of the influential artists, poets, writers, and intellectuals who frequented them. Before a backdrop of opulent, decorative interiors from 19th and 20th centuries, we'll soak up the authentic atmosphere of Prague's cafe culture, taste local coffee and culinary specialities, and learn about the historical and cultural context of these venues.
Fin-de-siècle Prosperity in Prague Cafes
Turn-of-the-century Prague bore witness to an extraordinary cultural and intellectual blossoming. As a result of momentous events within the Austro-Hungarian Empire, the population of Prague increased rapidly as people moved in from across the empire. The Bohemian capital became a melting pot, home to Germans, Jews and Czechs, and Prague's new decadent cafes emerged as public meeting points for the city's intelligentsia. For example, German-Jewish author Franz Kafka (explored in greater depth on our
Jewish Prague Tour
, philosopher and statesman Václav Havel, and later, world-famous writer Milan Kundera all frequented these second homes for Prague's elite.
Prague Cafe Tour
Together, we'll hop from one stunning cafe to the next, taking in the soaring period architecture—also examined on our
Prague Architecture Tour
)—and indulging in typical sweet treats and perfectly concocted coffees. Along the way, we'll discuss the social history of Prague over the past 150 years and unpack the cultural meaning behind our decadent surroundings.
Take Aways
At the end of our time together, we'll have a deeper understanding of key events in Prague's history over the past century, and how they have contributed to the city's narrative until the present day. You'll also feel more comfortable ordering a range of delicious dishes on offer in cafes across the city.


Please note: some of the cafes we visit allow smoking inside. We endeavor to sit in the non-smoking section but be aware that the tour can include time in smoking environments.
Where You'll Start
Tour Experts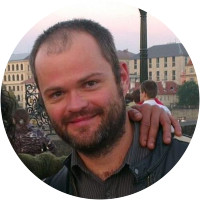 Pavel Kuča grew up in Krnov, a small Silesian town in the Sudets Mountains. After attending a French-language grammar school in Olomouc, he studied history at the Masaryk University in Brno and specialized on 19th-century ethnic conflicts in Central Europe. He has since worked in media, including a period as editor of the liberal Jewish magazine, Maskil, and since 2012, he has been working as a professional tour guide in English and French. Pavel's favored topics are the psychology of architecture and sociological understanding of Central European history - not to mention, he is a specialist on Czech beers and loves biking.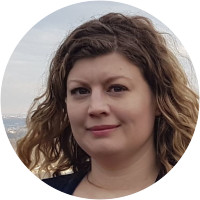 Lenka was born originally in a small town in North-Eastern Bohemia but her passion for studying history and languages lead her path to Prague. She studied the history of the European Union and integration together with economics and management. During her studies, she also passed the exams to become a licensed guide and began showing travelers around her beloved country and town. She particularly enjoys showing the hidden gems of Prague and exceptional architecture. Apart from English, she also speaks French and Spanish. Lenka loves travelling, meeting people and good food.
Reviews can only be left by Context customers after they have completed a tour. For more information about our reviews, please see our FAQ.
We spent a long time at one Café and got some history there. Also spent a bit of time in the next café but got no history other than to hear that it was a product of the communist era. We feel a bit like we spent $350 for lunch and a poetry reading. Katharina is clearly very well informed but we were disappointed that we did not get more history. We probably should have chosen a walking tour.
Jun. 12, 2019
Excellent, fascinating tour. In addition to showing us some beautiful buildings and spaces, Lenka did a great job of tying the Cafe Culture into the history and politics of Prague and the Czech Republic. She also gave us an excellent explanation of how Prague developed and evolved as a city.
Feb. 14, 2019
This was a really special tour with Katerina. She is a gem! We very much enjoyed learning about some of the contemporaries of Kafka who frequented Prague's cafes. It was extra special to visit the cafes they spent time in: Cafe Savoy and Cafe Slavia. Katerina's poetry readings in both cafes were unforgettable.
Dec. 31, 2018