Tour Details
Tour Description
Overlooking the bustling and compact downtown area, the hilly Santa Teresa neighborhood sits in the center of it all, making it one of the best places to visit in Rio. The grand era of the 20's might seem long gone with only its decaying mansions as nostalgic reminder; however, the artistic energy of this bohemian area never left. Today it's undergoing an exciting resurgence with new art spaces, inventive restaurants, and the reopening of its beloved train, the bondinho. Our 3-hour Santa Teresa Tour weaves us through the history and vibrant contemporary life of the neighborhood, both deepening our appreciation for the Rio of yore and the exciting culture of today.
The Bondinho
We will start our walk at entrance station to the bondinho train, which has become an icon synonymous with the Santa Teresa neighborhood itself. One of the last remaining trains of an extensive network from the early 20th century, the bondinho was closed for several years as it was remodeled, but today is running a limited circuit while the rest of the tracks are being laid. We are fortunate that this stretch includes a ride over the Lapa Arches, which originally served as an aqueduct carrying water to the rapidly growing 19th century city and now are one of Rio's most famous icons.
Santa Teresa Tour
As we ascend to the hills of Santa Teresa our docent will discuss the history of the entire neighborhood, including it's belle epoque (golden age) origins in the early 20th century, and its more recent bohemian nature. We'll also examine the critical role that the bondinho has played in the history and social fabric of Rio de Janeiro.
Artistic Renaissance in Santa Teresa
We will arrive in Santa Teresa's main square where we will witness the development of the area via impressive Art Deco mansions and gardens. We'll also discuss the artistic scene in the area, both then and now, possibly stopping in at a local studio or for a chat with a resident poet. Our walk will pass many of Santa Teresa's up-and-coming restaurants and popular bars. Finally, we will reach Parque das Ruinas, which features the remains of famous socialite Laurinda Santos Lobo's home, a once-popular meeting point for the city's artists and intellectuals, now a cultural center and the location of the best inner-city panoramic view of downtown.


For a different take on the city's development, try our
Porto Maravilha Tour
, which explores both the benefits and drawbacks of the boom in development that occurred in preparation for the 2016 Olympics.
Take Aways
We will strive to demonstrate the neighborhood's richness not just in architecture, dating as far back as colonial Rio, but in culture, art, and music as well. Anyone with a Bohemian side will enjoy this walk and its hidden treasures. For a sneak peak into this lovely area have a look at our
photo blog about Santa Teresa
.
FAQ
Does the walk include a ride on the bondinho train?
Yes, we begin the walk at the entrance to the train station so that we can ride the bondinho over the Lapa Arches. This is a major highlight for Rio visitors, so there is a possibility that we will wait in a line before boarding. However, if you prefer not to wait in the line, we can take a taxi up to Santa Teresa. Also, due to the nature of the bondinho's no-ticket policy and current status under construction, there may be unannounced closures or schedule changes that will require us to take a taxi, but the rest of the walk will remain unaffected.


Is this tour wheelchair accessible?
The general route includes narrow sidewalks and cobblestoned streets; please contact us to discuss in more detail your mobility concerns so that we can best advise. We are always happy to design a
private, customized tour
for visitors with mobility concerns.
Where You'll Start
Tour Experts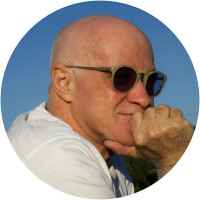 Andreas Valentin has a Ph.D. in Social History, an M.A. in Arts and a B.A. in Art History. He is a professor of Photography and Arts. His career began with the production of experimental films in the 1970's, and he continued with work on the Amazon with several documentaries and three books on the Amazon Parintins Boi-bumbá Festival. He has also worked as production and direction assistant in Werner Herzog's film "Fitzcarraldo". Photographer, researcher and writer, he has had art in various one-man and group exhibits throughout Brazil and works as a curator. In 2004 he won the Brazilian Anthropology Association's Pierre Verger photography prize and in 2015 the Marc Ferrez photography prize from the Brazilian National Art Foundation, for the project "Berlin<>Rio : Routes and Memories". He grew up and resides in his hometown of Rio. As a photographer and an academic, he has learned to look passionately at the city and understand it historically and aesthetically.
Reviews can only be left by Context customers after they have completed a tour. For more information about our reviews, please see our FAQ.
It was great. It may have been a bit much to combine Santa Teresa with Lapa. We were pretty tired by the end. Our guide for Santa Teresa (don't have his name with me right now) was great. Exactly what we have come to expect from Context and the very reason we keep on coming back Personable, knowledgable, well versed in the city and in the specific areas of the tour. We would definitely request him specifically the next time we come back to Rio.
Nov. 28, 2017
Very cool guy, managed to keep everybody interested from the very young to the very old !!! We'd like to thanks Carlos for the amazing walk
Aug. 14, 2017
Amber did a great job. We really enjoyed our time with her. Will recommend to our friends and will use Context for our future travels.
Nov. 19, 2015