Tour Details
Tour Description
Music has always been firmly ingrained in Brazilian culture, from the early rhythms of Samba to today's Musica Popular Brasileira. But, perhaps, the most significant Brazilian music to emerge from Rio specifically was Bossa Nova in the 1950s and 1960s. During this 3-hour Rio Bossa Nova tour we'll visit Copacabana and Ipanema, visiting some of the hotspots where Bossa Nova began, and digging down to the roots of this mid-20th century social, political, and musical revolution.
Emergence of a New Style
We start our walk in Copacabana at Beco das Garrafas, or "Bottles Alley," the former hub of Bossa Nova music venues named as such due to the wealth the bottles thrown down from the neighbors in protest of the loud tunes echoing up the alley. Here we'll pop into a specialty Bossa Nova music store and museum where we'll learn about the foundations of the movement through memorabilia and photographs from the era. After decades of abandonment, the clubs are now revived with live nightly Bossa Nova.
Rio Bossa Nova Tour
A few paces away, we'll find ourselves on Copacabana Beach, where we'll discover its history, evolution, and future from its days lined with the grimy nightclubs of the 50's to the glimmering new developments created for the 2016 Olympic Games. We may visit some notable Brazilian artists, now memorialized as statues on the iconic black and white wave-patterned boardwalk. (Note, to learn more about how Rio's development and how it handled the 2016 Olympics we suggest our
Porto Maravilha Tour
.
International Acclaim and Political Unrest
We'll then work our way towards Ipanema, hopefully catching the sunset view of the beach that inspired many song lyrics and is still today a popular destination for lovers to applaud the sun's last appearance of the day. We may linger at a few of the places where exponents of Bossa Nova jammed and socialized, such as Tom Jobim, Vinicius de Moraes, Joao Gilberto, Carlos Lyra, and muse Nara Leão, touching on how the social aspects of the group refined and defined their music. We will also discuss how soon thereafter in 1964 Brazil entered a dark phase in its history with the Brazilian Military Government taking power. Much changed for the creative class of Cariocas, as the group struggled to match their music with the political turbulence of their time. The genre's international fame and influence not only revolutionized Brazilian music and jazz and rock musicians the world over, but also ignited a generation of protesters with their powerful musical expressions.


We'll finish our walk at the Garota de Ipanema Restarant, formerly Bar Veloso where Jobim and Moraes would watch their dream woman pass by, thus conceiving the legendary "Girl from Ipanema." Here we will wrap up by connecting its aesthetic to the historical moment, its influences in Brazilian popular music and the transformations that occurred in the city thanks to the popularization of this musical genre. (Note: if nightlife and samba are your thing, we highly recommend our
Rio de Janeiro Nightlife Tour
.)
Take Aways
Throughout this walk we will place Bossa Nova in context within the Copacabana and Ipanema neighborhoods and other musical genres like samba, jazz, and rock. This an excellent walk for visitors intrigued by Brazil's rich musical tradition and culture. For more information and tips on enjoying Rio's Bossa Nova scene, have a look at our guide to the top
5 places to experience Bossa Nova
.
Where You'll Start
Tour Experts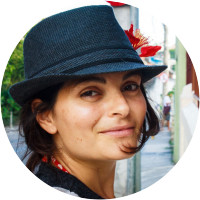 Amber Daniela
Amber is an architect, landscape architect, and author by trade, and an urban researcher, teacher, and adventurer by experience. She arrived in Rio de Janeiro and fell in love with the city after a thirteenth-month trek by truck, boat, and bicycle from San Francisco, CA, to Salvador da Bahia, Brazil, traveling alongside a seventy-year-old biking capoeira master. Her professional focus is on small-scale sustainable urban development for and by the public who will benefit from it. To these ends, she and renowned landscape architect Randolph T. Hester Jr. wrote <u>Inhabiting the Sacred</u>, a study of domestic spaces forthcoming from George Thompson Press. Today she calls Rio de Janeiro home, though she was literally born on the road: Rota, her birthplace on the Bahía de Cádiz, España, means in Portuguese 'route, circuit, walk.' Amber loves to share her knowledge of this incredible, beautiful, and interesting city.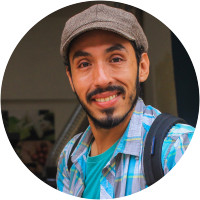 Juanjo
Juanjo is an atypical hybrid between an IT professional and a childhood development specialist. He is a dedicated capoeirista (one who practices capoeira, an afro-brazilian cultural expression) and a world-touring cyclist who has ridden from Mexico to Brazil researching and learning about music, dance, and many art forms that enrich the human essence. He believes that the key to sharing knowledge and experience is empathetic engagement with people, be they children or grown-ups. He settled in Rio where he is a freelance photographer and runs an Internet-related business while simultaneously immersing himself in the unique world of Brazil's music, culture, and people.
Reviews can only be left by Context customers after they have completed a tour. For more information about our reviews, please see our FAQ.
No complaints. A very good into to basso nova that also provided much information on the city.
Dec. 13, 2015