Tour Details
Tour Description
In our two-and-half hour Ancient Rome tour we'll visit the Colosseum and archaeological areas nearby, using hands-on activities to engage young people in the group and make history come alive. Our specially trained guide will help us explore the construction and history of this spectacular monument and paint a vivid picture of its history by using inquiry-based learning techniques to stimulate a lively discussion.
Sites Visited
Colosseum
Via dei Fori Imperiali
Included
2.5 hours with a family-friendly PhD or MA-level guide
Skip-the-line tickets to the Colosseum
Itinerary Details
Our walk will bring families into the archaeological heart of the city, where we will encounter the story of Romulus and Remus, the artistic and political achievements of the emperors, and the everyday lives of ancient Roman citizens. If the stories of gladiators interest the group, we'll look at the exterior of the Gladiator School, or Ludus Magnus: a training area for gladiators from which they would enter the Colosseum via an underground tunnel. We'll also stroll down the via dei Fori Imperiali and touch on the Imperial Fora, a string of open piazzas, temples, and other structures built by the emperor Augustus and his successors as Rome grew and expanded during its incredible rise in the Imperial period.
To assist you in planning your Ancient Rome tour, read our guide
How to Tour the Colosseum and Ancient Rome
for some helpful tips.
Looking for more family friendly tours? Check out our other
Family Tours
.
FAQ
What is a private tour?
Our private tours are limited exclusively to travelers in your party. They are designed to provide a learning experience that is completely tailored to you and your traveling companions. Private tours give you more flexibility with scheduling (you decide when the walk best fits in your trip), the ability to tailor your itinerary (we'll work to match the itinerary to the interests and dynamics of your group), and more personalized time with your guide. In order to plan the best possible experience for your children, it would be helpful for us to know some background. Have they traveled to other countries? If so, where? Have they studied any subjects in school that would relate to the walk? Are they interested in art, music, even food? The more you can tell us, the better.
If children under 18 qualify for free tickets, why am I required to purchase a ticket for my child?
While children may enter for free, they are required to stand in the general entrance line if they do so. In order to save time and expedite the walk, we purchase skip-the-line tickets so they may enter as quickly as possible.


I have 7 people in my family, can you make an exception to the maximum tour group size?
Due to the very interactive nature of this program and given the educational environment our guide aims to evoke, we adhere to a very strict maximum of 6 participants. Groups larger than 6 will need to book two separate walks that can run concurrently with different guides.

I have purchased the Roma Pass, can I use it on my Context walks?
No. You may not use the Roma Pass on your Context walks. Roma Pass holders have to wait in the long line for the non-reserved public entrance to the Colosseum. In order to save time and expedite the walk, we purchase skip-the-line tickets so you may enter as quickly as possible.


When is the best time to take this tour?
We highly recommend either an 8:15 a.m. start or later in the afternoon when the morning crowds have thinned out. Due to new security measures the queue at 9:00 a.m. tends to be much longer than the other times.
Where You'll Start
Tour Experts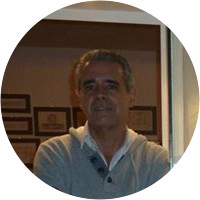 Jose brings an unusual combination of theoretical knowledge and practice to his walks, which he has led in Philadelphia and in the New York Metropolitan Museum of Art, as well as in Rome, Naples, and Florence. A professional fine artist with an art studio in Rome near the Church of Santa Maria sopra Minerva and graduate of St. John's College in Annapolis, Maryland, Jose knows how to read the almost forgotten languages of Greek and Roman mythology embedded in the art and architecture of Rome. His studies of Plato's dialogue, TIMAEUS, for example, open up dimensions of Raphael's School of Athens fresco and of Michelangelo's Sistine Chapel ceiling frescoes otherwise unsuspected by visitors to these two sites. In addition, his own native Cuban background and master's degree in Spanish literature from the University of Delaware in Newark give his walks a Spanish flair and sense of humor that can be most welcome elements. Jose also studied fresco painting, history, and restoration at the Spinelli Institute of Art and Art Restoration, in Florence, but his St. John's College "Great Books" education earned him a rich 20-year-plus teaching career at the University of Miami, first in the English Department (specializing in Composition), followed by art history and freehand drawing in the School of Architecture. During the summers, this docent has taught "plein-air" drawing for the Rome Art Program directed by artist Carole Robb. Jose holds the official Italian tour guide license for Italy, issued in Rome (Province of Lazio) in 2017.
Livia obtained a degree in Archaeology at the Sapienza University of Rome and has a Master's degree in the History and Conservation of Cultural Heritage from the University of Roma Tre. Her main field of interest is ancient Roman topography and early Christian architecture; however, she is an accomplished scholar whose teaching ability extends to the Renaissance and Baroque Rome. As a native Roman, Livia is very enthusiastic in sharing the deep love and knowledge she has for her hometown with clients.
Theresa is an art historian and author of "Creating and Contemplating the Renaissance Garden". She holds a Master's degree in Art History and is intensely interested in the layers of Rome and unfolding the city's depth through seminar teaching and freelance writing. She is a contributing writer on Italian travel for The New York Post and The Buffalo News and has been involved as editor and consultant for several Italian and English language travel and academic book publications.
Reviews can only be left by Context customers after they have completed a tour. For more information about our reviews, please see our FAQ.
Simona - awesome, awesome, awesome. She just did a great job. Only thought would be to use a storyline for kids to follow through the colosseum /forum to help keep younger kids engaged.
Nov. 9, 2019
She was excellent. Very could with kids! I had one kid who was tired and not in the best mood and she still dealt with both girls extremely well. She had great techniques to keep their attention. I loved her visual aids for both kids and adults!
Oct. 25, 2019
We thought the tour was fantastic. Liz paced the tour beautifully for our 6 and 11 year old. Stopping to rest and explain monuments and giving the right amount of information so it was digestible. I also loved it.
Oct. 24, 2019