Tour Details
About the Tour
Duration

5 days, 5 nights
Tour Description
Our Context Journeys are fully-planned trips, including luxury hotel accommodation, specifically designed to reveal some of our favorite cities. They operate on fixed dates and place you with a lead guide who will accompany you throughout your entire stay.
Art and Archaeology of Ancient Rome, with Context Journeys
The cradle of European civilization, Italy has often been described as a living museum. That's true no place more than Rome, where each circuitous, scenic street is built upon the hidden histories of the Ancient Empire. Alongside a Context Expert specializing in Italian history and archaeology, our Italian archaeological survey will explore the most important sites of the ancient Roman world, including the Roman Forum, Colosseum, Ostia Antica, and Pompeii.
Over the course of five days, this journey will help you understand the role of archaeology in history, teaching you to read ruins to reconstruct ancient cities, and showing you how the ancient world shaped the food and culture of modern Italy. We'll balance visits to major archaeological sites like the Roman Forum and Pompeii with stops at the lesser-known locations of Ostia Antica, and spend time discussing the daily life, cuisine, and habits of modern Romans. A native Roman and archaeologist, your Context expert will help you understand the Roman Empire at its height and early stages of its decline, before the start of the Renaissance.
Your Context Journey includes:
On Tour: Context Expert Lead Guide, Context supporting expert guides, professional tour leader.
Transfers: Private transfers based on flight arrival and departure times.
Food & Drink: Select meals, plus welcome and farewell receptions. Bottled water throughout.
Accommodation: 5 nights in the 5-star Hotel de la Ville in Rome, a Rocco Forte Hotel (or similar).
Logistics: Baggage handling and taxes.
Activities/Fees: Included for all per itinerary.
Journey highlights include:
Trace the history of Rome from its days as a hub of the Roman Empire through to its modern incarnation, in the company of an archaeologist.
Explore the historical core of Rome, understanding the inner workings of the city and its role as the hub of an Empire through visits to the Roman Forum, Colosseum, and key underground sites.
Understand the origins and evolution of Roman cuisine through a dinner and wine experience guided by a culinary historian.
Take a guided excursion to the amazingly preserved ruins of Pompeii, weaving through ancient Roman roads, shops, homes, and baths while learning about Roman politics and society.
Your Expert Guide
Dimosthenis
is an Italian-Greek archaeologist, with a Ph.D. in temple architecture of the Roman Republic from La Sapienza University in Rome. As a scholar, he studied a variety of topics including Latin epigraphy and Roman pottery; as an archaeologist, he has worked on various excavations throughout Rome, including the Roman Forum, Palatine, and the Mausoleum of Augustus. He is particularly interested in the relationship between iconography and architecture in ancient Greece and Rome.
Click here
for more on Dimo. (
Dimo will be accompanied by a number of other Context experts throughout the tour, as well as by a professional tour organizer.)
Detailed Itinerary
Monday, March 16: Getting Oriented
Start Time: Afternoon
Duration: Half Day
Highlights: Introduction to Rome Tour
Meals included: Group Welcome Dinner


Benvenuti a Roma! On your first evening in the Eternal City, we'll orient you to the geography and culture of the city with an overview of Rome's historical center. In the company of your Context expert, you'll stroll through the Piazza del Popolo, Trevi Fountain, Spanish Steps, and Pantheon, taking in the views as well as discussing the evolution of the city from Empire, to Renaissance, to present day. Wrap up the evening getting to know your guide and fellow travelers over dinner at one of Rome's best local spots.
Tuesday, March 17: Ancient Rome
Start Time: Morning
Duration: Full Day
Highlights: Roman Forum, Colosseum, Museo dei Fori Imperiali
Meals included: Lunch in Rome
We'll spend our second day inside the archaeological core of the city, focusing on the key monuments of the Forum, Palatine Hill, and Colosseum. Using the ruins of ancient Rome, we'll discuss the rise of the Roman Empire and the broader role of archaeology in history. After lunch, we'll dive into an in-depth exploration of Rome's underground, including crypts, sewers, and buried temples, piecing together a narrative about urban layering and the relationship between the modern city and its ancient foundations.
Wednesday, March 18: Pompeii, and Daily Life in the Roman Empire
Start Time: Morning
Duration: Full Day
Highlights: Excursion to Pompeii, Archaeological Museum of Naples
Meals included: Lunch in Naples
Perhaps the best-known ancient ruin in the world, Pompeii is a quick 2 hour ride from Rome. Inhabited for centuries and then buried in an instant, the preserved Roman city of Pompeii offers an unparalleled view into daily life in ancient Rome. Your expert will begin with a historical overview starting with the successive habitation on this site of the Oscans, then Samnites, and finally the Romans, until the fateful day in 79 A.D. when Vesuvius exploded, burying the city instantaneously in deep, suffocating ash. PIcking our way through the site, we'll weave together a narrative about the daily life of the Romans who lived there, touching on the role of women, the education of children, and the institution of slavery.
After a local lunch in Naples, we'll wrap up our excursion with a visit to the Archaeological Museum of Naples, home to an astounding collection of ancient statuary and one of the richest archaeological collections in the world.
Thursday, March 19: Life Outside the Capital
Start Time: Morning
Duration: Full Day
Highlights: Excursion to Ostia Antica, Roman Annotated Dinner
Meals included: Local lunch on site
Often overlooked, the ancient roman port city of Ostia Antica is an easy half day trip from Rome. As we explore its stunningly preserved grounds (including 2000 year-old apartment complexes, a marketplace with beautiful mosaics, an ancient bakery and restaurant, and religious spaces), we'll discuss the materials and commodities that moved through the Empire, fueling its daily work and transforming it into a trading power.
After an afternoon rest, we'll regroup in the evening for an annotated dinner experience led by a culinary historian. Discussions for our meal will range from the origins of techniques used in food preparation, to the Roman affinity for pasta and seasonal vegetables, to the role of herbs and flavorings. Together, we'll taste our way through a number of Roman specialities, getting to the heart of Roman cuisine and the history of the Roman meal.

Friday, March 20: Fall of the Empire
Start Time: Morning
Duration: Full Day
Highlights: Church of San Clemente, Active archaeological dig
Meals included: Lunch in Rome
We'll conclude back in Rome, with an exploration of the Roman Empire in the early stages of its decline, as Christianity began to take hold of the ancient world. Starting with a visit to various sites in the Eternal City—including the incredibly layered Church of San Clemente—we'll explore the changes that gripped Rome as it was falling from the cultural heights of the Empire, through to its re-emergence as a center of art and theology during the medieval period. We'll wrap up our day with a visit to an active archaeological dig, unearthing the fascinating forces that transformed the city from world-conquering empire to crumbling former power.


Saturday, March 21: Departure
Travelers depart for flights home. Transport to the airport is included
.



Read here
for Context Journeys FAQs, payment information, and cancellation policy.
Where You'll Start
Tour Experts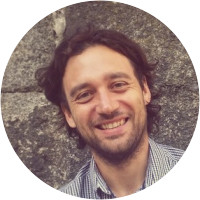 Dimosthenis
During his university studies at "La Sapienza" in Rome, Dimosthenis participated in several national and international projects, such as the study of Latin epigraphy and Roman pottery as well as various archaeological excavations in different areas of Rome (Roman Forum, Palatine, Mausoleum of Augustus). His work as an archaeologist brought him to carry out research in classical art and architecture, exploring in particular the relationship between iconography and architecture as ancient Greek and Roman artistic expressions. Dimosthenis completed his Ph.D. with a thesis on temple architecture in the Italian peninsula during the Republican period. This topic became his area of expertise. His knowledge of archaeology, ancient art history and Roman architecture is the key that he uses to share his unique perspective on the Eternal City.