Tour Details
Tour Description
This four-hour tour led by an archaeologist or classical historian takes you back in time to the Roman empire and includes priority access to the Colosseum's arena floor. You'll bypass the skip-the-line entrance and enter the Colosseum through the VIP gladiator's gate, directly to the arena floor before continuing the visit to the upper levels of the amphitheater. You will delve into the history of this spectacular structure, explore the iconic neighboring ruins of the ancient city, and learn about the rise of one of history's most fascinating empires.

Please note that Colosseum tickets are amongst the most difficult to secure in Rome due to the way the venue releases tickets for tour operators to purchase. In the event that we cannot secure tickets for your tour date, our team will be in touch with alternative options.


Sites Visited
Colosseum
Priority access to the Colosseum's Arena floor
Palatine Hill
Roman Forum
Included
Exclusive 4-hour historical tour with a Ph.D. or MA-level guide
Priority access tickets
VIP entry to the Colosseum through the Gladiator's Gate
Expert knowledge of the Colosseum, Colosseum Arena floor, Palatine Hill, and the Roman Forum
Itinerary Details
Enjoy priority access by skipping the lines and enter the Colosseum from the gladiator's gate which ancient warriors passed through on their way to battle. Following in the footsteps of Roman warriors, you will walk onto the arena floor as you learn about ancient Rome's history and the engineering of this world wonder. Here, at the world's largest standing amphitheater, you'll learn about the gladiatorial shows and public spectacles that took place almost two thousand years ago.
Ask your guide anything and learn about the construction of this wonder and the role it played in society, politics, religion, and history. After exploring the upper level of the Colosseum, you will make your way to the archaeological center of the city at the Roman Forum and Palatine Hill.
Next, you will make your way down the exciting main street of ancient Rome, Via Sacra, and marvel at the major sites in the city center, including the Curia (senate house), and the temples, triumphal arches, and basilicas around the historical Forum Square. As you continue onto the Palatine Hill, you will explore the first stages of the city and the legend of its founding in 753 B.C. by Emperor Romulus. If time and interest allow, you may stop in the Palatine Museum to learn about Roman sculpture.
By the end of this captivating tour, you'll have first-hand experience and deeper knowledge of one of history's most pivotal empires, the rise of ancient Rome.
FAQ
For more information about Context tours, please visit
our FAQs
.
Where do we meet? Where does the tour end?
We meet in front of a cafe near the entrance to the Colosseum. The tour ends at the gates of the forum.
Is this suitable for children?
Is this tour wheelchair accessible?
All of the sites are accessible except Palatine Hill.
Are service dogs allowed at the Colosseum?
Service dogs are allowed if you have a medical certificate proving the need.
Can Roma Passes be used?
No, Roma Pass holders have to wait in a different line and won't be able to access priority tickets, so they cannot be used on this tour. Please note that a Photo ID will be required on the day of your tour –– due to entrance policies and security procedures at the venue.

Do you reserve headsets for this tour?
Depending on your group size, we may be required by the venue to order headsets in which case you'll see a "Headset Fee" added to your order. If you would like to guarantee headsets for your tour regardless of your group size, please email us and we'll be happy to get them reserved for you.
Where You'll Start
Tour Experts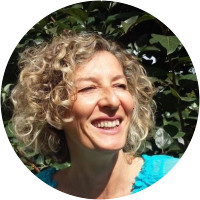 Cecilia is an art historian and a native Roman with a Master's degree in Medieval and Renaissance art from the Sapienza University of Rome. Although her specialty is painting and decorative arts, she has a broad knowledge of the history of Rome and a personal passion for ancient history, which she shares on many antiquity-themed itineraries. Cecilia has worked actively in the past as a lecturer, teacher, and curator of exhibitions. She had been a staff member of the didactive service of the Vatican Museums, the Galleria Doria Pamphili and the Galleria Colonna where she still frequently consults. As a licensed guide for Rome and Florence and with a specialized teaching degree, she has more than 20 years of experience in leading highly-qualified tours.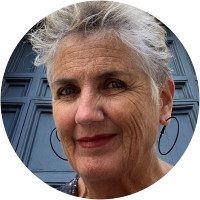 Liz, a native of San Francisco, California holds degrees in architecture from the University of California at Berkeley and Università degli studi "La Sapienza", Rome. She specialized in restoration and urban design. Her restoration projects have brought her to work in direct contact with the rich historical layers of Rome and Italy. She has been leading study walks for Context Rome since its beginning and has lived in Rome since 1988 practicing architecture, researching design and lecturing at university study abroad programs.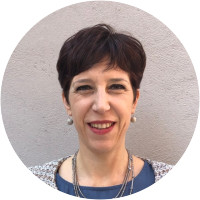 Sara is an art historian with doctoral degrees in Medieval and Modern Art History and Classical Antiquities. She is the author of a book, published by the Accademia dei Lincei, on the antiquities collection of Pope Julius II and has written various articles in important scholarly journals on the history of Renaissance and Baroque collections. More recently, she had published a book on some of the most famous paintings of Caravaggio in Rome which introduces a new interpretation of the works, based on philological data, and which is changing the way we look at this artist. For many years, she has combined her philological research with her work as a university instructor, museum educator and professional tourist guide.
Reviews can only be left by Context customers after they have completed a tour. For more information about our reviews, please see our FAQ.
Liz was fantastic!
May. 18, 2023
Our guide was so amazing with her experience and expertise. She connected with us so well and was very enjoyable to spend time with. She would be better if she was more patient with the other tourist crowds she was a bit hard to follow sometimes when she was going through crowds.
May. 16, 2023
Jeanette was wonderful and very knowledgeable, we enjoyed our tour.
May. 10, 2023