Tour Details
Tour Description
Bring Renaissance masterpieces to life for your little ones on this private Trastevere Tour for Kids, digging into Roman mythology behind some of this neighborhood's most enduring art. This tour, in the company of a scholar trained to work with children, takes place in and around the Villa Farnesina, which was the private villa of Agostino Chigi. Here, on the banks of the Tiber River, the Renaissance painter Raphael (and others) painted some of the most important mythological works in the world. A quiet refuge from the bustling city—and uniquely situated off the tourist track—this is the perfect setting for a fascinating discussion of myths, art, and the world of the Renaissance.
Trastevere Tour for Kids
Our time begins near the Campo de'Fiori, which will give us the opportunity to explore several nearby palazzi and introduce the subject of mythology and its importance in Renaissance art and architecture—and indeed in Rome, generally. We will then amble toward the Trastevere neighborhood, crossing over the Ponte Sisto, a great feat of engineering for the Renaissance popes. If the mood strikes, we may have a chance to do some sketching at this point, as the bridge provides a lovely view of the cupola of St. Peter's.


Want to learn more about Trastevere? We also explore the neighborhood's Jewish history on our
Jewish Rome Tour.
Villa Farnesina
Once across the bridge we'll visit the Villa Farnesina, one of the great palaces of Rome once owned by Agostino Chigi, banker to the Pope, and filled with Renaissance masterpieces, including several rare frescoes by the painter Raphael. Our guide will guide us through an interactive discussion of these frescoes, paying special attention to their mythological context. Together, we will learn about gods and goddesses, hearing tales of their exploits and learning to identify them by their attributes. We will also gain insight into ancient Roman religious practices and how they perceived their world. One myth especially prominent in our discussion is that of Cupid and Psyche, an exciting tale of forbidden love between a mortal and a god. We'll talk about the symbolism of this myth and its interest during the Renaissance when we enter the fantastically frescoed loggia painted by Raphael at the back of the villa.


Sketches and Scavenger Hunts
In conjunction with learning about each god and goddess, your family will be given drawings of these mythological beings, specially created for Context by illustrator Jessica Golden. These cards, which contain information about each god, can then be used during and after your travels—it's amazing how frequently we can spot these attributes once we know them. For smaller children, these cards can be used to play a scavenger hunt within the villa itself.
Where You'll Start
Tour Experts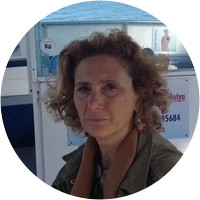 Vannella earned her Master's in art history from the Sapienza University of Rome, with a special focus on teaching. She is an accomplished lecturer and teacher, and has been organizing on-site learning and tours in Rome for nearly thirty years. Vannella is an official guide for the Vatican Museums and has worked in such Roman museums as the Borghese Gallery, Castel S. Angelo, Galleria Colonna, and Galleria Doria Pamphili.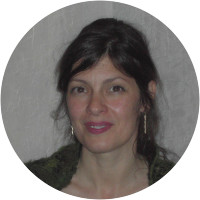 Carol received her B.A. from Mount Holyoke College and holds M.A. degrees in Italian literature from the University of Toronto, where she has taught, and in art history from Boston University. Carol has been teaching for five years as adjunct faculty for several Rome study abroad programs and has been a guest lecturer in art history and restoration for numerous visiting American university summer programs. She has been a Visiting Fellow twice at the Massachusetts Center for Renaissance Studies in Amherst, Mass, where she has given numerous lectures and participated in conferences. Through her affiliation with various art institutes, Carol has participated in a variety of laboratory and fieldwork restoration projects throughout Tuscany and Lazio over the past eight years. She has treated numerous paintings, frescos, and gilded objects, and has worked on-site at locations such as Villa il Farneto in Vicchio, and Santa Maria Castagnolo. She is currently completing her Italian laurea in restoration. Carol also completed the graduate certificate program in Museum Studies from Tufts University with a specialization in conservation. With over five years of professional curatorial experience in the U.S. encompassing the care and treatment of art objects, she has authored numerous conservation grants and was a successful applicant to the Smithsonian Institution's Collections Care program.
Francesca is an art historian with a master degree in art from the Sapienza University of Rome. She specialized in the art and culture of the Baroque period and in decorative arts, subjects on which she has published several essays. Her publications include a book on the Holy Years in Rome in the 17th century, a book on cameos engravers in Rome in the 19th century, and a book on Baroque silver and silversmiths. She is a licensed guide since 2001 and leads itineraries all over Rome, a city she truly loves. She is also an officilal guide of the Vatican Museums and Vatican City. She lives in Rome with her husband and three daughters.
Reviews can only be left by Context customers after they have completed a tour. For more information about our reviews, please see our FAQ.
Jose was the best guide we have ever had. Took the time to observe the kids, really interact with them and gave a tour to remember for the whole family. he has spoiled it for all tour guides to follow!
Dec. 11, 2016
Lauren Golden was exceptional- funny and tuned in to our kids (12 & 14) and a great teacher. The kids were engaged from the start, and she didn't just talk at us, as many tour guides do. It was a conversation, with her guiding us through questions, to critically look at the Piazzas and all the symbols that one sees all around Rome. It is like a treasure hunt, with only the informed in on the clues. The kids knew way more about the Greek and Roman gods than we did, and thoroughly enjoyed her jokes about what was going on in the paintings. She pulled in modern concepts to allow the kids to connect with the styles & subjects of the paintings. A highlight of our time in Rome!
Aug. 3, 2016
The tour guides made the overwhelming amount of history/art/architecture/culture accessible and digestible, and were very good at keeping the whole family entertained and engaged. We loved the personal experience and small group of the tour. All in all fantastic.
Apr. 25, 2016