Tour Details
Photos & Highlights
A comprehensive view into the history and culture of Rome, featuring: The Colosseum, Palatine Hill, the Roman Forum, and Centro Storico
Led by a local expert in history or archaeology
Pantheon, Colosseum, Palatine Hill, Roman Forum & Palatine Hill, Spanish Steps, and Trevi Fountain
Tour Description
We've carefully crafted this full-day itinerary for Rome visitors who want to maximize their time in the city's ancient sites. Your tour will be led by an expert specializing in archaeology or history, and will start at the heart of ancient Rome: the Colosseum. Your visit will continue to Palatine Hill, the Roman Forum, and the Centro Storico (historic center), where you will see sites including the Pantheon, the Spanish Steps, and the Trevi Fountain.

Please note that Colosseum tickets are amongst the most difficult to secure in Rome due to the way the venue releases tickets for tour operators to purchase. In the event that we cannot secure tickets for your tour date, our team will be in touch with alternative options.


Sites Visited
Colosseum
Palatine Hill
Roman Forum
Pantheon
Spanish Steps
Trevi Fountain
Included
Skip-the-line tickets to the Colosseum

Please Note: Our team will pre-purchase timed admission tickets on behalf of your party. However, due to enhanced COVID-19 safety precautions at this venue, there will be a mandatory security line which we must wait in together.
Itinerary Details
You will meet your expert at a cafe near the Colosseum for a full briefing on what's ahead. Be sure to let your expert know of any particular interests you have which will help inform the rest of the tour. You'll of course begin at the Colosseum itself (skipping the line with our special entry tickets) where your expert will use the venue itself to talk through many aspects of ancient Rome: politics, architecture, culture, and of course the spectacles that took place on the site millennia ago.
You'll make your way to Palatine Hill to explore both the legends and facts surrounding Rome's founding. From here, you will head to the Roman Forum, seeing the major sites of the ancient city, such as the Senate House, and the basilicas, temples, and triumphal arches around the square. Your incredible morning will be topped off with a delicious Italian lunch at a local restaurant where you'll have the chance to ask your expert anything about what you've seen, or even local life in modern Rome.
After lunch, you'll move to the "Centro Storico"—the historic heart of Rome. Here you'll meander through classical Roman streets and squares before moving to one of the most renowned spots in Rome: the Pantheon. You'll soak up the spectacular beauty of one of our favorite spots in all of the city, learning even more about ancient Roman traditions and architecture.
Your tour will continue at the poetic Piazza del Campidoglio, and the legendary and beautiful Trevi Fountain, where your guide will discuss the importance of water to the city, the story behind its design, and the dramatic tale its sculptures portray. You will end your full day at the Spanish Steps, a beautiful panoramic point for views across the city. At the end of this awe-inspiring day, you will come away with a deeper knowledge of Rome, a comprehensive overview of its history, and a newfound appreciation of the remnants of the ancient city that live on today.
FAQ
For more information
about Context tours, please visit
our FAQs
.
Book with confidence
— see Context's
flexible cancellation policy
here
.
Where do we meet? Where does the tour end?
You will meet your expert guide in front of the Oppio Caffè, which is located at Via delle Terme Tito #72. The tour will end at Centro Storico. Your confirmation email will have the exact meeting point details along with a map, and 24-hour phone number for any last-minute issues.
Can I use the Roma Pass?
No. Roma Pass holders have to wait in the long line for the non-reserved public entrance to the Colosseum. In order to save time and expedite the walk, we purchase skip-the-line tickets so you may enter as quickly as possible.
Can we add in or switch a site to the Vatican?
If you'd like to see the Vatican, please take a look at our selection of
Vatican tours
.
Can I visit the Colosseum in the afternoon instead of the morning?
Yes, depending on the time of the tickets we can try and arrange this.
Is this tour kid-friendly?
Kindly notify us if there will be children present at the tour. We recommend also looking into kid specific tours such as the Vatican Tour for kids.
What costs will I need to cover on the day?
We will pre-purchase your skip-the-line tickets for the Colosseum. You will be expected to cover the cost of your lunch and any additional refreshments.

Do you reserve headsets for this tour?
Depending on your group size, we may be required by the venue to order headsets in which case you'll see a "Headset Fee" added to your order. If you would like to guarantee headsets for your tour regardless of your group size, please email us and we'll be happy to get them reserved for you.
Where You'll Start
Tour Experts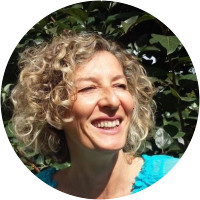 Cecilia is an art historian and a native Roman with a Master's degree in Medieval and Renaissance art from the Sapienza University of Rome. Although her specialty is painting and decorative arts, she has a broad knowledge of the history of Rome and a personal passion for ancient history, which she shares on many antiquity-themed itineraries. Cecilia has worked actively in the past as a lecturer, teacher, and curator of exhibitions. She had been a staff member of the didactive service of the Vatican Museums, the Galleria Doria Pamphili and the Galleria Colonna where she still frequently consults. As a licensed guide for Rome and Florence and with a specialized teaching degree, she has more than 20 years of experience in leading highly-qualified tours.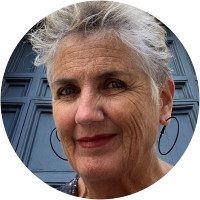 Liz, a native of San Francisco, California holds degrees in architecture from the University of California at Berkeley and Università degli studi "La Sapienza", Rome. She specialized in restoration and urban design. Her restoration projects have brought her to work in direct contact with the rich historical layers of Rome and Italy. She has been leading study walks for Context Rome since its beginning and has lived in Rome since 1988 practicing architecture, researching design and lecturing at university study abroad programs.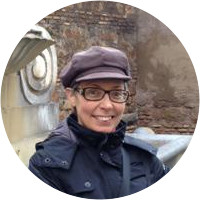 Olivia is a Rome licensed guide and an expert art historian who has worked as a main contributor to the award-winning Eyewitness Guide to Rome. She combines this role with her job as a professor, teaching a course at the Lorenzo de Medici School in Rome on Roman civilization. In addition she has contributed to the National Geographic Lost Cities of the Ancient World. Olivia infuses her discussion of Rome with a sense of what it's like to grow up in the city and be Roman.
Reviews can only be left by Context customers after they have completed a tour. For more information about our reviews, please see our FAQ.
Franscesca was great!!
May. 25, 2023
Alessandra was fantastic! She is very knowledgeable about Rome and its history. We had a wonderful tour!
Dec. 7, 2022
Jose was an amazing guide! He was very knowledgeable and explained everything we saw in a very clear way. It was a very long day but Jose kept it engaging and interesting throughout. We would go on another tour with him in a heartbeat
Aug. 10, 2022