Tour Details
Tour Description
This 2-hour twilight tour of Rome is organized as an evening passeggiata, which is a traditional Italian stroll in the late hours of the day taken to appreciate the city and rub shoulders with fellow citizens. In this case, we're bringing along a local insider who will shape our stroll into an introductory Rome Night Tour. Not only will we discover the city at its most glorious time, but we'll get a solid, broad introduction to life in Rome.
We'll begin our walk in one of the most famous public spaces in Rome, Piazza Navona. Here we will discuss the political and historical background of the piazza, as well as its modern incarnation as a magnet for street performers and visitors in search of that perfect outdoor cafe seat (complete with the direct view of Bernini's fabulous fountain). This tour is as much about the life and spirit of Rome as it is about the history, and so we'll look closely at how Romans use the city and think about what it's like to be a local. Moving on, we'll continue to the side streets around Piazza Navona, which in recent years has morphed into a hip area crammed with wine bars, art galleries and funky designer boutiques.
Next we may explore the elegant streets of via Giulia and via Monserrato, filled with Renaissance palazzos, Baroque churches, and artisan workshops, or head to the area of the Campo de' Fiori—one of the busiest piazzas in Rome. If time allows, we'll end our Rome Night Tour on the picturesque Ponte Sisto, which offers great views of the Tiber in both directions and a glimpse of Michelangelo's cupola of St. Peter's Basilica (the subject of our
St. Peter's Basilica Tour
and a gateway to another exciting Roman neighborhood, Trastevere).
Note:
This is an orientation level walk. We will spend a certain amount of time on this Rome Night Tour explaining the sites along the route, but will also try to situate you in the city, orient you to the major areas, and answer any of your questions. In short, it is an excellent walk to take at the beginning of your stay here. To dive deeper, we urge you to take a look at our full list of
Rome Walking Tours
, which include a wide range of walks, from our
Vatican Tour
to our
Rome Wine Tour and Tasting
.
FAQ
What is a private tour?
Our private tours are limited exclusively to travelers in your party. They are designed to provide a learning experience that is completely tailored to you and your traveling companions. Private tours give you more flexibility with scheduling (you decide when the walk best fits in your trip), the ability to tailor your itinerary (we'll work to match the itinerary to the interests and dynamics of your group), and more personalized time with your guide.


What is a small group tour?
Our small group tours cover many of the same itineraries as our private tours, but they place you with other travelers in groups of 6 or less. They operate on a pre-scheduled calendar, and are designed to provide an opportunity to engage with and learn from other travelers. Most of our small group tours require at least three (3) participants to run, although there is some variation from walk to walk. However, there is some variation from walk to walk. As you sign up for a tentative walk we display the minimum number required in order to confirm.

What is the dress code inside the churches in Rome?
All churches require modest dress. Men should wear slacks, and women should wear slacks or skirts below the knee. Shoulders must also be covered. If you are intent on wearing spaghetti straps or a halter-top, bring a shawl and expect to keep it around you. Shorts above the knee are not allowed.


Where You'll Start
Tour Experts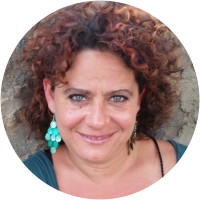 Elisabetta is a native Roman with a Ph.D. in Classical Archaeology. After obtaining her degree in Roman archaeology, she completed a Master's degree in Roman Provinces and an Italian-French Ph.D. on the archaeology of sacred spaces and rituals in Eastern Greece during Greek and Roman times. Since 1995 she has taken part in archaeological excavations in Rome, southern Italy, Sicily, Turkey, Greece and France. She has been awarded with German, French and British post-laureate and post-doctoral Research Fellowships, spending time in the different countries. In the past, she has been a visiting professor at the University of Brittany and a lecturer for American colleges in Rome and for an Italian university. Now, she is a professor of Roman archaeology at the Universite Charles de Gaulle Lille in France. She has authored several scientific papers, participated in international conferences, and has curated an exhibition in Rome. In 2013, her dissertation was published "L'asklepieion di Kos: Archeologia del Culto" erma di Bretschneider. Since 2001 she has worked on didactic projects and guiding tours in Rome and in the Middle East, where she worked as an Archaeological Tour guide in Libya, Syria, and Israel.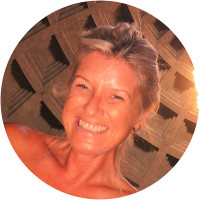 Lauren has a doctorate (PhD) in Art History with a specialization in the architecture of Raphel and Neuroarthistory and has been studying the city of Rome for over 35 years and teaching in Italy for 20 years. She has taught at many universities, and now teaches at The American University of Rome and an Italian High School – Marymount Liceo. Her publications include Raphael and the Villa Farnesina and she was the editor for 'Raising the Eyebrow'. Current research interests include; Caravaggio and the Counter-Reformation, the Baroque Cardinal Scipione Borghese – his life and times - and she is writing a biography of Raphael. She is passionate for all things Roman, teaching from the Etruscans to the Eighteenth Century with a little bit of Mussolini thrown in! Sharing her knowledge and the stories and secrets embedded in the layers of this amazing city on Context walks is always exciting because everyone sees differently and so she always learns from her clients and students.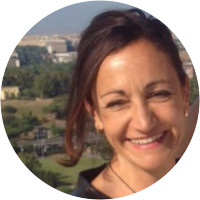 Alessandra is a native Roman and art historian with a Master's degree in art history from the Sapienza University of Rome. Her specialization is Modern and Contemporary art and she has a deep-rooted love for the city where she lives with her two children. Alessandra is fluent in Italian, English, and French, and has a great interest in Mannerism, Baroque art, coloured antique marbles and decorative arts. Due to her broad knowledge of the history of Rome she leads a wide-variety of antiquity-themed itineraries. Since 2001 she has been a consultant at the Galleria Colonna in Rome.
Reviews can only be left by Context customers after they have completed a tour. For more information about our reviews, please see our FAQ.
Janet was great, very engaging and very knowledgeable. Would recommend her highly
Sep. 12, 2019
Janet was awesome!!
Sep. 9, 2019
The perfect "first look" - an evening stroll on the day of our arrival in Rome after a long flight. Just enough activity, a great way to get the lay of the land near our hotel, with a very knowledgable and personable guide. Lots of extras like advice for eateries and how to discern the good ones. Ending at the Ponte Sisto gave the perfect vista to anticipate the sites to see on future days.
Jul. 9, 2019