Tour Details
Tour Description
Please note 2021: it is currently not possible to include a visit to St. Peter's Basilica in this tour, due to current venue restrictions.

Visiting the Vatican with children? Our Vatican Tour for Kids will keep them engaged and amazed by the incredible Vatican collection—despite all the crowds. In this three-hour tour, we'll explore the treasures of the Vatican Museums and St. Peter's Basilica—following roughly the same itinerary as our standard Vatican Tour—in the company of a family art historian. Using interactive activities, we'll keep kids (and their lucky parents) focused on these world-famous artworks, from Raphael's frescoes and the Sistine Chapel to St. Peter's Pietà and Bernini's Baldacchino.
Sites Visited
Vatican Museums
Sistine Chapel
St. Peter's Basilica (currently not possible to visit during this tour)
Included
3 Hours with a family-friendly PhD or MA-level guide
Skip-the-line tickets into the Vatican
Itinerary Details
After a general introduction to the history of the Vatican as an institution, we begin our Vatican Tour for Kids with the chronologically arranged picture gallery known as the Pinacoteca. Our guide, trained in inquiry-based learning techniques, will conduct an interactive discussion on painting from the Medieval period to the high Renaissance, using masterworks by Leonardo da Vinci, Raphael, and other painters as a backdrop. We'll pay particular attention to the world-famous Vatican tapestries, located in these galleries, as they provide a great way to expose kids to the idea of patronage and power during the Renaissance. From here, we'll stroll through the Museums, making our way to the Sistine Chapel, where Michelangelo's masterpieces of the painted ceiling and Last Judgment provide a backdrop for our continued discussion of art, the Church, and Rome. Finally, we will spend approximately an hour in St. Peter's Basilica, host to stunning works from such artists as Bernini and Michelangelo and one of the most architecturally important buildings to have been constructed during the Renaissance. We'll marvel at the enormous dome, designed by Michelangelo, the vast interior, and priceless masterpieces contained therein, giving context to the basilica and its enduring legacy. (Currently not possible)
FAQ
What is a private tour?
Our private tours are limited exclusively to travelers in your party. They are designed to provide a learning experience that is completely tailored to you and your traveling companions. Private tours give you more flexibility with scheduling (you decide when the walk best fits in your trip), the ability to tailor your itinerary (we'll work to match the itinerary to the interests and dynamics of your group), and more personalized time with your guide.
Can I bring my toddler or pre-schooler on this walk?
While all kids are different, in general this walk is best suited for children between the ages of 6 and 12. The Vatican Museums are extensive and can be very crowded, especially during school vacation periods. Kids younger than 6 may feel overwhelmed by the crowds and by the long walk through the collections


What is the best time of year to visit with kids?
The Vatican Museums see upwards of 35,000 visitors per day in high season (Easter - September) and there is very little air conditioning in the buildings. It can be very hot in peak summer and the crowds make it feel even hotter. We recommend visiting off season if possible - October, November, January, and February are the least crowded and least hot months to plan a visit with kids. Please keep in mind that the Vatican is generally more crowded on Mondays, Wednesdays, and Saturdays. It is best to book this tour on a Tuesday, Thursday, or Friday, in the early afternoon when the morning crowds are more likely to have thinned out.
Do people with disabilities pay to enter the Vatican Museums?
People with disabilities may be entitled to free entry to the Vatican Museums. Please
contact us
to find out if you qualify. Please note that while it is possible to visit the Vatican Museums and the Sistine Chapel in a wheelchair, there is no wheelchair access from the Sistine Chapel to St Peter's Basilica. If you use a wheelchair, please contact us to discuss alternate options.
Does this walk "skip the line"?
Yes, we use reserved, timed tickets to bypass the ticket line at the entrance. Context, as all other registered tour companies with special accounts at the Vatican, can enter without waiting in the general entry line. Despite using the reserved entrance, "skipping the line," does not alleviate the biggest difficulty in visiting the Vatican: the crowds. The most important consideration is timing your visit to avoid large tour groups and cruise ships. We schedule our walks to try and find the best conditions inside the museums. Please note, Roma Passes can not be used for the Vatican.
Where You'll Start
Tour Experts
Francesca is an art historian with a master degree in art from the Sapienza University of Rome. She specialized in the art and culture of the Baroque period and in decorative arts, subjects on which she has published several essays. Her publications include a book on the Holy Years in Rome in the 17th century, a book on cameos engravers in Rome in the 19th century, and a book on Baroque silver and silversmiths. She is a licensed guide since 2001 and leads itineraries all over Rome, a city she truly loves. She is also an officilal guide of the Vatican Museums and Vatican City. She lives in Rome with her husband and three daughters.
Theresa is an art historian and author of "Creating and Contemplating the Renaissance Garden". She holds a Master's degree in Art History and is intensely interested in the layers of Rome and unfolding the city's depth through seminar teaching and freelance writing. She is a contributing writer on Italian travel for The New York Post and The Buffalo News and has been involved as editor and consultant for several Italian and English language travel and academic book publications.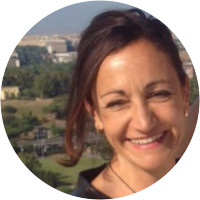 Alessandra is a native Roman and art historian with a Master's degree in art history from the Sapienza University of Rome. Her specialization is Modern and Contemporary art and she has a deep-rooted love for the city where she lives with her two children. Alessandra is fluent in Italian, English, and French, and has a great interest in Mannerism, Baroque art, coloured antique marbles and decorative arts. Due to her broad knowledge of the history of Rome she leads a wide-variety of antiquity-themed itineraries. Since 2001 she has been a consultant at the Galleria Colonna in Rome.
Reviews can only be left by Context customers after they have completed a tour. For more information about our reviews, please see our FAQ.
Cecilia was one of the most amazing tour guides we have had. Two things Cecilia did absolutely right - told us the history of the Vatican via interesting and funny stories (created a picture of why and what), and kept to a few key messages. The tour just flew and we all learnt so much. Definitely a highlight of our trip.
Nov. 8, 2019
The tour was great. Alessandra was very knowledgeable and did her best to answer all our kids questions. If we were to do it again, I would probably spend less time in the Vatican Museum and more time in the Sistine Chapel and St. Peter's. The Vatican's art collection is incredible but less so than the beauty of the Sistine Chapel and the grandeur of St. Peter's.
Oct. 30, 2019
Really great, informative and kid friendly. The administration is great as especially helpful with communication and solutions when we were in a transporation bind.
Oct. 27, 2019