Tour Details
Tour Description
Unsure of what to do in San Francisco? In addition to our pre-designed
San Francisco walking tours
we can craft a wide-range of customized and personalized private tours of San Francisco. Drawing on our carefully vetted network of scholars, experts, and San Francisco guides, the limits of what we can do are circumscribed only by the bounds of our collective imagination. We can design the perfect tour to fit your trip.
Personalized Tour of San Francisco
With a network of local experts on the ground we can design a private tour of San Francisco on a wide range of topics. However, before requesting a custom tour, you might want to take a look at our full list of
San Francisco walking tours
. Chances are that we've already thought about it. For example, if you're looking for a solid introductory walking tour of the city take a look at our
San Francisco Architecture Tour
, which focuses on the hidden spaces and SF's best architectural places. We also offer a
de Young Museum Tour
. First timers may be interested in our
Welcome to San Francisco Tour
.
"So knowledgeable, and enthusiastic! [Our docent was] tons of fun to be with. He had so much insight into the works [and] made the history come alive!"
Something Else in Mind?
But, if none of these pre-designed tours fit your needs, then we'll be happy to work with you to develop something personalized. In the notes section of this booking form, let us know the following:
How many hours would you like the walk to be?
What are your main goals for the walk?
Which sites and museums would you like to prioritize? Do you want to just pass by or explore inside as well?
Give us one or two words to describe your group.
Here are some examples of custom tours that we've designed:
Visit the Ferry Building and Farmer's Market with an expert foodie, buy produce and cook a meal.
Delve into the LGBTQ history in the Castro.
Enhance your art knowledge with a visit to the galleries in Oakland.
Hop on a ferry to nearby Sausalito.
Pre and post-show discussion (theatre or opera).
Chinatown tour and food tasting.
California culture, the Hippies and Haight-Ashbury.
Please note: Alcatraz has their own guided tours, and does not allow outside tour groups.
FAQ
I know what I would like to do, but I don't see it in your regular offerings. Can you arrange it for me?
Please contact info@contexttravel.com with details of your request and we will be happy to look into the possibility.


Why is the price listed as $0?
When we know more about your time frame and expecations for your custom tour, we can work out the pricing. Pricing for a 2 hour tour begins at $390.
Tour Experts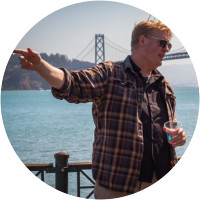 Aaron
Aaron did his graduate work in history, with an emphasis on American Urban History, which he brought to ground-level work in Urban and Regional Planning in directing community revitalization projects like farmers' markets and public concert serieses. Having been the lead cook in family of good cooks, with a backyard garden and great ethnic markets in the neighborhood, Aaron later combined what he learned growing up with what he learned working with farmers, artisanal producers, restaurateurs and dieticians to create innovative seasonal menus, which he prepares now for his Personal Chef and corporate catering clients. Aaron combines a deep, primal and tactile understanding of the properties of food and how to use it well, with an advanced understanding of how food is grown, sold, prepared and served locally in an immersive seminar on the theme of the "revolution" that is California Cuisine. He can organise hands-on, farm-to-table-to-mouth experience in the heart of San Francisco's fabulous food scene, directed by one its more creative, thoughtful and accomplished native Chefs.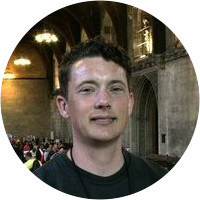 Cameron
Cameron Scott received his Ph.D. in Comparative Literature from Cornell University in 2002, where he focused on 20 th century U.S. and Latin American literature and feminist and queer theory. Widely published as a poet and journalist, Cameron also holds an M.A. in Creative Writing from the University of Texas. He has traveled extensively through Europe, Latin America and the United States. He began visiting San Francisco regularly in the 1990s and has called it home since 2004. He works as a science writer and is active in the city's LGBTQ community.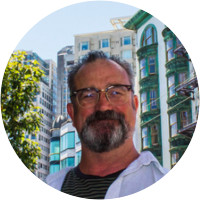 John
John Graham is a visual artist, published writer and oral historian. His Storyteller project records oral histories of veterans for the United States Library of Congress, Veterans History Project. He is currently recording oral histories for the DeYoung museums 50th Anniversary of the Summer of Love exhibit. A native Californian, his work is focused on the stories and legends of the state, which includes the El Fornio story cycle depicting the goings-on of a fictional city and county on the coast. He earned his Masters of Fine Arts from the University of California at Santa Barbara with work focused on California and Mission history and colonial theory.