Tour Details
Tour Description
On this 3-hour Seoul History Tour, we'll join a local historian to trace Seoul's history from its days as a royal center to its current status as 21st century metropolis. Our journey will run the course of Korea's five-century long Joseon dynasty and include a visit to Gyeongbokgung Palace, exploring its importance as a political center and relationship to nearby Gwanghwamun Square. We'll also take in a variety of more modern sites and learn how Seoul has emerged since World War Two as a major world capital. Our route will take us through some of Seoul's greatest architectural treasures, which we'll use to trace the complex story of this iconic city. We'll walk in the footsteps of past kings and political personalities, learn about Korean folklore and tradition, and discuss important events recent and historical that have left an indelible mark on Seoul's character. This is a great tour for first-time visitors who want to get their bearings in the city and learn more about its alluring history, tradition, and heritage.
Seoul History Tour: Presidents and Protests
Our Seoul History Tour will begin at Gwanghwamun Square, a fitting place to begin our discussion of power and politics through Seoul's history. Connected to nearby City Hall and the President's residence, the square, which has been a center of power since the Joseon Dynasty (1392-1897), continues to play an important role in the modern political landscape of Seoul. Our guide may discuss the juxtaposition of the enormous palace complexes and the new architecture on display, as well as the political movements to which the site has borne witness. From protests against the former President to the Sewol Ferry disaster, this location has become a symbol of democracy for the Korean people. We will discuss the rapid development and recent unrest in modern Korea from this important space before heading into the palace vicinity to head back in time. We might head to the fringes of the Cheonggyecheon Stream, an important part of Seoul's history. Transformed from a hidden, unremarkable waterway to a charming, accessible, and ecologically friendly space for the Korean people, the path provides not only a crucial gathering place for locals, but serves as a microcosm of Seoul's development and transformation to cultural and economic powerhouse—albeit with a deeply traditional side.
Gyeongbokgung Palace Tour and the Changing of the Guard
A significant proportion of our Seoul History Tour will take place within the walls of Gyeongbokgung Palace, a royal center built during the Joseon Dynasty under king Taejo in 1395. Located in the heart of the city, the palace has long been a focal point of Seoul's political landscape, with a fittingly turbulent past to show for it. Our guide will discuss the times it has been destroyed and rebuilt since its erection in the late 1300s, as well as the many individuals who have lived within the walls—like the Japanese invasion in 1592 and the fire that destroyed the palace confines, as well as the rebuilding after Japanese colonization in the 20th century. Soon after arriving at the palace, we will be welcomed with the Changing of the Guard ceremony, a strict procedure that provides a wonderful and rare opportunity to witness a traditional Korean scene in downtown Seoul. Following this striking, grand display of bright robes and shiny weapons, our route may take a number of paths as we learn more about Korea's court customs, architectural traditions, and important historical periods. Our guide may well take us to the palace's Gyeonghoeru, Geunjeongjeon, Gangnyeongjeon, or Gyotaejeon buildings, allowing us to marvel at these impressive centers of royal life. We'll travel back in time to life in the King's dwellings as we tread in the pathways of notable characters in Korean history.
Korean Tradition and Folklore
As we leave the palace behind, we'll head to the nearby National Folk Museum of Korea. The museum features an array of artifacts and displays, all contributing to a broad examination of Korean culture. We'll spend a brief but instructive period here, running through a condensed history of the progression of Korean culture from our expert guide. We may dive into a discussion on Korean folklore and shamanism, observing depictions of these crucial facets of Korean history.


Take Aways
By the end of the walk, we'll leave one another with an enriched understanding of Seoul's city center, having visited some of the city's most important historical and cultural locations. We will also have navigated our way around the main central area, seeing the contrast between old 'traditional' Seoul and the more modern counterpart which is still evolving to this day.
FAQ
Where does this tour start and where does it end?
The tour begins near Gwanghwamun Square and ends near the grounds of Gyeongbokgung Palace. Routes may vary on the day.


What if it's raining?
Tours operate rain or shine, but in the case of inclement weather, your guide will modify the tour so more time is spent indoors. It never hurts to have an umbrella on hand.


Where You'll Start
Tour Experts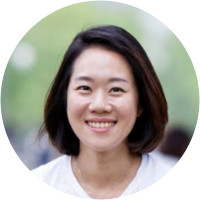 Hana was born and raised in Seoul and started her professional career as an IT engineer. After some time abroad, she realised this was not her calling and decided to become a tour guide and docent. She obtained her tour guide license in 2014. As a traveler to 100 cities in 30 countries, she has returned to Seoul with an intriguing perception on her city and what might interest those coming to South Korea, regardless of age, gender or age. From UNESCO sites and local traditional markets to the happening nightlife, shopping and the amazing variety of food, she allows her clients to experience different facets of the city.
Reviews can only be left by Context customers after they have completed a tour. For more information about our reviews, please see our FAQ.
Maria gave a very interesting tour. She is knowledgeable, enthusiastic and a very nice person. The weather was terrible during our tour, but Maria did not let it get in the way. Thank you, Maria.
Jul. 28, 2019
Hana is a superb ambassador for the city of Seoul and also for the country of Korea and its culture. We could not have been more pleased with our time with Hana and are thrilled that we have yet another tour with her during our stay in Korea.
Jun. 29, 2019
Hana was a great tour guide. She's very knowledgeable and gave a good perspective on the history of the city and country. The tour was logical and well organized. She also shared some great tips on things like restaurants and shopping.
Jun. 22, 2019