Tour Details
Tour Description
Although Venice boasts a fantastic amount of in-situ artworks, a good number have been removed from their original setting and are now found within the Accademia, Venice's premier art museum. On this three-hour Accademia Gallery tour we'll join a local art historian to dive into this world-class collection, containing works by such masters as Veronese, Titian, Tintoretto, and Giorgione. Along the way, we'll get more background and develop a deeper appreciation for the distinct art scene that popped up in Venice during the Renaissance.


Accademia Gallery Tour led by an art historian
Includes Accademia Gallery tickets
Explores the work of the Venetian masters, such as Bellini, Giorgione, Titian, and Tiepolo
Accademia Gallery Tour
In our exploration of the Accademia Gallery, we'll cover the most important pieces as well as oft-overlooked gems, and explore the distinct character of this wonderful collection, which focuses predominantly on Venetian art, but also includes paintings by Piero della Francesca, Mantegna, Hans Memling, and Cosme' Tura. Among the masterpieces housed in this museum is the famed drawing by Leonardo, "The Vitruvian Man," exhibited only on special occasions.


Color vs. Design
Together with our guide, an art historian, we will explore highlights of the collection, among which are works by Veronese, Titian, Tintoretto, Giorgione, and Tiepolo, while weaving a narrative on the history and distinctive characters of Venetian art. Historically often compared with and contrasted to the Florentine Renaissance, the Venetians had their own unique style and technique. The former placed particular importance on the disegno, the design, as a means to reproduce nature while using a vivid color palette. The latter, instead, were interested in the process of layering and blending colors, creating wonderful effects of light.
Take Aways
We will spend considerable time contextualizing these works, in regard to both local history and their place in the canon of art. We will also look at the wider implications of these works in the social and political developments of the time. The goal of this walk is not to race through the corridors in an attempt to see "everything" but, instead, to observe selected works in-depth in order to gain a full appreciation of their significance.


Love art? You might also pair this tour with another Venetian art tour, including our
or our
Titian in Venice Tour
, examining the role of the artist and his contemporaries during the high Renaissance.
Where You'll Start
Tour Experts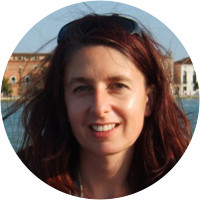 Monica was born in Venice. She earned her degree in Italian Literature and History from Art at Ca' Foscari University in Venice and she has developed a wide experience in the museums of the city. For many years she worked as a curator and archivist before moving into the field of museum education where she worked mainly with groups of children. She also worked at the Jewish Museum in Venice as a guide. She qualified as a guide for Venice and its province in 2009. Monica is continuing to study Venice and she often gives lectures on history and art for associations and public libraries. She is co-author of a series of guidebook for children and families about the Venetian churches.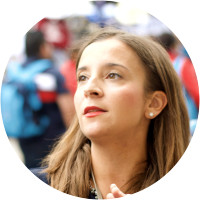 After her postgraduate studies in Art History at the Ca' Foscari University of Venice and at the University of Padua, Sara took up the charming road of restoration, getting her professional license at the Venetian Institute for Cultural Heritage (IVBC), again in Venice. This dual path between Art History and Art Conservation enabled her to deepen her expertise in the artistic techniques and the modern conservation methodologies of the cultural heritage. She owns a restoration laboratory where she operates on oil paintings on canvas and polychromed wood sculptures. The passion for her country and for the city of Venice has prompted her to research on particular themes, such as the Venetian painting of the XVIII century and the Venetian villas in the mainland countryside. She is authentically fond of museums and churches, too. Spending some time with her in Venice means getting to know the magnificent artistic heritage that is spread throughout the city. Guests are generally fascinated by her descriptions about how Venetians were able to mount a huge gilded ceiling, to stretch the largest paintings in the world, to move monumental columns from one side to the other of the Mediterranean Sea, to patiently position thousands of mosaic tiles. She is mother of two young children, and she does know that each family member has different needs. She boasts more than 10-year-long experience in museum education. Therefore, she accompanies with pleasure families that visit Venice, who are for her a stimulating challenge.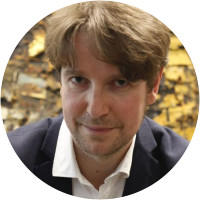 Mosè Viero is a Context tour guide in Venice with a Master's degree in Art History and Restoration. He is passionate about history, and the way the economy and politics are expressed through the arts. While studying in Venice, he became interested in the city's deep and complex past and traditions. Originally from the city of Vicenza in the countryside, he has an outsider's perspective of Venice that gives him the correct distance from the city's historical 'glory' and helps him to interpret the past of such a complex community. Mosè also gives tours of Vicenza. A former journalist and self-proclaimed nerd, he loves to blog, collect comics, board games and Lego bricks.
Reviews can only be left by Context customers after they have completed a tour. For more information about our reviews, please see our FAQ.
A lovely guide who took us around and explained all the paintings and more importantly put them into their historical context. She engaged with us throughout the tour, so that the time flew by. Highly recommend
Dec. 22, 2019
This tour was perfect for us. Erika did an outstanding job explaining and bring the various pieces of art to life. Thank you Erika!
Sep. 26, 2019
Nadia was exceptional! Her expertise and friendly disposition allowed us to learn and appreciate the artworks while having a fun afternoon. We absolutely recommend this tour.
Sep. 13, 2019