Tour Details
Tour Description
Venice's Cannaregio neighborhood remains a respite away from the crowds of St. Mark's and home to much of Venice's resident population. Largely avoided by tourists, this charming neighborhood provides an excellent opportunity to experience the magic of Venice without jostling for breath with large groups. During this 3-hour Cannaregio Tour, we'll spend equal amount of time looking at art, architecture, and local character, thus providing you with an insider's sense of both modern and historical Venice.
Cannaregio Tour
A truly varied walk, this is the perfect choice for those looking to mix art, history, and lifestyle. Local bars, artisan shops, and small grocery stores remain intertwined with Baroque facades and Tintoretto decorated churches, giving Cannaregio a unique flavor. While the sites and route vary according to the group's and guide's interests, the tour may discuss the Gesuiti, Madonna dell'Orto, and Sant'Alvise churches, as well as the artistic heritage of the district, kept alive today through artisan shops and artist's studios.
Does this tour include the Jewish Ghetto?
While this walk may or may not touch on some aspects of the Jewish Ghetto, it is not a walk specifically focused on Jewish Venice. For this type of walk, which includes a visit to the Synagogue, please take a look at our
Jewish Ghetto tour
. Looking to see Venice's major sites? Try our
Venice City Tour
of St. Mark's and Rialto.
Do we get to see artists at work during this tour?
This tour discusses the artisans in the area in relation to the district's history. Guides point out artisanal shops where we might see artisans at work if they are present. We can sometimes include a longer visit to a glass workshop. If you have an interest in doing this, please include this in your trip notes and we will check availability.
Will we have time for shopping on the tour?

The goal of this tour is the provide participants with an overview of the neighborhood, its history and current life. We may pop into a few shops, however, you may prefer to return to these after the tour so you have more time to shop at your leisure.
What if it's raining?
Tours operate rain or shine, but in the case of inclement weather, your guide will modify the tour so more time is spent indoors. It never hurts to have an umbrella on hand.
Where You'll Start
Tour Experts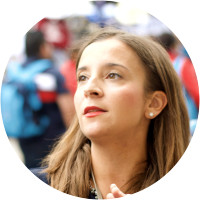 After her postgraduate studies in Art History at the Ca' Foscari University of Venice and at the University of Padua, Sara took up the charming road of restoration, getting her professional license at the Venetian Institute for Cultural Heritage (IVBC), again in Venice. This dual path between Art History and Art Conservation enabled her to deepen her expertise in the artistic techniques and the modern conservation methodologies of the cultural heritage. She owns a restoration laboratory where she operates on oil paintings on canvas and polychromed wood sculptures. The passion for her country and for the city of Venice has prompted her to research on particular themes, such as the Venetian painting of the XVIII century and the Venetian villas in the mainland countryside. She is authentically fond of museums and churches, too. Spending some time with her in Venice means getting to know the magnificent artistic heritage that is spread throughout the city. Guests are generally fascinated by her descriptions about how Venetians were able to mount a huge gilded ceiling, to stretch the largest paintings in the world, to move monumental columns from one side to the other of the Mediterranean Sea, to patiently position thousands of mosaic tiles. She is mother of two young children, and she does know that each family member has different needs. She boasts more than 10-year-long experience in museum education. Therefore, she accompanies with pleasure families that visit Venice, who are for her a stimulating challenge.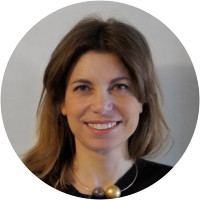 Cristina has been a qualified tour guide and lecturer in Venice since 1991. She holds a doctoral degree in contemporary German literature with a thesis on Venice as a motif in collective memory, and majors in history and art history. She worked for the UNESCO Venice Office as a researcher in the field of handicraft and collaborated with the Council of Europe in the frame of the Faro-Convention on the concept of Cultural Heritage as applied to Venice. Cristina is also a writer and has authored books on Venice: Venice Master Artisans (2000; 2003) on the great craftspeople of her city; an essay on the glass master Lucio Bubacco for the artist's monograph, Eternal Temptation by Dan Klein (2008); a book on the gardens of Venice in 2017 and a guidebook about the places of the Protestant Reformation in Venice in 2018. After winning an award for first-time authors, in 2020 her first novel "L'ultima Testimone" was published by Garzanti Publishing House. Because her first love was literature, she sees herself as a 'storyteller'. She knows and tells many anecdotes and small stories along with the big History of this legendary city.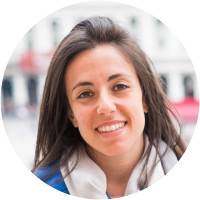 Elena was born in Milan and moved to Venice in 2000 to study Oriental Languages at Ca' Foscari University. After graduation she spent a year in Barcelona, Spain, to study East Asian Cinema. Back in Venice, she had her first experiences as a guide leading visits of the historical buildings of the University of Venice. That's how she decided she wanted to become a professional tour guide. She got her official license in 2012 and she has been working and living in Venice since!
Reviews can only be left by Context customers after they have completed a tour. For more information about our reviews, please see our FAQ.
We enjoyed Cynthia and she made this tour way more worthwhile than we expected; too bad so many places were closed (Sat.). But she made adjustments and they were good ones.
Jul. 16, 2018
Francesca is an excellent guide who held our interest for 3 hours and left us connected to Venice - it's past and it's future. She worked our walk around our interests and beyond.
Jun. 27, 2018
Nadia is extremely understanding ,especially since we were given wrong directions at our hotel. She is extremely knowledgeable in Baroque art history. We had a lovely walking tour and she accommodated one of the participants request to see the Ghetto. It was steeped in Italian history and added a depth of cultural that made our walk unique. we appreciated the other women's flexibility in waiting for us to re-equilibrate from an unusual circumstance. Nadia is very intelligent and was very empathetic in explaining World War 2 to our group. She is an asset to your company in both knowledge and maturity.
May. 10, 2018